Vanessa Hudgens, a versatile actress known for her roles in hit films like "High School Musical," "The Princess Switch," and "Spring Breakers," is not only celebrated for her acting talent but also her unique collection of tattoos. With a total of 10 tattoos gracing various parts of her body, each piece of art holds a special meaning and showcases a different aspect of her personality. From spiritual symbols to vibrant flora, Vanessa's tattoos demonstrate her creative and eclectic style.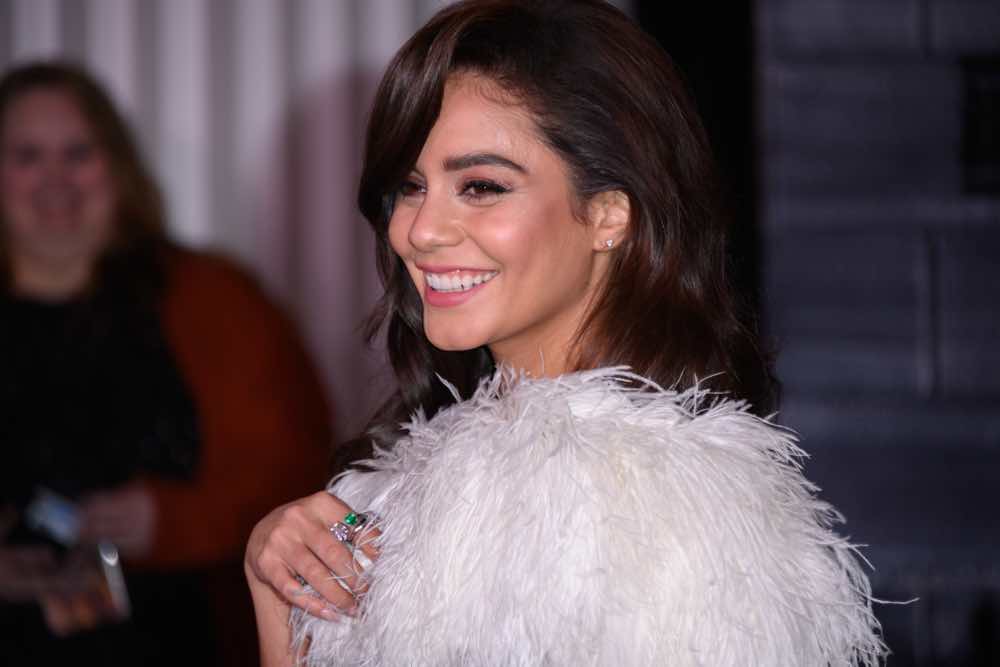 Her tattoo journey began with a colorful butterfly on the left side of her neck in 2011 and has since expanded to include more intricate designs, such as a sunflower on her torso and the sacred Om symbol on the sides of both her hands. Each tattoo has been carefully curated and thoughtfully placed, incorporating elements from her personal beliefs, travels, and fashion choices. Vanessa's choice of artists and studios reflects her preference for excellence, seeking out skilled tattoo artists to bring her visions to life.
To better understand the significance and inspiration behind Hudgens' tattoos, it's essential to dig deeper into her career, the meanings behind each design, and the influence of other celebrities with similar tattoos.
Key Takeaways
Vanessa Hudgens has a diverse collection of 10 tattoos that reflect her personality and interests.
Each of Hudgen's tattoos carries its own unique meaning, ranging from spiritual symbols to vibrant plant life.
A deeper understanding of her tattoos can be gained by examining her career, the meanings behind each design, and the influence of other celebrities with similar body art.
Vanessa Hudgens' Tattoo Collection
Sunflower Tattoo
Vanessa Hudgens has a delicate sunflower tattoo on her side, just below her ribs. This tattoo represents happiness, positivity, and a bright, cheerful energy. The sunflower's vibrant colors and bold design also make it a beautiful decoration on Vanessa's body.
Divine Feminine Angel Tattoo
In March 2020, Vanessa got a divine feminine angel tattoo on her right side at Bang Bang Tattoo parlor in New York City. The tattoo was done by her favorite artist Dragon and serves as a symbol of the actress's connection to her divine feminine energy.
Om Symbol Tattoo
The Om symbol is a spiritual icon in Hinduism and Buddhism. Vanessa has an Om symbol tattoo on her left wrist, which demonstrates her inclination toward spirituality and meditation.
Butterfly Tattoo
Vanessa has a small, intricate butterfly tattoo on her right pinky finger. The butterfly represents transformation and new beginnings, making it a valuable symbol for personal growth and embracing change.
Number 22 Tattoo
The number 22 has a special significance for Vanessa, who got a tattoo of the number inscribed on her left foot. The tattoo is a simple, elegant design that reinforces an important reminder for Vanessa in her daily life.
Others
Apart from the tattoos mentioned above, Vanessa Hudgens has a few more tattoos, including a snake tattoo on her ankle and a small tattoo on her upper shoulder. Each of these tattoos has its own meaning, contributing to the expressive and creative collection that makes up Vanessa's ink.
Significance and Meanings
Sunflower Symbolism
Vanessa Hudgens has a sunflower tattoo on her side-boob, representing positive energy and brightness. Sunflowers are known for their ability to follow the sun and symbolize admiration and loyalty. In Vanessa's case, she got the sunflower as her mom called her a "little sunflower."
Angel Symbolism
Another one of Vanessa's tattoos is an angel on the right side of her body. Angels are often seen as symbols of protection, guidance, and divine feminine energy. They represent love, peace, and purity, aligning well with Vanessa's spiritual nature.
Om Symbol Significance
Vanessa has the sacred "Om" symbol tattooed on the sides of both her hands. The Om symbol holds significant meaning in Hinduism, representing the sound of the universe and the unity of all things. The placement of this tattoo on her hands allows the complete symbol to form when she brings her hands together in prayer. This demonstrates her connection to spirituality and higher consciousness.
Butterfly Symbolism
While not explicitly mentioned in the provided search results, butterflies are a common tattoo choice, symbolizing transformation and growth. As a versatile performer and artist, Vanessa Hudgens may have been drawn to this symbolism. Butterflies can also represent grace, beauty, and freedom.
Number 22 Significance
Vanessa has the number "22" tattooed on the side of her wrist. The number 22 is often associated with luck and balance. While the specific meaning behind her choice of this number is unclear, it could represent a significant event, like a birthday, or a reminder of personal values and goals.
Tattoo Artists and Studios
Bang Bang Tattoo Studio
Bang Bang Tattoo Studio is a renowned tattoo studio located in New York City known for its talented artists and high-profile clientele. One of the artists from this prestigious studio is Dragon, who has worked on one of Vanessa Hudgens' tattoos. In March 2020, Dragon tattooed an all-black angel design on Hudgens' ribs, with its arms stretched upward and feathery wings spread outward. This tattoo beautifully showcases the skill and artistry of Bang Bang's artists.
The studio is known for providing a comfortable atmosphere for its clients, maintaining strict hygienic conditions, and offering a diverse range of tattoo designs to cater to various preferences.
Mr. K
Another talented tattoo artist who has worked on Vanessa Hudgens' tattoos is Mr. K. Known for his intricate, delicate, and finely detailed designs, Mr. K has earned recognition both nationally and internationally for his skills. By working closely with his clients, Mr. K understands their ideas and delivers art pieces that truly represent their personality and preferences.
It is clear that Vanessa Hudgens trusts the expertise of both Bang Bang Tattoo Studio and Mr. K, as they have created stunning and meaningful tattoos for her. These artists and studios definitely contribute to the uniqueness of her tattoo collection.
Celebrities with Similar Tattoos
Ashley Tisdale's Tattoos
Ashley Tisdale, a singer and actress best known for her role in "High School Musical," has a number of tattoos that bear similarities to Vanessa Hudgens' skin art. The two co-stars share a love for small, meaningful tattoos, often choosing to have them on visible areas such as the wrists, ankles, and fingers. Tisdale's tattoos include the word "believe," a lotus flower, and a small heart.
High School Musical Cast Tattoos
While not every member of the "High School Musical" cast sports ink, several of them have tattoos that share themes with Vanessa Hudgens'. For example, Monique Coleman has a butterfly tattoo – a common theme in Hudgens' collection. Lucas Grabeel, another cast member, has a tattoo of the word "free" on his wrist. Like Hudgens, these actors often choose small designs that convey personal significance.
Lin-Manuel Miranda's Tattoos
Lin-Manuel Miranda, famous for creating the musicals "Hamilton" and "In The Heights," also has a few tattoos that resonate with the ink choices made by Vanessa Hudgens. Miranda has a small tattoo of a quill pen on his arm to represent his career as a writer, as well as a compass tattooed on his left bicep. Both Hudgens and Miranda seem to appreciate the art of storytelling through their tattoos, choosing designs that represent their passions and personal journeys.
Vanessa's Views on Tattoos
Vanessa Hudgens has a growing collection of tattoos, each with a unique story and meaning. She often shares her fresh ink with her followers on Instagram, showcasing her love for body artwork. Her tattoos vary in size and placement, featuring small designs on her hand, wrist, neck, rib, and more.
One of her most notable tattoos is a colorful butterfly on the left side of her neck, which she got in 2011 at New York City parlor Bang Bang Tattoo. She expanded her tattoo collection in 2020 with an angel on the right side of her body, inked during another trip to Bang Bang Tattoo. The angel is a representation of her "divine feminine angel."
In November 2020, Vanessa got the phrase "cages or wings" tattooed on her shoulder as a reference to an upcoming project with Lin-Manuel Miranda, titled "tick, tick…BOOM!" This project is an adaptation of Jonathan Larson's musical. It is evident that Hudgens gets her tattoos as meaningful mementos for significant moments in her life.
Vanessa also appreciates tiny, intricate designs like the one on her rib, which she had done by well-known tattoo artist Mr. K. In June 2021, she added a realistic-looking boa constrictor to her collection. This beautiful and detailed piece showcases the artistry involved in tattoo design and the depth of Vanessa's appreciation for such artwork.
Throughout her tattoo journey, Hudgens has consistently showcased a confident and knowledgeable attitude towards body art, from her choices in design to the talented artists she works with. Her tattoos serve as a form of self-expression and a reminder of the experiences she cherishes.
Vanessa Hudgens' Career
High School Musical
Vanessa Hudgens, a talented US actress, gained widespread recognition for her role as Gabriella Montez in the High School Musical series. The series, which started in 2006, was a Disney Channel phenomenon that led to two sequel films and established Hudgens as a household name.
Spring Breakers
In 2012, Hudgens took on a more mature role in the film Spring Breakers, showcasing her versatility as an actress. The movie, which also featured Selena Gomez, Ashley Benson, and James Franco, centered on a group of college students who get caught up in a world of crime during their spring break vacation.
Netflix Projects
Vanessa continued to expand her career with various projects on Netflix, including:
The Princess Switch (2018), in which she played a dual role as a duchess and a baker who decide to swap lives
The Knight Before Christmas (2019), a holiday movie where Hudgens plays a high school teacher who falls in love with a medieval knight
The Princess Switch: Switched Again (2020), a sequel to the first film, adding a third character played by Hudgens.
These Netflix films allowed Hudgens to showcase her skills in romantic comedies and further solidify her place in the entertainment industry.
Bad Boys for Life
In 2020, Vanessa Hudgens joined the cast of the action-packed film Bad Boys for Life alongside stars Will Smith and Martin Lawrence. She played one of the members of an elite police task force, demonstrating her ability to take on different types of roles in various genres.