From child star to the successful talk show host, Drew Barrymore has several achievements up her sleeve. It hasn't always been easy for the 47-year-old actress, who has overcome many obstacles through her childhood, young adulthood, and even today.
As a way to overcome, celebrate, or even honor where she is at the moment, Drew has some of the most iconic tattoos. It's almost like taking a journey through her life in ink.
Let's talk about all 10 of Drew Barrymore's tattoos and the significance of each one. Keep reading to learn more!
Drew Barrymore's 10 Tattoos and the Inspiration Behind Them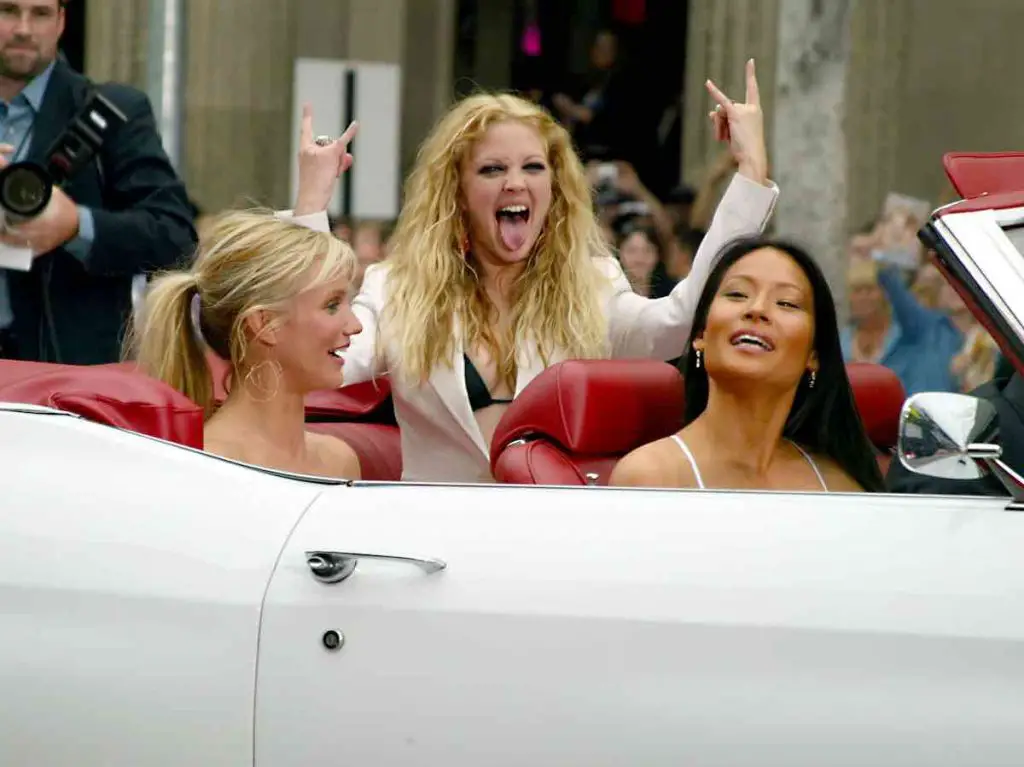 1. Flowers
One of Drew Barrymore's earliest tattoos is a bouquet, and it sits just below her waistline on the left side of her stomach. You'll find this dainty tattoo in pictures of young Drew during her fun and somewhat rebellious young adulthood.
2. Crescent Moon
Of all Drew Barrymore's tattoos, this one is the hardest to spot, although you may see it in a picture of Drew barefoot. Drew has a crescent moon tattooed on her right big toe in bluish-black ink.
There isn't a record of Drew discussing the inspiration behind this tattoo, but rumors through the grapevine say she got it as a friendship tattoo. If that's true, it's definitely an adorable way to celebrate a special friendship!
3. Cross
Above her right ankle, Drew has a black cross tattoo that is intertwined with vines. In 1992, Drew starred in the film "Poison Ivy," in which the main character had a similar tattoo on her upper thigh. Drew was inspired and decided to get one of her own.
It's one of Drew's larger tattoos, but it's also a great reminder of the long and successful career that Drew has had.
4. Cherubs with a Cross
Let's talk about Drew Barrymore's tattoos on her back. The first one is a tattoo of three cherubs holding a cross that says "Jaid." The tattoo is located on the bottom right portion of her back.
Drew got this tattoo as an homage to her mother, Jaid, whom she had been estranged from since she was 14 years old. In 2021, Drew announced on her talk show "The Drew Barrymore Show" that she had reconciled with her mother almost 35 years later.
5. Cherub
Another of Drew Barrymore's tattoos on her back is a simple cherub holding a banner reading "James." Drew got this tattoo for her boyfriend at the time, Jamie Walters, which was positioned in the lower center of her back.
Drew dated singer and actor Jamie Walters for most of 1992. They were even engaged for a short time before parting ways at the end of 1993.
"Sometimes I bust out and do things so permanently. Like tattoos and marriage," Drew has said about herself.
6. Butterfly
The most well-known of Drew Barrymore's tattoos is the butterfly right below her navel. The positioning and femininity of the tattoo were significant contributors to Drew's sex appeal in the 1990s and early 2000s.
Drew is a big fan of tattoos with meaning. The butterfly is known to symbolize hope and personal transformation.
7. Bird
Drew has a simple outline of a bird tattooed on her upper right forearm. It's a turn in direction from the more detailed tattoos she's had in the past, but it also reflects the modern, simple tattoos that are currently trending.
Birds symbolize peace, freedom, and transformation, which all seem important to Drew in her life journey.
8. "Breathe"
This next one may take up the most surface area of Drew Barrymore's tattoos. In a stencil-like font, Drew has the word "breathe" tattooed across her left forearm. Drew got this tattoo as a reminder to herself that everything is made better by taking a deep breath and calming her inner spirit before reacting to situations.
"I was trying to remember the importance of everything and to keep breathing…to keep up with my meditations and prayers," Drew said about her tattoo.
9. "Olive and Frankie"
Perhaps her most personal tattoo, Drew, had the names of her two children, Olive and Frankie, tattooed on her right wrist in her handwriting in 2016.
Regarding her last-minute stop at a tattoo shop one day, Drew said, "I was like, 'I'm going to write this down on a piece of paper, and can you just transfer it onto my arm?'" According to InStyle Magazine, Drew mentioned that she wanted the tattoo for a while, but she spontaneously decided to do it one day on the way to an appointment.
"[I'm] getting a little lifetime note on my arm," Drew captioned the post revealing her tattoo. Drew's daughter Olive was born in 2012, and her daughter Frankie was born two years later in 2014. Both daughters she shares with her ex-husband Will Kopelman.
10. "Home is Where We Are"
The latest of Drew Barrymore's tattoos is one she got live on her talk show in 2021. Between the "Olive and Frankie" tattoo and bird tattoo on her right forearm are the words "home is where we are." The tattoo was done by "Ink Master" champion Ryan Ashley in a beautiful script font.
Drew said on her show that she has been saying the phrase to herself for several years regarding her family. Once Drew had her daughters, she realized that she was home no matter where she was with them. It didn't matter if life was going according to plan or not.
"Wherever life takes you, if you are lucky enough to be alongside people you love, then to me, that became the definition of home," she said.
Wrapping Up Drew Barrymore's Tattoos
From intricate spiritual tattoos to simple phrases on her arms, Drew Barrymore's tattoos are famous for encapsulating her free spirit. It piques the world's curiosity about what she'll get next!
At Inspired Magazine, we have a whole series about the meaning of different tattoos. You may even find the inspiration for your next tattoo. Click here to learn more!