Human beings have created tattoos for thousands of years. Most times, there's significant meaning behind these permanent types of body art! However, tattoos can also be bold forms of personal expression or even kept hidden. It depends on the individual to decide how simple or elaborate their tattoos will be.
When talking about Travis Scott tattoos and how he chose them, you'll find he likes to make bold statements and choose strong meanings. Most Travis Scott tattoos are a remembrance of significant events ranging from critical life moments like music tours or family life to past and present motivators.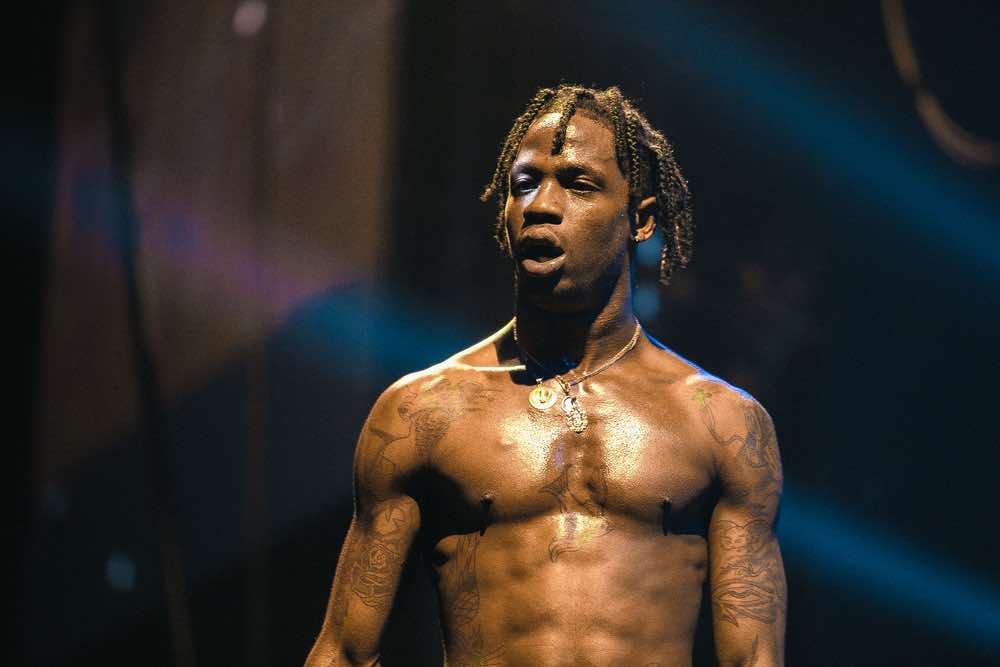 Growing Up In The Life Of Travis Scott
Jacques Bermon Webster II was born on April 30, 1991. His love for music developed when he became interested in playing instruments at age three. Today he's a recording producer, songwriter, singer, rapper, father, and partner. Jacques is in a relationship with well-known public figure Kylie Jenner. Together, they have two children, Stormi Webster and Wolf Webster.
Jacques Webster II later received his stage name, Travis Scott, which is now how most fans know him. His stage name combines inspirational figures, Kid Cudi, and a favorite uncle.
Travis Scott Tattoos and Their Meanings
Travis Scott is not a bit shy about tattoos. In fact, he displays over fifty different pieces of ink. These personal forms of expression are inspired by his beliefs, life events, and personal achievements. In addition, these Travis Scott tattoos help mark both positive and negative times throughout his life. Here's a rundown of his most famous tattoos!
1. Monkey with Headphones
First, check out the Travis Scott tattoos on his left shoulder. The monkey represents freedom and expression to be completely yourself. Its headphones stand for deliverance with listening to whatever music he wants without worry or judgment.
2. Full Moon and Bat
Next, on Travis' left upper arm, he displays a tattoo of a full moon combined with a bat. Together these mean embracing the darkness, hidden secrets, and mysteries life can bring.
3. The "Famous" Tribal Tattoo
One of the newest Travis Scott tattoos, located on the side of his head, against his left temporal region, is a large tribal tattoo. This tattoo was inked before the start of his Astroworld Tour and meant strength, unity, and achievement.
4. Theatre Smile Icon and Three Cactus Plants
You'll find two more Travis Scott tattoos with hidden symbolism on his left elbow. Theatre tattoos represent overcoming adversity and becoming stronger. Travis Scott tattoos such as this triple cacti mean the ability to thrive in all adverse conditions.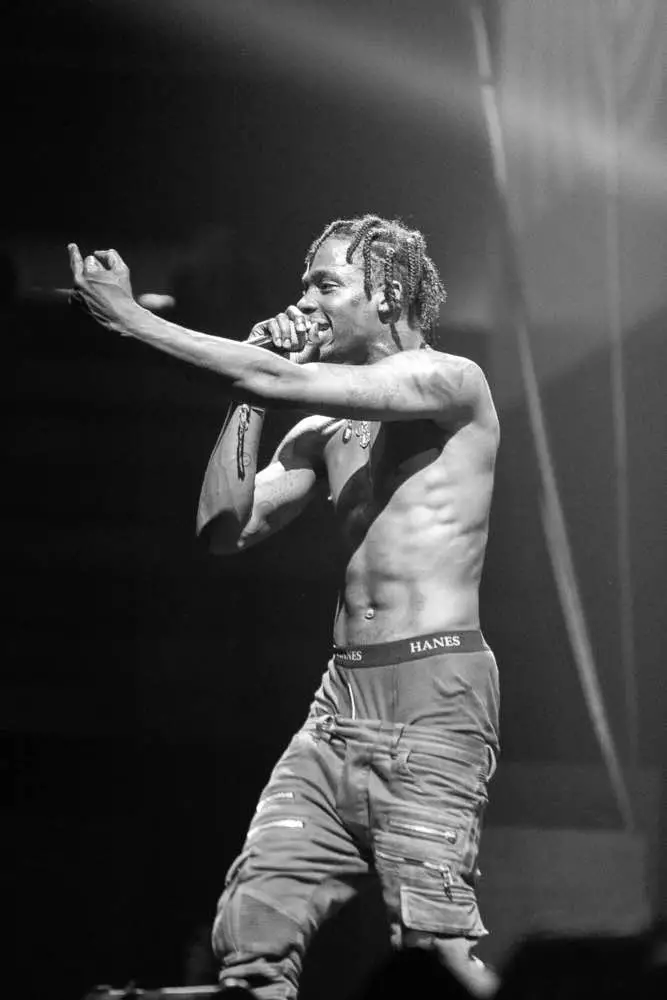 5. Flying Bird
Another symbolic Travis Scott tattoo is the flying bird on his chest. Flying birds symbolize freedom, liberation, hope, and new beginnings. They also represent travel and adventure, all fitting for this rapper.
6. Cartoon Boy Face
Let's explore the meaning behind the cartoon boy's face on his left forearm. This tattoo represents someone being happy, carefree, or even slightly naughty and known as a troublemaker.
7. Cube with Circles
Check out the tattoo on Travis Scott's left forearm. This tattoo is a freemasonry symbol meaning the journey to learn about yourself and find your place in this world throughout childhood, adulthood, and old age.
8. "PUKE"
One of the Travis Scott tattoos that really stood out to me was the bold word "PUKE" on the front of his neck. This tattoo represents a wild night out binge drinking. This particular night made him so sick he swore it would be the last for a long time.
9. Anchor
Located near Travis' left ear, you'll find an anchor. Anchors represent standing your ground through the most challenging times and remaining strong through the process.
10. Tiger
There's a tiger tattoo on Travis' neck. Tigers display the art of strength, bravery, and power. Tigers also have earned the title of "one of the strongest animals in the world."
11. Woman Screaming At Her Broken Heart
Some Travis Scott tattoos, such as the one on his right shoulder, hold emotional meanings. The woman screaming at her broken heart represents extreme pain from a breakup and frustration with an unhealthy relationship.
12. Nature Landscape Circle
A few Travis Scott tattoos show he's a nature lover! On his left hand, he displays a tattoo of Portland, Oregon, with a compass and mountains. Portland, Oregon, was a memorable vacation where he created strong memories and found peace, happiness, and solace.
13. Cactus Jack
One of the Travis Scott tattoos, located behind his right ear, holds unique importance. Scott is an avid Michael Jordan fan! His personal Air Jordan Cactus Jack sneakers were released in 2018 and continue to be re-issued, offering different color variations.
14. Bee
You'll find a bee tattoo on the right side of Scott's neck. A bee tattoo speaks of these busy insects' high productivity in their community. Bees also speak of determination, adaptability, perseverance, and endurance.
15. Crosses
Some Travis Scott tattoos are crosses like the ones on his neck without clear definitions. Crosses usually are memorials of loved ones or show personal expressions of spirituality, faith, and religion.
16. Dragon Head
Check out the dragon head on his left forearm! Some Travis Scott tattoos are bold choices that remind him he can handle whatever life throws his way using courage, strength, and power. It also speaks of protection and triumphs over adversity.
17. Pig Holding An Apple In Its Mouth
Then you'll find some Travis Scott tattoos are unique, such as a pig holding an apple in its mouth on his left forearm. This tattoo is the greedy symbol of gluttony and temptation.
18. "RAGER"
On Scott's right hand, you'll see the word "RAGER." These types of Travis Scott tattoos are meaningful pieces. Travis' best friend and biggest inspiration, Kid Cudi, got this matching tattoo alongside him on his 28th birthday.
19. Brain Tattoo with Constellations
Some Travis Scott tattoos, such as the one on his right calf, are sophisticated. This classic phenology chart labels the standard brain sections in addition to personal touches of "Mock 10" and "crazy." You'll also find Earth, Mars, Saturn, and Jupiter close to the brain's limb base.
20. Tiny Butterfly
Travis Scott tattoos can get personal, like the butterfly on his left ankle he shares with Kylie Jenner. It symbolizes his love for Kylie and gives the nod to his song titled "butterfly effect."
21. The Row of Three Emoji
Let's talk about these famous Travis Scott tattoos, like the three emojis on his right forearm. They present the "meat and potatoes" of the human's soul in the form of mind, body, and spirit or love, hate, and fear.
22. A Winged Tiger
Not to be confused with the tiger on his neck, there's additionally a winged tiger tattoo on his right side. Travis Scott tattoos such as these are reminders to stand for what's right, stay on track, and maintain strength, good fortune, and power.
23. "713"
Next, the number "713" on his left forearm represents an area code and studio title. Studio 713 is a music production studio located in Houston, Texas. This recording studio is crucial to Travis Scott's career. His musical history, memories, and relationship remain within Studio 713!
24. STORMI
Travis Scott has a deep relationship with the famous Kylie Jenner. Together they have a daughter named Stormi. They chose to celebrate Stormi's second birthday by getting arm tattoos with her name in all caps.
25. "ART" With A Microphone
You'll see the word "ART" next to a microphone on his lower waist. Travis firmly believes his music and lyrics are pure art and vital to him and his fans.
Wrapping Up Travis Scott Tattoos
Exploring these Travis Scott tattoos and meanings is a fun, clever way to get to know this iconic figure. No matter if their purposes make sense to you; still, they hold importance and personal significance to him.
Tattoos are creative ways for people to tell us their life stories and keep personal moments close. Clearly, Travis Scott likes using ink to share his life story. Regardless all these Travis Scott tattoos are permanent reminders of his inspirations, trials, music career, and overall walk in life.
Make sure to check out our Tattoo Meanings page and dig deeper into the tattoos you're thinking about getting!