Tattoo studio lighting varies in forms and functions, with options ranging from overhead lights to adjustable lamps that create customized illumination in specific areas. The key is to find lighting that minimizes shadows and provides consistent brightness to support an artist's intricate work.
Additionally, the right lighting setup can contribute to a clean and professional environment, putting clients at ease during their tattoo sessions.
To enhance your tattoo artistry, we have compiled a list of the finest options for tattoo lighting for your studio. No matter your preferences, these versatile and high-quality products will brighten up your workspace, ensuring the best results for your clients.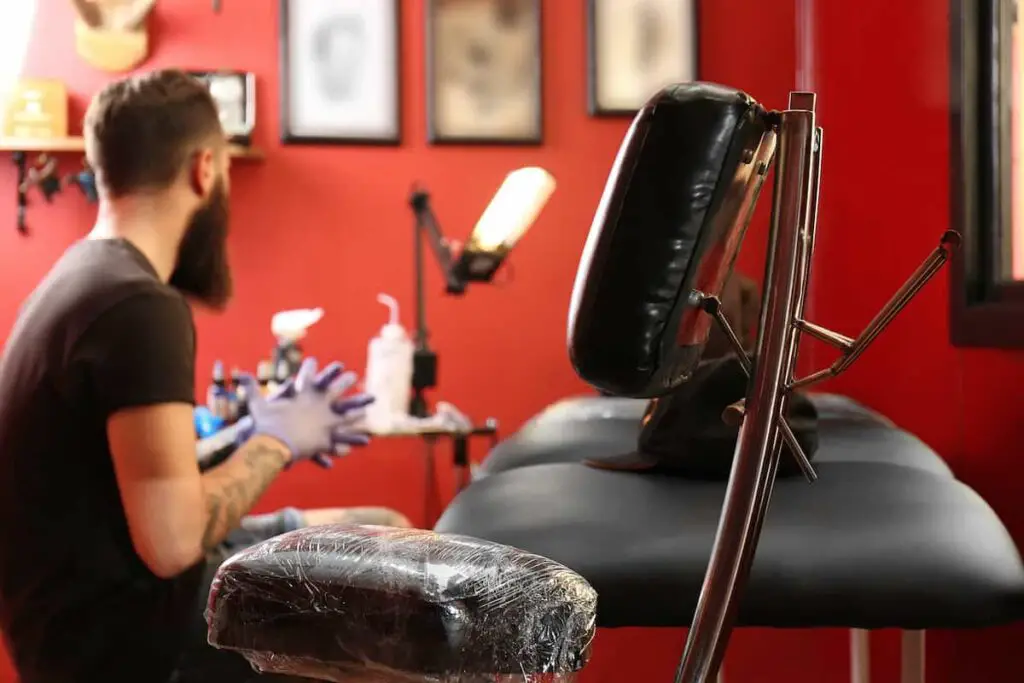 ---
Our Top Picks
Best Overall
GIJUANRING LED Photography Light
Best Lighting Kit
GIJUANRING 18″ LED Ring Light
Best Budget
ALTSON Photography Video Lighting Kit
Best Budget Kit
GSKAIWEN Photography Studio LED Lighting Kit
---
Best Overall
The GIJUANRING LED Photography Light is a reliable option for those seeking to improve their tattoo studio lighting. The high-luminance SMD LED beads provide ample illumination, and with a color rendering index over 96, you can expect accurate color representation.
The dimmable bi-color temperature and brightness adjustment allows for easy personalization, ensuring your workspace is suited to your needs.
One notable feature of this light is the included flexible soft tube, which allows for straightforward angle adjustment. This flexibility makes it an ideal choice not only for tattoo artists but also for eyebrow tattoo, eyelash extension, and nail art professionals. The various applications, along with its ease of use, make this light a versatile addition to your studio.
Pros
High-luminance SMD LED beads with color rendering index over 96
Bi-color temperature and brightness adjustment
Includes flexible soft tube for easy angle adjustment
Cons
Stability concerns with the tripod base
Soft tube may require significant strength to bend
Potential for wear due to plastic and metal components
---
Best Lighting Kit
The GIJUANRING 18″ LED Ring Light stands out with its 480 LED beads, providing a bright yet soft light to illuminate your tattoo work. Its CRI> 95 color rendering makes for a natural and attractive light source that eliminates harsh shadows.
This ring light is not only great for tattoo studios but also for various other professional applications such as makeup, hairdressing, and dentistry.
Furthermore, the flexible soft tube included in this kit allows for easy angle adjustments, expanding your shooting range for better lighting control. Additionally, the kit comes with a two-sided makeup mirror, one side being a magnifying mirror, which can be useful for makeup application or close-up work during tattoo sessions.
Pros
480 LED beads create bright and soft light
Flexible soft tube makes adjusting angles easy
Comes with two-sided makeup mirror for convenience
Cons
Stand and neck gear may lack sturdiness
Unclear assembly instructions
Limited use before potential malfunction
---
Best Budget
Consider the ALTSON Photography Video Lighting Kit for versatile and customizable lighting solutions in your tattoo studio.
The ALTSON Photography Video Lighting Kit offers a comprehensive lighting solution for tattoo studio owners, making it an ideal choice for enhancing your work environment. This lighting kit features 18 color filters, allowing you to create various lighting effects, which can help you achieve the perfect ambiance for your studio.
The adjustable brightness function of the LED light panel gives you the flexibility to control lighting conditions according to your needs. With a 5600K color temperature and a 95+ high CRI, this kit provides accurate color rendering.
The 10% to 100% brightness range allows you to adapt to different situations easily. The USB power cable enables you to connect the unit to a 5V, 2A DC wall charger, power bank, or car charger, ensuring a straightforward setup without worrying about bulky batteries or stand-alone chargers.
Pros
Multiple color filters for creative effects
Adjustable brightness for various scenarios
USB power cable for easy setup
Cons
Not suitable for battery operation
Stability may be an issue
Short cable length
---
Best Budget Kit
The GSKAIWEN Photography Studio LED Lighting Kit offers a high-quality, natural lighting solution for your tattoo studio. With 36W per light and 60 LED beads, this kit ensures a long-lasting, steady color temperature and minimal loss during your tattoo sessions.
The 5500K color temperature produces pure white light that restores the original color, giving your artwork a more natural appearance.
One standout feature of this lighting kit is its adjustable brightness. You can freely control the brightness from 0% to 100% using the adjustment knob on the power adapter. This feature allows you to customize the lighting to suit your specific tattooing requirements, providing a soft and even light for the utmost precision.
The GSKAIWEN LED lighting kit comes with a sturdy, extendable light stand made of aluminum alloy. With a folded height of 28.34 inches and a maximum height of 94.48 inches, you can easily pack it up for storage or transport. Furthermore, the kit includes a flexible soft tube that can be bent into any desired angle for optimal lighting of your workspace.
Pros
High-luminance SMD LED beads provide pure white light
Sturdy and extendable light stand, easy to store and carry
Adjustable brightness from 0%-100% for various shooting needs
Cons
Pistol grips may come loose with minimal use
Tripod legs might be weak and easy to collapse
Wire insulation quality could be better
---
This Tat Tech LED Flex Arm Floor Lamp is a great addition to your tattoo studio for its brightness and versatility.
The Tat Tech LED Flex Arm Floor Lamp brings superb lighting to your tattoo studio with an adjustable arm and versatile LED settings. The lamp is lightweight, weighing only 5.1 lbs, and stands 69 inches tall when positioned vertically, providing ample height for various tattoo setups.
When positioned horizontally, as it would normally be during a tattoo session, the lamp stands around 45 inches tall. The flexible neck is 17 inches long, allowing you to direct the light source in any direction needed, while the 9-inch long LED light offers plenty of illumination for your tattoo work.
One notable feature of this lamp is its remote control, which can control the LED's brightness and color temperature. The LEDs have five brightness adjustments to cater to various lighting preferences, as well as five color adjustments ranging from soft white to natural. This gives you the ability to customize the lighting conditions in your tattoo studio to create the perfect environment for your work.
Pros
Super Bright, Energy Efficient, and Adjustable LED
5 Brightness Adjustments
5 Colors adjustments ranging from: Soft White to Natural
Cons
May be too tall when positioned vertically
Requires floor space for mounting
No battery operation, requires corded power source
---
Buying Guide for Tattoo Lighting
When looking for the best tattoo studio lighting, it is essential to consider several factors that can significantly impact your working environment and overall tattooing experience. In this buying guide, you will find essential tips for choosing the right lighting solution for your studio.
Brightness
One of the foremost factors to consider is the brightness of the light. A well-balanced brightness level is crucial for accurately representing the colors of the tattoo ink and providing a comfortable working environment.
We recommend that you look for lights with adjustable brightness levels, allowing you to fine-tune the lighting to your preferences.
Color Temperature
Another important aspect to consider is the color temperature of the light. Working with a light source that has a neutral color temperature will enable you to see the true colors of the ink, without any color distortion caused by excessively warm or cool lights.
Aim for a color temperature range of 4500K to 5000K for optimal results.
Flexibility
Additionally, consider the flexibility of the lighting setup. Look for fixtures that offer a maneuverable design, such as adjustable arms and rotating heads.
This will allow you to easily direct the light where you need it most, providing focused illumination on the tattooing area without creating glare or casting shadows.
Durability
Moreover, you should also take into account the durability and build quality of the light fixture. Since tattoo studio lighting is an investment, make sure to invest in a light that can withstand the rigors of daily use.
Opt for fixtures that are made from sturdy materials and feature a stable base or mounting system for added security.
Energy-Efficiency
Lastly, don't forget to factor in the energy-efficiency of the lighting solution. LED lights are an excellent choice, as they consume less power than traditional incandescent or fluorescent bulbs while delivering a high-quality light output.
Additionally, LED lights generate less heat, making them suitable for use in a studio setting where maintaining a comfortable temperature is crucial.
---
Frequently Asked Questions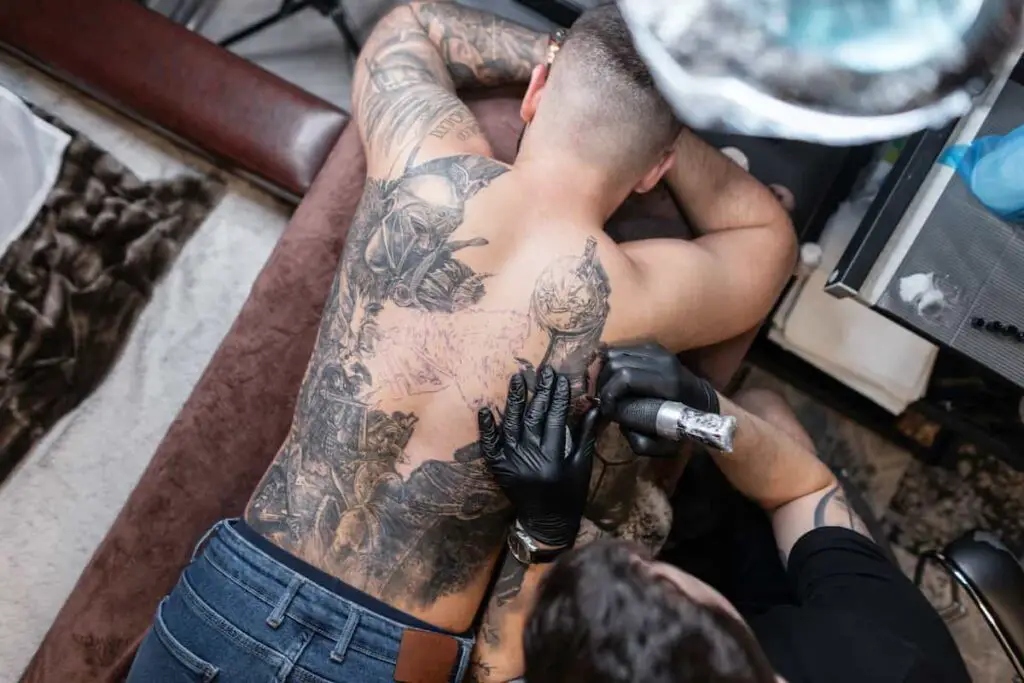 What type of lighting is best for tattoo studios?
When selecting lighting for your tattoo studio, opt for a combination of natural and artificial light. Natural light provides a soft, even illumination that helps artists work comfortably. For artificial lighting, choose LED lights with a high CRI (Color Rendering Index) and adjustable brightness levels. This ensures accurate color representation and the ability to customize the lighting to the artist's needs.
How can I reduce glare when taking photos of tattoos?
To reduce glare when photographing tattoos, follow these steps:
Position your lights at a 45-degree angle to the tattoo, avoiding direct light on the tattooed skin.
Use a circular polarizing filter on your camera lens to minimize reflections.
Adjust camera settings such as ISO, aperture, and shutter speed to capture clear, glare-free images.
Experiment with different angles and distances between the camera, the tattoo, and the light source to find the best results.
What are the benefits of using LED lights in a tattoo studio?
LED lights offer several benefits to tattoo studios, including:
Energy efficiency: LED lights consume less energy than traditional bulbs, reducing your studio's energy bills.
Longer lifespan: Compared to other types of lighting, LED lights have a longer lifespan and require less frequent replacements.
Improved color accuracy: High-CRI LED lights ensure that colors appear true to life, helping artists create accurate tattoo designs.
Adjustable brightness: With dimmable LED lights, artists can customize the brightness level in their workspace, increasing comfort and productivity.
How does proper lighting impact a tattoo artist's work?
Proper lighting is essential for tattoo artists as it:
Enhances visibility: Adequate lighting helps artists clearly see their work area and the details of the design.
Improves color accuracy: Accurate color representation in the workspace ensures that artists can create precise and vibrant tattoos.
Reduces eye strain: Adjusting light levels to the artist's comfort minimizes eye strain and fatigue, allowing them to work for longer periods.
Highlights artwork: Good lighting showcases the artist's portfolio and completed tattoos, attracting clients and demonstrating professionalism.
---
Wrapping up the Best Lighting for Tattoo Studios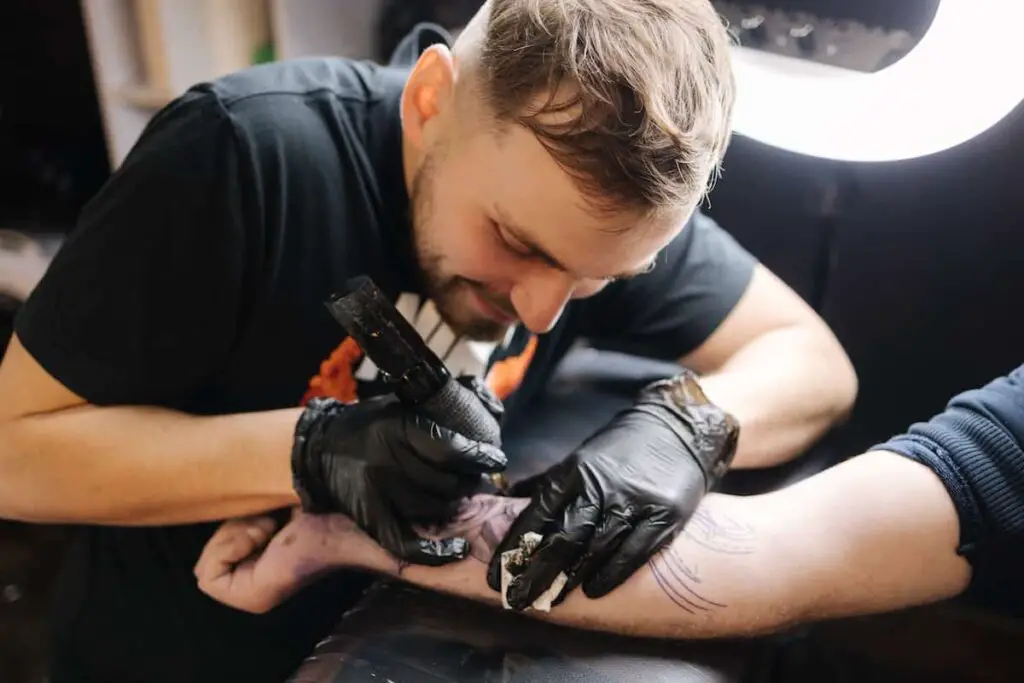 In conclusion, investing in appropriate tattoo studio lighting is vital for creating an optimal workspace that allows artists to perform with precision and clients to feel comfortable. By focusing on factors such as bulb type, adjustability, and ergonomic design, you can enhance your studio's atmosphere and ultimately, the quality of your work!
Next, check out The Best Tattoo Guns of the Year and make sure you've got the best gear ready to go!