Kaia Gerber, the 18-year-old supermodel and daughter of Cindy Crawford and Rande Gerber, has caught the attention of many with her rapidly growing collection of over ten small tattoos. Displaying a minimalist and chic style, these tattoos have inspired fans and sparked conversations about their meanings.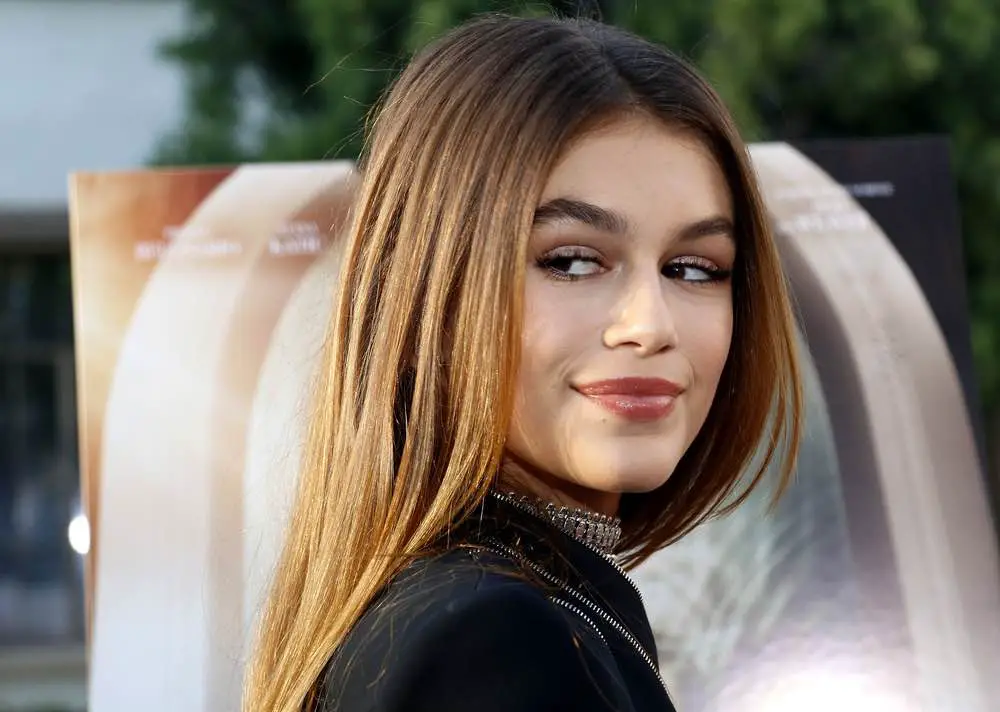 Some of her most notable tattoos include a red heart by the renowned tattoo artist Rafael Valdez, a unique "I Know" on her wrist with a struck-through design, an angel on her ribcage by cult artist JonBoy, and her lucky number—the numeral '23'—inked above her elbow. Each piece holds a personal significance for the young model. Kaia's tattoos aren't limited to these examples, and she continues to turn heads and make fashion-forward statements with each new addition to her collection.
Key Takeaways
Kaia Gerber's tattoo collection showcases a minimalist and chic style
Several popular tattoo artists have contributed to Kaia's unique ink collection
The model's tattoos often hold personal meaning, which she sometimes reveals through social media
Kaia Gerber's Tattoo Collection
Kaia Gerber, the daughter of renowned supermodel Cindy Crawford, has built a successful modeling career herself and is known for her love for tattoos. She has a collection of over 10 subtle and delicate designs inked on her body. In this section, we will provide an overview of her tattoo collection, highlighting some notable works.
Number 23
Kaia has a tattoo of the number 23 on her inner arm. Many speculate that this tattoo represents her lucky number, though the exact meaning behind it remains a mystery.
Heart and Angel
Another one of Kaia Gerber's tattoos is a small heart with wings on her left upper arm. This design is reminiscent of an angel, which might symbolize love, protection, and spirituality.
Anatomical Heart
Kaia has an intricately detailed anatomical heart tattoo on her upper arm. This design is a unique and personal choice, possibly symbolizing her love for someone or something close to her.
Solemate
On her right foot, Gerber has inked the word "solemate." This playful pun might be a reference to her love for shoes, or it could signify a close connection with a special person in her life.
Floral Designs
Kaia's collection also features multiple floral tattoos. For example, she has a delicate flower on her wrist, symbolizing growth and new beginnings. These designs showcase her appreciation for nature and its elegance.
Although Kaia has several other tattoos, these are some of the most notable ones. As a model, Kaia Gerber gracefully combines her love for body art with her career, allowing her ink to become an integral part of her personal style.
Popular Tattoo Artists for Kaia Gerber
JonBoy
JonBoy, a renowned NYC-based tattoo artist, has worked with Kaia on several occasions for some of her ink. Known for his delicate and minimalist style, JonBoy has created meaningful designs for Gerber, including the angel on her ribcage. His signature style aligns with Kaia's preference for small, discreet tattoos that carry a personal significance.
Evan Tattoo
Another talented artist Kaia has entrusted with her body art is Evan Tattoo. This NYC-based tattoo artist has a versatile skillset that includes intricate designs and minimalist tattoos. Though the specific tattoos Evan has created for Kaia are not known, the collaboration reflects the supermodel's continuous search for impressive artists to add to her growing collection.
Rafael Valdez
Rafael Valdez is a notable tattoo artist who has also worked with Kaia Gerber. Among his contributions to her collection is a charming red heart design. Valdez is known for his ability to create a variety of styles, ranging from detailed pieces to minimalist artwork. His work with Kaia showcases the value she places on working with skilled and versatile artists for her tattoos.
Meanings Behind Kaia's Tattoos
Family and Relationships
Kaia Gerber, the daughter of supermodel Cindy Crawford, is no stranger to the world of tattoos. With a growing collection of small designs, many of her tattoos pay homage to her family and close relationships. One example is the "Jordan" tattoo on her left inner bicep, representing her middle name. This particular ink is in beautiful cursive handwriting, signifying the importance of her family name.
Her brother, Presley Gerber, also has a love for tattoos, sporting a full sleeve on his left arm, and other designs. The siblings have been known to get tattoos together, symbolizing their close bond.
Love for Fashion
Being the daughter of a supermodel and having a successful modeling career herself, it's no surprise that some of Kaia's tattoos are inspired by her love for fashion. One of her well-known tattoos is a delicate design of a hanger on her wrist. This simple and minimalist tattoo is a subtle nod to her involvement in the fashion industry and her passion for style.
Minimal and Discreet
Kaia Gerber's tattoos are often small, minimal, and discreet, emphasizing her taste for subtlety. Many of her designs are inked in locations easily concealed by clothing, allowing her to maintain a sense of privacy while still expressing herself through body art.
For instance, she has a small tattoo in honor of her then-boyfriend Charlotte Lawrence on the back of her arm. The design features intertwined initials, symbolizing their connection at the time. This tattoo, like many others in her collection, showcases Kaia's preference for understated and elegant ink that remains personal and meaningful to her.
Kaia Gerber's Matching Tattoos
With Sibling Presley Gerber
Kaia Gerber and her brother Presley Gerber share a close bond, which extends to their matching tattoos. The siblings both have small inkings of interlocking arms on their shoulders, symbolizing their strong relationship and mutual support. Displaying a confident and knowledgeable air, Kaia has a history of proudly showing off her ink collection on social media and in interviews, often expressing her personal connection to each design.
With Friend Charlotte Lawrence
In addition to her familial matching tattoo, Kaia Gerber has another set of coordinating ink with her friend Charlotte Lawrence. Although details about the tattoo are scarce, it is known that both friends sport the design as a testament to their friendship. Much like her sibling tattoo, Kaia and Charlotte have chosen a symbol to represent the bond they share, illustrating the significance of relationships in Kaia's life and tattoo choices.
Tattoo Reveal on Social Media
Instagram
Kaia Gerber, a young model and daughter of Cindy Crawford, frequently uses social media platforms like Instagram to reveal her new tattoos to her followers. She showcases her tattoos in artistic photos that demonstrate her unique style and individuality.
One of the tattoos was revealed through a topless mirror selfie posted on her Instagram. The 18-year-old model showed off a small tattoo of an angel inked on to her left ribcage1. This is just one example of how Gerber engages her audience by sharing her latest ink updates on the platform.
Instagram Stories
In addition to regular posts, Kaia Gerber also utilizes Instagram Stories to unveil her tattoos in a more temporary and engaging manner. Sharing pictures, videos, or even behind-the-scene glimpses while getting tattooed allows her followers to witness the tattoos' progress and the red line stage as the needle marks the skin. This type of content gives her followers an intimate peek into her personal life and style choices.
Social media platforms like Instagram provide a perfect stage for public figures like Kaia Gerber as they share their ink journey and style choices with their fans. The confident, clear, and neutral tone she maintains on her social media presence only adds to the appeal and fascination her followers have with her growing tattoo collection.
Modeling Career and Tattoos
Influence on Fashion Industry
Kaia Gerber, a 21-year-old supermodel, and daughter of Cindy Crawford, has quickly made a name for herself in the fashion industry. With over ten small tattoos, Gerber is a walking guide of chic ink-spiration. Her tattoos subtly complement her overall style and don't distract from her impressive presence on the runway. Kaia has graced the catwalk for various high-profile brands, such as Alexander McQueen and Chanel, further enhancing her status and influence in the world of fashion.
Campaigns
The young supermodel's tattoos have become a part of her signature look, and her minimalist ink designs caught the attention of several fashion campaigns. As a result, Kaia has been featured in prominent fashion ads, showcasing her ink as part of the style narrative. While keeping the focus on the featured products, her tattoos serve as a fashionable accessory, adding a sense of authenticity to the campaigns.
Red Carpet
Kaia Gerber is no stranger to the red carpet, making appearances at various prestigious events in the fashion industry. Her tattoos, although not the primary focus, have made subtle impacts on her red carpet looks. They don't overpower her attire, and instead, Kaia uses them to accentuate her sophisticated and confident presence. Her ability to gracefully combine her tattoos with her red carpet style demonstrates a meaningful connection between her body art and personal fashion sense.