---
How to Choose The Best Soap for Tattoos
Choosing the best soap for your tattoo can be challenging, especially with so many products on the market targeted toward tattoo aftercare. There are many factors to consider when selecting products that work best for your skin.
What to Consider
Ingredients
One of the most important factors to consider when shopping for tattoo cleansers is the ingredients. A tattoo is basically an open wound, so it's important to care for it properly to prevent infection.
The type of soap you use on your tattoo can make or break your tattoo's healing process. You should look for a gentle, hypoallergenic, and chemical-free soap that will cleanse the area without irritating or drying out your skin.
Typically, the more organic ingredients are the best to keep your tattoo infection and irritation free. You should avoid any harsh chemicals or synthetic fragrances because these can cause irritation and lead to allergic reactions for some.
You should also avoid products with alcohol since it's known to dry out the skin and lead to itchiness, dry, cracked skin, and delayed healing. Ingredients like Aloe Vera have anti-inflammatory chemical compounds that will reduce the swelling and discomfort that normally happens right after you get your ink.
Antibacterial Properties
Since new tattoos are vulnerable to infection, you should make sure to keep the area clean and free from any potentially pathogenic bacteria that can invade an open wound as it heals. Antibacterial soaps are excellent in preventing infection caused by bacteria.
Skin Type
Another important factor to consider when looking for soap for your tattoos is your skin type. If you have dry or sensitive skin you'll want a cleanser that's made with delicate ingredients meant to hydrate the skin. These soaps will help you keep your skin infection and irritation free as it heals.
Fragrance-Free
Often fragrances and artificial flavors present in soap contain harmful chemicals that irritate the skin and slow down the healing process. To avoid this happening to you, look for a scented soap brand you trust or stick to fragrance-free soaps for healing tattoos.
Moisturizing Properties
Like any healing skin, your new ink needs to stay hydrated, so you should also consider moisturizing ingredients when you're looking for the best soap for tattoos. Keeping your tattoo hydrated will help it heal more quickly.
Typically soaps with ingredients like aloe vera and glycerin indicate a moisturizing soap that works well for newly tattooed skin. You should look for soothing ingredients that nourish the skin, such as vitamins A and B, to keep your tattooed skin moisturized as it repairs the wound.
Soaps with anti-inflammatory properties are a plus, since they'll ease some of the pain and discomfort during the tattooing process and as it's healing.
Avoid any harsh cleansers that strip your skin of its natural oils.
---
Frequently Asked Questions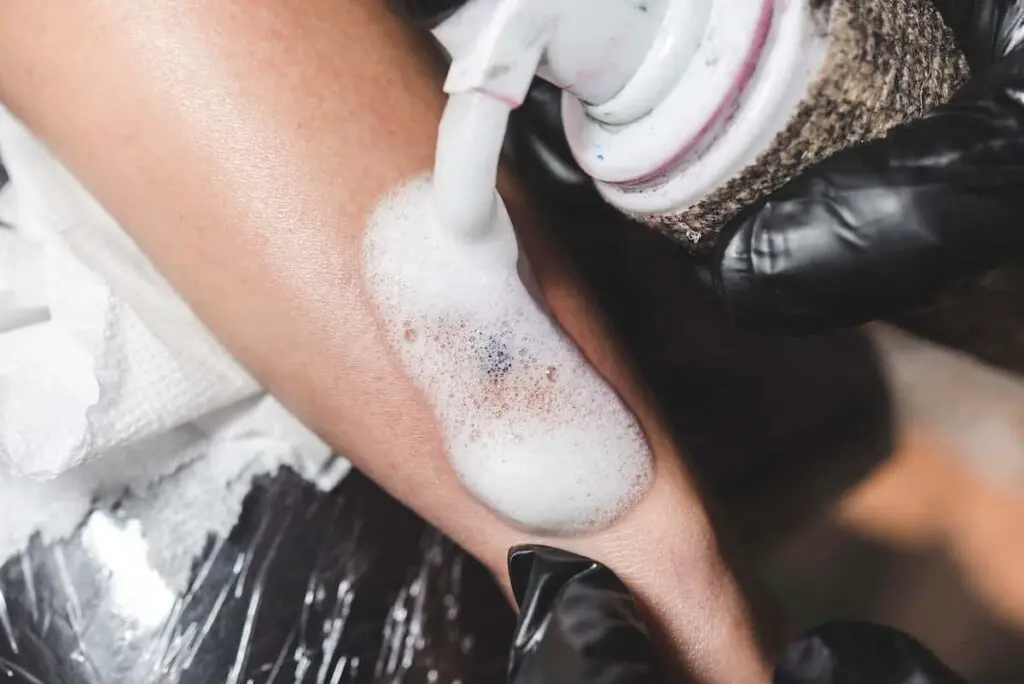 How often should I wash my tattoo?
Your tattoo artist will clean and bandage your tattoo before you leave their shop. The timing for when you can remove the bandage varies anywhere from 3 to 24 hours, so make sure you ask the artist before leaving.
You should wash your tattoo within 24 hours of receiving it and continue to wash it two to three times each day to ensure the site stays clean and infection-free.
What soaps shouldn't be used on my tattoo?
You shouldn't use any soaps that contain harsh chemicals that could dry out your tattoo, smother it, or dull the vibrancy of its colors. In general, you should avoid using soaps that contain alcohol, parabens, and sulfates. These products could lead to itchy, dry skin around the tattooed area, which can damage the ink of your new tattoo.
How do I wash my new tattoo?
Your tattoo artist will give you specific instructions for aftercare, so make sure to discuss how to care for your new tattoo with them before leaving the shop.
Generally speaking, before washing a tattoo you should wash your hands well to get rid of any bacteria or germs. Then, using the tattoo soap, wash your ink gently with lukewarm water. Use your hands, rather than any kind of washcloth, since a washcloth may damage the skin.
After rinsing the soap from your tattoo, gently pat the area dry. You can repeat the process twice a day to make sure your tattoo site stays clean and free from any harmful bacteria that lead to infection.
---
Wrapping Up the 5 Best Soaps for Tattoos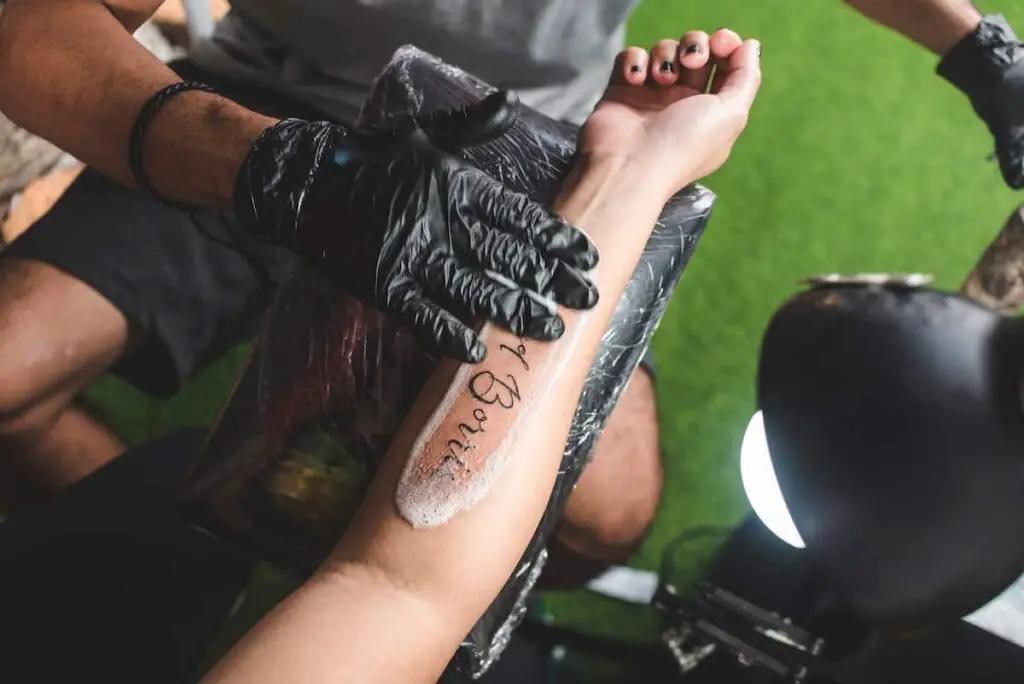 Washing your new ink is a crucial part of the healing process. Whether you're looking for a tattoo cleanser that enhances color, or for a gentle cleanser for sensitive skin, we hope this guide on choosing the best soap for your tattoo has been helpful.
Now that we've talked about the best soaps for tattoos, check out our Best Tattoo Aftercare post for more excellent aftercare products for your new ink.