Chicago has long been known for its rich and diverse culture. The city's tattoo scene is a melting pot of various styles and techniques, with artists pushing the boundaries of creativity and skill. One prominent style that emerged from this vibrant environment is the Chicago Style Tattoo.
Featuring bold lines, vibrant colors, and unmistakably Chicago-centric themes, these tattoos capture the essence of the Windy City in a visually striking and personal way. Learn more about this style and the hottest shops to get yours!
---
The history and culture of Chicago-style tattoos are a testament to the city's diverse artistic expressions. From Chicano style to Chitown culture tattoos, the Windy City has cultivated a unique and thriving tattoo scene that reflects its rich heritage and unwavering spirit.
Chicago-style tattoos have roots in the city's early 20th-century tattoo culture when many skilled artists were attracted to the thriving trade scene. As the city grew and evolved, so did its tattoo styles.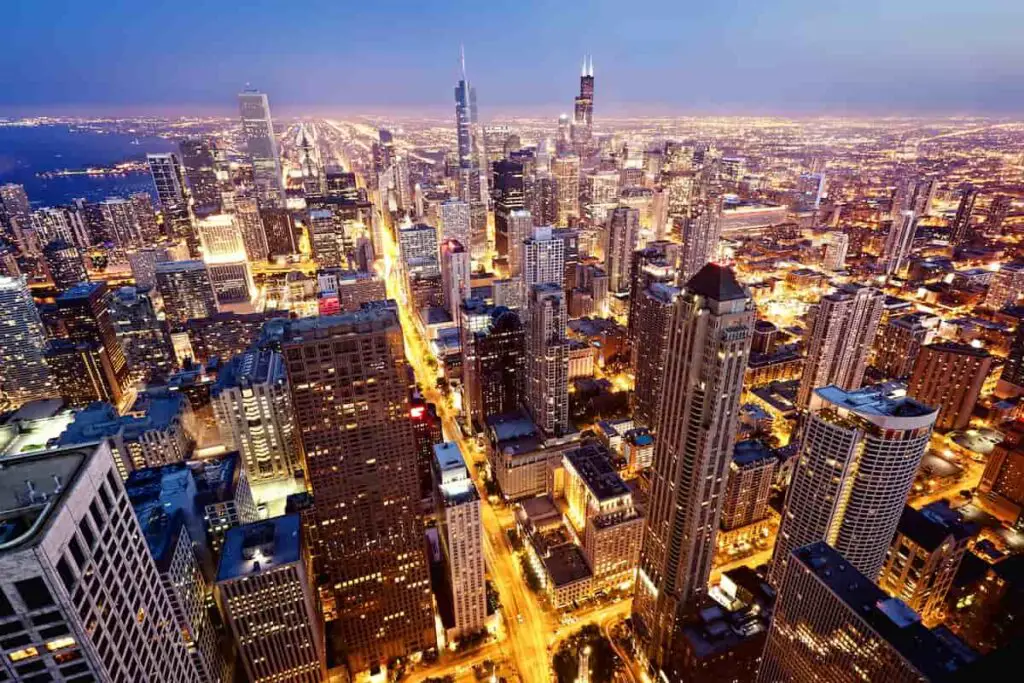 Chicago artists began incorporating local icons and symbols into their designs, creating a distinct style that showcased the city's pride and heritage. Over time, the style evolved, reflecting cultural and artistic shifts while maintaining its core influences and traditional elements.
Chitown culture tattoos showcase the rich history of Chicago, a city filled with resilience and tenacity. The World's Columbian Exposition of 1893 and the Century of Progress Exposition in 1933 are celebrated events that demonstrate Chicago's perseverance even through difficult times. These tattoos not only pay homage to the city's past but also express a sense of pride and connection to Chicago's spirit.
In recent years, some Chicago tattoo artists have also been influenced by their academic backgrounds, attending art school and incorporating a wide range of historical knowledge into their work. This fusion of art and tattooing helps elevate the craft, pushing the boundaries of what is possible in the world of ink.
---
Chicago-style tattoos encompass a wide range of designs, drawing inspiration from various tattoo genres. Some popular designs include Traditional Americana, Japanese, Portraits, and Lettering.
Traditional Americana tattoos are characterized by bold lines, vibrant colors, and classic themes such as pin-ups, animals, and nautical imagery. Often incorporating traditional American motifs, these tattoos feature clean designs and a timeless aesthetic. Renowned artists like Ben Wahh have contributed to the popularity of this style in Chicago.
Japanese tattoo designs are known for their large scale, intricate detailing, and rich symbolism. These tattoos often employ a full sleeve or even full body coverage, with subjects such as animals, flowers, and mythological creatures. Key features include smooth shading, black and gray or vivid color, and the incorporation of traditional Japanese elements like water and geometric patterns.
Portrait tattoos offer a highly realistic representation of a person or animal. Utilizing skilled shading and fine line work, these tattoos can depict the subject in black, gray, or full color. Chicago has no shortage of talented artists capable of capturing a photograph-like likeness on the skin, such as portrait masters Tim Biedron and Harlan Thompson.
Lettering tattoos are a versatile way to express a personal message or sentiment. Styles can range from bold, classic fonts to intricate, custom scripts, with the option for clean, black ink or embellished color work. Chicano tattoos are one example of lettering, which originated in Latin American gangs and now represents an important part of tattoo culture.
---
When it comes to custom tattoo services in Chicago, several talented shops stand out in the city's vibrant tattoo scene. Here are some of the best:
Founded by Tim Biedron and Harlan Thompson, Pioneer Tattoo has made a name for itself in Chicago's Wicker Park neighborhood. Known for providing custom tattoo designs and featuring a team of talented artists, this studio has something for everyone.
Ryan Flaherty, a local tattoo artist, specializes in realism, providing visually stunning and intricate designs to his clients. Pioneer Tattoo has a reputation for their laid-back atmosphere and top-notch customer service.
Revolution Tattoo is a Chicago-based tattoo company that has been in service since 2004. Revolution focuses on clients' comfort while delivering outstanding artistic creations. Specializing in custom tattoo designs, this shop also welcomes walk-ins and helps clients bring their dream tattoos to life.
Deluxe Tattoo is a popular Chicago tattoo studio located in Lakeview. With a long-standing reputation for quality work and a team of experienced artists, Deluxe Tattoo has earned its place among the best in the city. Clients can choose from various styles, including American traditional, Japanese, and others.
The studio also offers virtual consultations, making it easy for clients to get in touch and share their tattoo ideas before booking an appointment.
Great Lakes Tattoo, founded by Patrick Cornolo, is a custom tattoo shop and gallery. This studio specializes in providing a range of tattooing styles, from traditional Americana to Japanese-inspired designs.
Apart from its team of resident artists, Great Lakes Tattoo also hosts guest artists, allowing clients to experience work from talent outside of Chicago. It is also home to the Great State Gallery, an art and event space that hosts art shows and other niche happenings.
Speakeasy Custom Tattoo is a renowned tattoo parlor situated in Wicker Park. Owned by Patrick Cornolo, this shop houses world-class tattoo artists who are dedicated to providing exceptional service and unique custom tattoos.
Speakeasy services are available by appointment only and serve clients looking to create a true work of bespoke art.
While each of these tattoo shops in Chicago has its unique flair and offerings, the common thread is their commitment to quality work, experienced artists, and customer satisfaction. You can't go wrong with an appointment at one of these!
---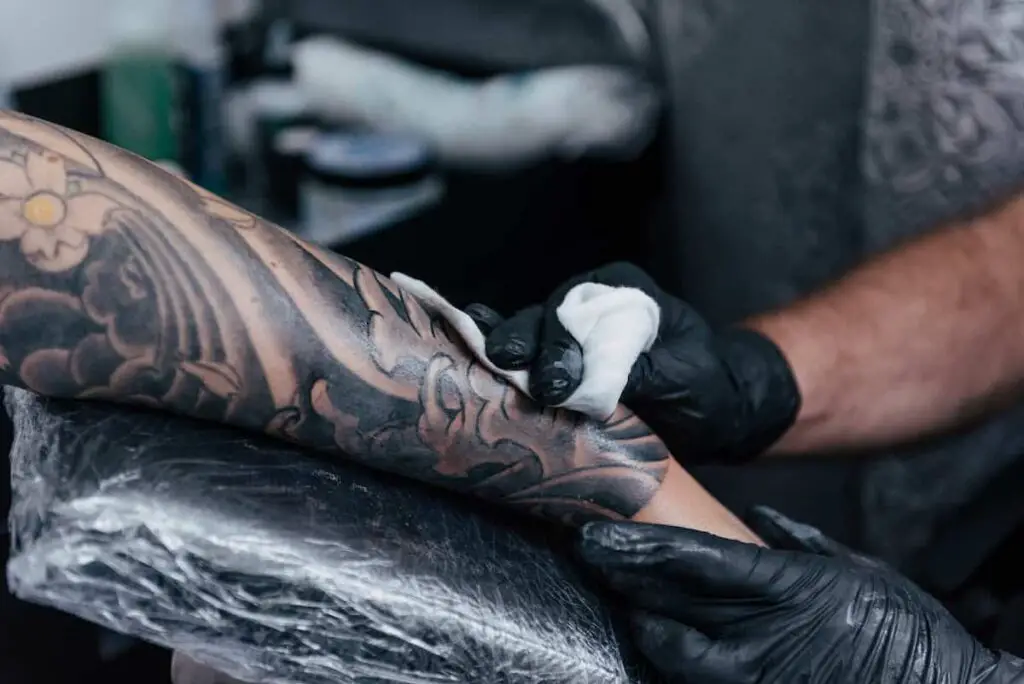 Chicago-style tattoos are known for their bold lines, vibrant colors, and strong design elements. Often, these tattoos feature imagery that pays tribute to the city's rich cultural history, such as architecture, sports symbols, or the iconic Chicago flag.
In addition, Chicago-style tattoos can incorporate traditional old-school art, which draws from vintage designs seen in the early 20th century.
While Chicago-style tattoos share similarities with other traditional and old-school designs, they mainly set themselves apart by focusing on the city's unique cultural elements and icons. The style often draws inspiration from Chicago's architectural landscape, sports teams, or local landmarks, blending them with traditional tattoo elements to create a unique, recognizable aesthetic.
To find top-rated artists specializing in Chicago-style tattoos, consider visiting to explore some highly-rated tattoo studios located throughout the city. Checking out different tattoo artists' portfolios and reading reviews can help you make an educated decision on the best artist for your Chicago-style tattoo.
The time required to complete a Chicago-style tattoo will depend on the design's size, complexity, and the skill of the artist. Smaller tattoos may take only an hour or two, while larger, intricate pieces could require several sessions.
It's essential to discuss the estimated timeline with your artist to ensure you have a clear understanding of the process and what to expect during your tattooing experience.
---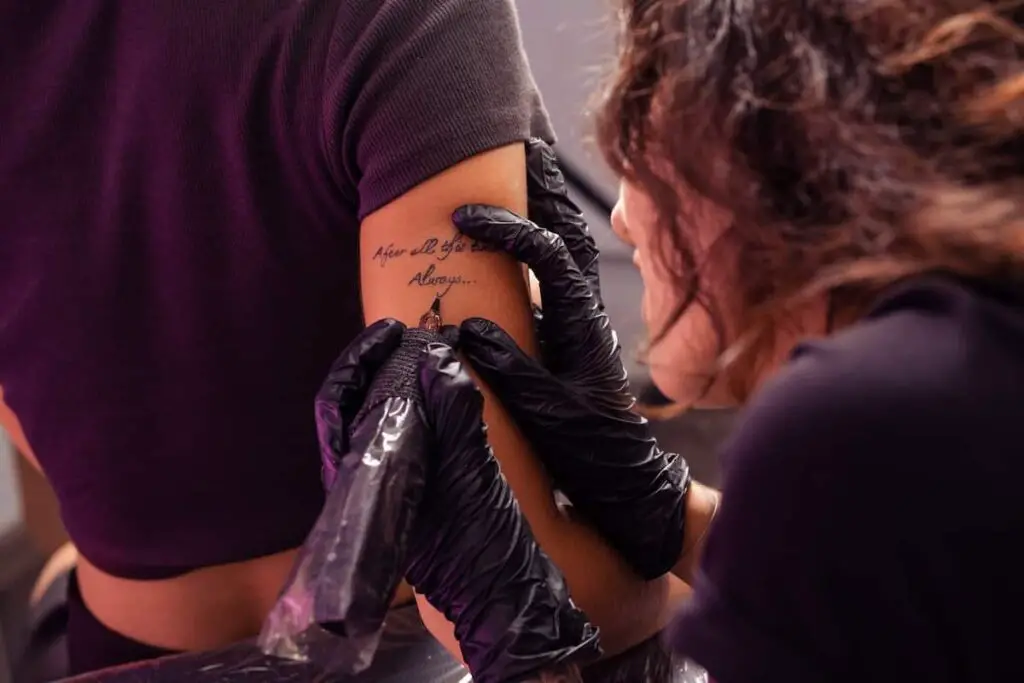 Whether you're a Chi-town local, transplant, or just love to visit, a Chicago-style tattoo is the perfect homage to one of the Midwest's favorite cities! While you think about the perfect design for your next piece, explore the meanings of other popular designs on Inkspired.