Bakersfield, a charming Californian town, offers a vibrant tattoo culture for both residents and visitors. Despite its small-town atmosphere, Bakersfield boasts an array of talented tattoo artists and top-notch shops, making it an ideal destination for those seeking memorable body art. In this article, we will explore some of the best tattoo shops in the area, helping you make an informed decision when selecting the perfect artist for your next ink.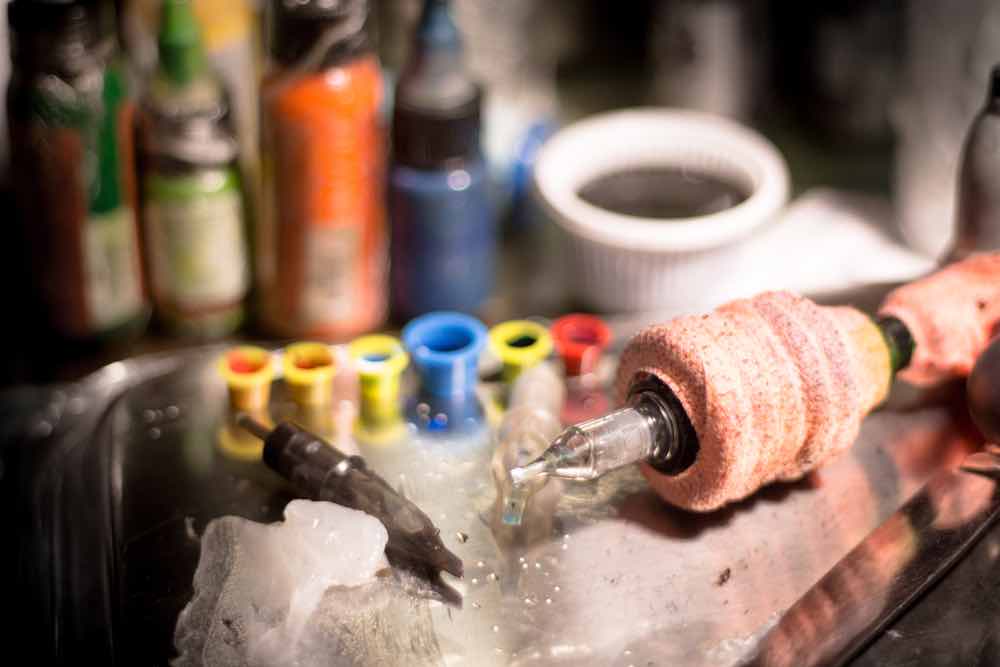 Each tattoo shop in Bakersfield offers its own unique style, atmosphere, and expertise, which ensures that prospective clients can find the perfect fit for their individual needs and preferences. From intricate designs to simple yet meaningful pieces, these local establishments cater to a wide range of personal tastes and artistic interests. As you read on, you will discover the top-rated tattoo shops in Bakersfield, along with the talented artists who bring clients' visions to life.
With a focus on quality craftsmanship, customer satisfaction, and a welcoming environment, Bakersfield's finest tattoo shops stand out among the competition. By carefully considering factors such as reviews, recommendations, and artist portfolios, we have curated a list of exceptional establishments for you to explore. Whether you're a first-timer or a seasoned enthusiast, these Bakersfield tattoo shops are sure to leave a lasting impression.
Bakersfield Tattoo Shop Essentials
When you're planning to get a tattoo in Bakersfield, there are a few key factors to consider when selecting the best tattoo shop for your needs.
Choosing the Right Tattoo Shop
One of the first steps in finding the perfect tattoo shop is research. Take the time to check out online reviews, visit the shops' websites, and even stop by in person to look at the artists' portfolios. Some of the top-rated tattoo shops in Bakersfield include:
Top Hat Art Collective
Mad Dog Tattoo
Notorious Ink Tattoo Studio
Pretty in Ink Tattoo
Modern Electric Tattoo Company
Each shop offers a unique style, atmosphere, and array of talented tattoo artists, so it's important to consider which factors are most important to you.
Professionalism and Experience
When selecting a Bakersfield tattoo shop, consider the professionalism and experience of the tattoo artists. Look for a tattoo artist who has experience in the style you want and has an impressive portfolio of past work. Review customer testimonials, and pay attention to any mention of friendliness, timeliness, and skill. Additionally, a well-established, reputable tattoo shop should be able to provide information about their licensing and certifications.
Cleanliness and Safety
Lastly, when choosing a Bakersfield tattoo shop, pay close attention to cleanliness and safety. Be sure to choose a shop that maintains a clean, organized, and sterile environment to ensure your safety. Ask potential artists about their sanitation procedures, and make sure the shop has up-to-date certifications and inspections. A clean tattoo shop not only protects your health but also reflects a true dedication to professionalism and quality.
Keep these factors in mind when searching for the perfect Bakersfield tattoo shop. Your tattoo is a lifelong investment, so it's important to choose a shop that will provide you with the best experience and final result possible.
Popular Tattoo Styles
Finding Your Style
Tattoo art comes in a wide variety of styles, ranging from realistic to abstract, and monochromatic to full-color designs. It's essential to explore the various styles available before settling on your preferred tattoo design. Here are some popular styles you might consider:
Realistic: These tattoos depict objects, animals, and people with life-like detail and shading.
Black and Grey: This style features tattoos with varying shades of black and grey, often combined with intricate patterns and shading techniques.
Color: Incorporating a wide range of colors and techniques, these tattoos showcase vibrant and attention-grabbing designs.
Anime and Cartoon: For fans of animated shows and comics, these tattoos can depict favorite characters or scenes in a playful and stylized manner.
Portraiture: Detailed and lifelike, these tattoos depict people's faces, often paying tribute to loved ones or celebrities.
Floral: Incorporating flowers and botanical elements, this style showcases the beauty of nature with delicate and intricate designs.
Japanese: Traditional Japanese tattoo themes include mythical creatures, natural elements, and historical scenes. This style often features bold lines and vibrant colors.
Cover-Up: These tattoos are specifically designed to conceal or transform old, unwanted tattoos into new, more appealing designs.
Custom Tattoos: Some artists specialize in creating one-of-a-kind, fully customized tattoos tailored to their clients' preferences and ideas.
Tattoo Artist Specializations
As you search for the perfect tattoo design, it's essential to consider the expertise of your chosen tattoo artist. Bakersfield's best tattoo shops boast artists with various specializations, ensuring that you can find the right fit for your desired style. For instance, some artists excel at black and grey tattoos, while others specialize in Japanese or anime designs. Before selecting a tattoo artist, research their portfolio carefully to ensure they have experience in your preferred style. A skilled artist will help you bring your vision to life, resulting in a tattoo that you will cherish for years to come.
Tattoo Services and Pricing
When looking for a tattoo shop in Bakersfield, it's essential to consider the services and pricing available. In this section, we will discuss the various aspects of pricing and services to help you make an informed decision.
Consultations and Booking
Many top-rated tattoo shops in Bakersfield, like Top Hat Art Collective and Lucky Club Tattoo, offer consultation and appointment booking services. During consultations, you can discuss your desired tattoo design, placement, and size, ensuring that you receive a tattoo that suits your preferences and budget. It's common for tattoo artists to charge hourly rates, with average tattoo prices ranging from $30 to $100 for sizes under 2×2, between $100 and $200 for a 3×3, and around $250 or more for a 4×4 tattoo. Keep in mind that prices may vary depending on the artist's experience and the shop's location.
Walk-ins and Wait Times
Some tattoo shops in Bakersfield, such as Modern Electric Tattoo Company, accommodate walk-in clients. However, availability may vary due to the artist's schedule and the overall demand for their services. To avoid long wait times or disappointment, it's recommended to book an appointment in advance. This ensures that the artist has ample time to work on your design and provide the best possible outcome.
Additional Services
In addition to tattoos, some shops in Bakersfield also offer piercing services. The cost of piercings varies depending on the type and location of the piercing. It is essential to research and inquire about the pricing for piercings at your chosen tattoo shop to ensure they offer reasonable rates. The cost for a small tattoo can range from $50 to $250, while a medium tattoo may cost between $150 and $450.
Remember to keep these factors in mind when assessing tattoo services and pricing in Bakersfield. By considering the consultation and booking process, walk-ins and wait times, and additional services, you can make an informed decision and locate the perfect tattoo shop for your needs.
Top Bakersfield Tattoo Shops
In this section, we've compiled information on some of the top tattoo shops in Bakersfield, California. We'll be focusing on Society 9 Tattoo and Bakersfield Tattoo and Piercing, providing relevant information such as reviews, ratings, and customer satisfaction.
Society 9 Tattoo
Society 9 Tattoo is a highly rated tattoo shop in Bakersfield. The tattoo artists at Society 9 are known for their excellent craftsmanship and dedication to customer satisfaction. They offer various tattoo styles and designs to cater to a wide range of client preferences.
Reviews and Ratings:
Highly-rated among Bakersfield tattoo shops
Consistently positive reviews from satisfied clients
Known for their skilled and professional artists
Satisfaction:
Clients report high levels of satisfaction with their tattoo experience
Focus on delivering quality work and ensuring client satisfaction
Bakersfield Tattoo and Piercing
Another top-rated tattoo shop in Bakersfield is Bakersfield Tattoo and Piercing. This establishment is known for combining modern and traditional techniques in tattooing to create a unique and memorable experience for clients. They offer a variety of tattoo styles and cater to different client preferences.
Reviews and Ratings:
Highly-rated among Bakersfield tattoo shops
Positive reviews from clients praising the clean, professional environment
Recognition for the skilled artists working at the shop
Satisfaction:
Focus on providing quality tattoos and piercings to clients
Positive feedback from clients on the comfortable atmosphere and talented artists
Tattoo Artists and Piercers
Finding the Right Artist
Bakersfield is home to many talented tattoo artists and piercers, each with their unique styles and specialties. Finding the right artist for your body art needs may require some research and patience. A good starting point is asking friends and local tattoo enthusiasts for recommendations. Word of mouth is a great way to find suggestions of artistic professionals who have proven their skills and passion for the craft.
Instagram and Portfolios
Social media platforms, particularly Instagram, have become valuable tools for tattoo artists to showcase their work. By browsing Bakersfield-based artists' profiles, you can get a taste of their designs and techniques. Pay extra attention to the style, line quality, and color saturation, as these are essential aspects that contribute to a remarkable, long-lasting tattoo.
Additionally, most reputable tattoo shops in Bakersfield will have artists' portfolios available online or in their physical location. These portfolios are an excellent opportunity to review and compare the works of different talented artists side by side. Remember that selecting an artist who specializes in the style you desire can significantly impact the overall outcome of your tattoo.
When searching for a piercer, it's essential to prioritize safety and hygiene. Browsing through online reviews and asking for recommendations can help you make an informed decision. Ensure the piercer you choose follows proper sterilization procedures, uses high-quality jewelry and materials, and has a wealth of experience in the art of body piercing.
Location and Contact
The bustling city of Bakersfield, California, boasts a variety of highly-rated tattoo shops to satisfy your ink desires. The following shops offer exceptional service and boast top-notch artists who will bring your visions to life.
Top Hat Art Collective can be found in the heart of Bakersfield, where they foster a positive environment and offer great pricing (Source: Yelp). Their contact information is not provided in the search result, but you can inquire about their services through their request-a-quote feature on Yelp.
Mad Dog Tattoo is another popular option in Bakersfield, known for their talented artists and precision in creating unique designs (Source: Yelp). You can reach them at (661) 322-8287 or visit their shop at 134 Chester Ave, Bakersfield, CA 93301.
Located at 1518 18th Street, Bakersfield, CA 93301, Modern Electric Tattoo Company has been a staple in the community since 2011. With over 60 years of combined tattooing experience, you can trust in their expertise and professional approach (Source: ThreeBestRated). For inquiries, you can contact them at (661) 634-1001.
Notorious Ink Tattoo Studio is a well-regarded establishment in Bakersfield that believes in turning your visions into reality. Owned by Nick Hill, they offer state-of-the-art technology to ensure your tattoos have a longer lifespan (Source: Tattoo Shop in Bakersfield). You can find the shop at 2500 New Stine Rd, Bakersfield, CA 93309, but their contact information remains unavailable from the search result.
Lastly, Tattoo Supply Connection is located at 2208 F St, Bakersfield (Source: BestProsInTown). They can be reached at (661) 447-4554 for any inquiries you may have.
Remember to research each shop thoroughly, read reviews, and visit their websites to find the best match for your tattoo needs in Bakersfield, California.