Eminem, born Marshall Bruce Mathers III, portrays his pain and suffering through the nine tattoos he has modified and added to over the years. His tattoos, full of meaning, came long before his music career took off.
The Grammy award-winning rapper, also known as Slim Shady, rose from a life of poverty to international fame, becoming one of the industry's most notorious rappers.
Keep reading to learn all about the nine Eminem tattoos, including their placement, the meaning behind them, and why we like them!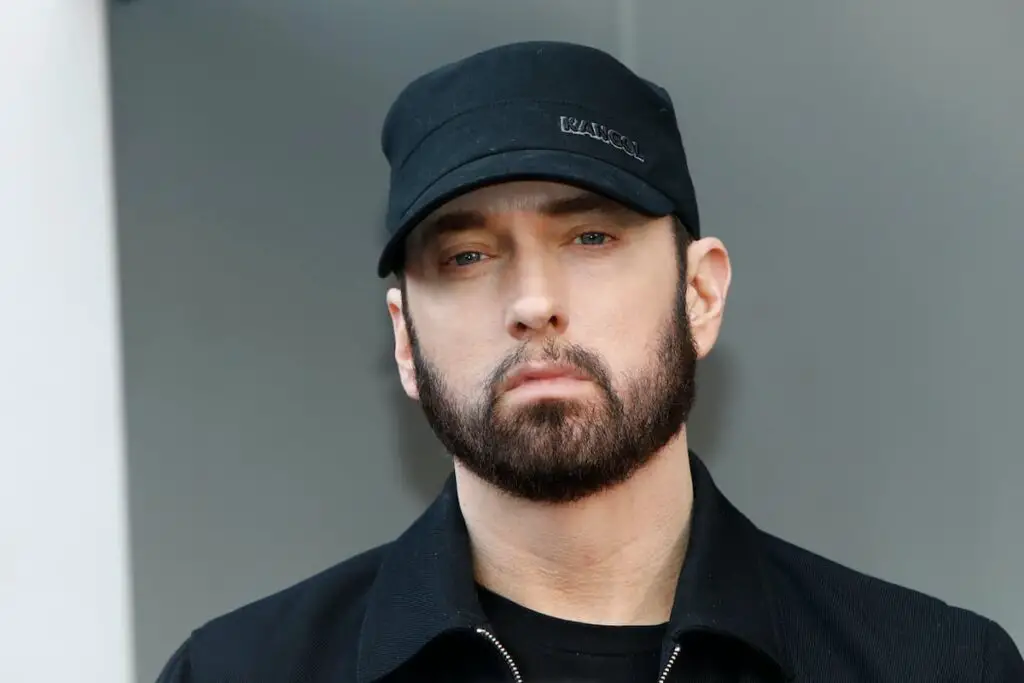 ---
Nine Eminem Tattoos
"Hailie Jade" on Right Forearm Backside
One of the earliest Eminem tattoos is his daughter's name inked on the backside of his right forearm.
Although parts of the design have been added over the years, it was completed not long after his daughter Hailie Jade was born on Christmas day in 1995.
This is also one of the most meaningful tattoos Eminem wears, which is no surprise considering the prevalence of his daughter Hailie in his lyrics as well as her appearance in some of his music.
"Proof" on Left Forearm Backside
After Eminem's debut in the music industry, he reconnected with a high school friend DeShaun 'Proof' Holton.
By this time Proof was already a member of D12, which Eminem signed to his Shady Records Imprint in 1999. They became even closer friends than they had been in school, which is part of why Proof's death left its impact.
The group had secured two platinum albums and had traveled far and wide by the time Proof was fatally shot in 2006.
As a memorial for his friend, Eminem wears a tattoo of the word "Proof" on the backside of his left forearm identical to the design Proof had of his own name.
"D" on Right Forearm
The "D" tattooed on Eminem's right forearm is the first of a two-part tattoo that commemorates his time with the hip-hop group D12, also known as the Dirty Dozen.
Formed in 1996, D12 went mainstream after Eminem's rise to fame. The group disbanded after one of the members, 'Proof' tragically lost his life.
However, Eminem portrays the importance of the connections he made with the group through his tattoo, which is a two-part piece.
"12" on Left Forearm
The "12" tattoo on Eminem's left forearm is the second part of the work he had done to represent his time with D12. This tattoo seems to commemorate lifelong friendships that stemmed from the group.
D12, also known as D-Twizzie, consisted of five up-and-coming rappers: Eminem, Mr. Porter, Bizarre, Proof, Kuniva, and Swift.
The idea of the group originated with Proof, who was a close friend of Eminem's. This tattoo not only represents his time with the group, but it has a deeper meaning because of Shady's friendship with Proof.
"Slit Me" on Right Wrist
The Rapper has the words "slit me" inked on his right wrist, symbolizing his struggle with suicidal tendencies. He isn't shy about his disturbing past, often rapping about his rough childhood.
Before getting this tattoo, he lost his job days before his daughter's birthday, got evicted from his home, and to top it off his debut album flopped.
Eminem's tattoo on his right wrist references the impacts of these events on his mental health.
Tribal Bracelet Tattoo on Left Wrist
A tribal bracelet is tattooed on Eminem's left wrist, although the meaning behind it is lost on everyone, himself included.
The notorious rapper has admitted to being very inebriated when choosing the design, so the world may never know what it meant to him at that moment.
Portrait of Hailie With "Bonnie and Clyde" on Right Shoulder
Along with her name on the backside of his right forearm, Eminem has a portrait of Halie on his right upper arm.
This tattoo has been added to multiple times. The original design is that of a smiling Hailie with a row of five roses beneath her.
Below the original design, Eminem has added the name "Bonnie & Clyde" as a tribute to his daughter. A vintage car is pictured below the names, referencing the getaway car driven by the criminal pair.
"Ronnie RIP" on Left Shoulder
Eminem has a large tribute tattoo for his Uncle Ronnie inked onto his left shoulder. He got this tattoo after Ronnie Polkingharn committed suicide in 1991.
Uncle Ronnie features in a few of Eminem's songs, like Cleaning Out My Closet, and is credited by the rapper as the person who got him into the hip-hop industry.
This tattoo started out only saying "Slim Shady," but it was updated upon the death of his treasured Uncle Ronnie, with the words "Ronnie RIP." These words are surrounded by roses, an evil eye, and a large mushroom.
This tattoo is very meaningful for Eminem because of the close relationship the two shared. The rapper was closer to his uncle than anyone else in his family.
"Rot In Pieces" on Abdomen
One night after Eminem and his now ex-wife Kim Scott had one of their intense fights, he angrily had the phrase "Rot in Pieces" tattooed on his abdomen.
Above the open grave, on the tombstone is Kim's name. He got this ink while angrily swearing the two would not reconcile, which they did for a short time.
This tattoo is referenced in one of his songs, Superman, in which he raps about some of his fans that would do anything to get close to his fame.
---
Why We Like Eminem's Tattoos
Like the award-winning artists' music, Eminem's tattoos tell the story of his very challenging upbringing. He has many designs that have been altered to add deeper meaning to the already special tattoos.
His music continues to inspire millions around the world who faced a rough or abusive childhood or feel that they can connect with Eminem on a deeper level than simply entertainment.
---
Wrapping Up Eminem's Tattoos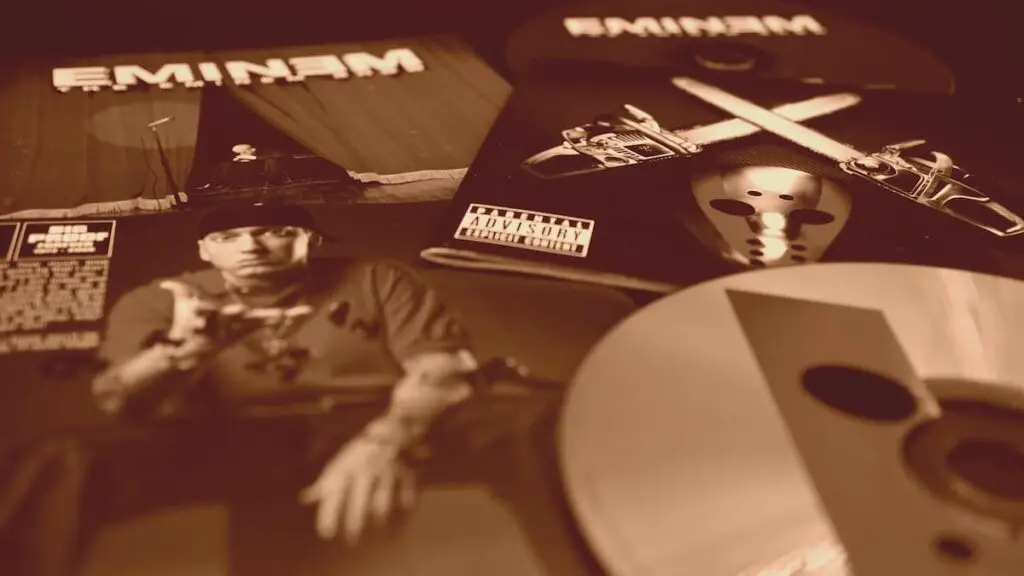 Since he began getting tattoos before his music career had even begun, Eminem's tattoos portray his life before he made it big in the hip-hop industry.
His fans value the tattoos Eminem wears as much as his music because they portray the stepping stones that led Eminem to build his empire as the King of Hip-Hop.
Are you interested in learning more about the tattoos your favorite celebrities have? Check out the blog posts in the Celebrity Tattoos section of our website!