If you're an anime-lover and want to get inked, then check out this comprehensive list of anime tattoo ideas. From Sailor Moon to Attack on Titan, you'll be sure to find some inspiration for your next anime tattoo.
If you have a hard time deciding between your favorite anime, then not to fear! You'll find the most popular options listed below along with some cool anime tattoo ideas for your next ink.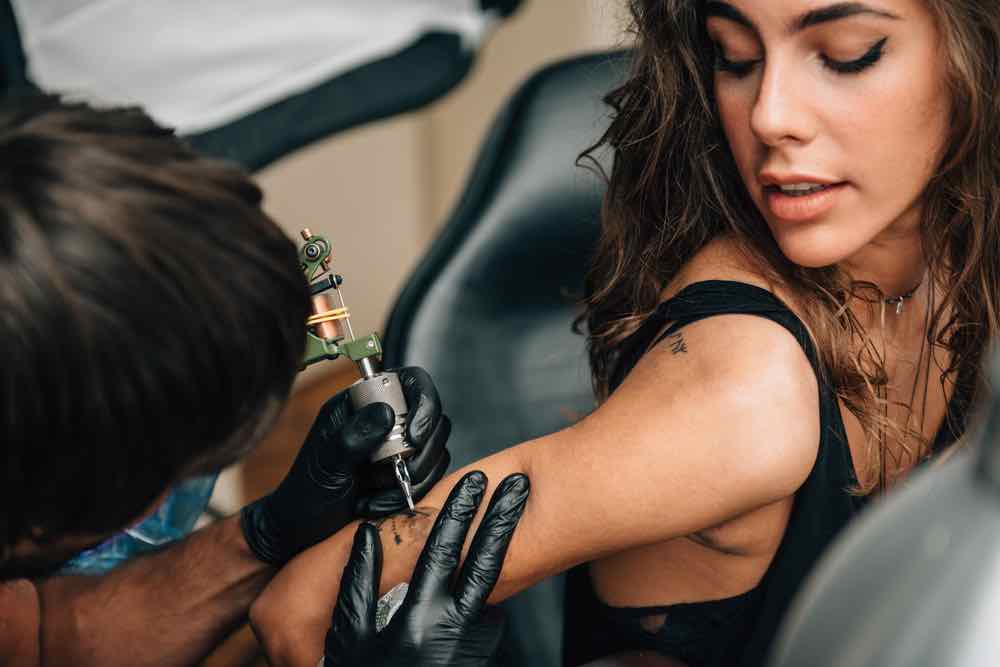 Sailor Moon Anime Tattoo Ideas
Who doesn't love Sailor Moon? This influential anime has garnered an international following with its central themes of friendship and confidence. Whether you relate to the trouble-prone protagonist or the sage-like Luna, consider checking out one of these Sailor Moon anime tattoo ideas.
1. Pink Wand
Not only does this Sailor Moon Pink Wand tattoo look incredibly pretty, but it represents strength and power. The Pink Wand was Sailor Moon's first-ever weapon and is used to conduct the Pink Sugar Heart Attack on opponents.
You'll love wearing this symbol of courage on your wrist. The eye-popping pink colors make this tattoo absolutely breathtaking.
2. Flower Power Stick
With bright pastel colors and a cool design that looks like a flower, this is one epic Sailor Moon tattoo that's hard to beat. If you want to channel the magic of the infamous Flower Power Stick, then why not carry one with you all the time? Consider basing your next ink on this stunning anime tattoo idea.
3. Sailor Moon Eyes
If there's one recognizable feature on Sailor Moon, it has to be the trademark eyes and crescent moon symbol on her forehead. What better way to pay homage to the popular manga than to get this artistic tattoo? This picture is artfully drawn with the utmost attention to detail and would make a great option for your next ink.
4. Luna
Okay, how cute is this Luna tattoo? If you have a soft spot for the charming kitty, then check out this Luna tattoo. Not only is the design adorable, but the soft pastel colors take this tattoo to another level. This is one pretty tattoo that doubles as a work of art.
Naruto Anime Tattoo Ideas
If you spent your childhood dreaming of becoming a ninja, then you can relate to the protagonist of this popular anime series. Naruto captured the hearts of many for his determination and drive to become the next leader of his village. If you grew up watching the fan-fave show, then here are some cool Naruto anime tattoo ideas to get you inspired for your next ink.
5. Itachi Arm
If you're entranced by the popular anti-villain, then why get this sinister Itachi sleeve? The unique combination of black, red, and white makes this one stunning art piece you can wear. You'll love all the hidden symbols in this artfully-designed tattoo, from the headband symbol to the Kanui knife.
6. Naruto from Child to Adult
Not only does this tattoo look insanely cool, but you'll appreciate how it also tells a story. Displaying Naruto at four different stages in life symbolizes the growth experienced by the main protagonist throughout the series. This well-designed tattoo looks like it came straight out of a manga, and would make a neat addition to your shoulder or back.
7. Itachi with ANBU Mask
Aside from looking neat, this Itachi tattoo comes with even more significance that goes beyond the ink. Itachi's ANBU mask represents a weasel, which stays true to the anti-villain's mischievous character. You might be surprised to also learn that Itachi translates to weasel in English, which gives this tattoo even more meaning.
Pokemon Anime Tattoo Ideas
Gotta catch 'em all! If you spent your childhood days playing with the famous trading cards or exploring the magical world of Pokemon Go, then get inspired with these fun anime tattoo ideas. Who knows, maybe you'll find your next sleeve below.
8. Pikachu
Pikachu is arguably the most sought-after Pokemon, and now you can keep the loveable creature close to your heart with this adorable tattoo. Imagine looking down at your wrist and seeing this cute Pikachu looking right up at you.
9. Squirtle
If you're a fan of the water-based Pokemon, then make waves by getting this cool Pokemon tattoo etched on your arm. Not only is Squirtle arguable one of the cutest Pokemon, but the pastel blue colors make this tattoo even prettier. Become a Squirtle-Stan by showcasing your love for the adorable Pokemon on your arm.
10. Ekans
If you spent ample time growing up trying to catch a wild Ekans, then why not pay homage to your efforts by dedicating a tattoo to the poisonous Pokemon? The striking purple and yellow color combination creates an eye-catching design that will certainly stand out.
11. Pokemon Halloween
If you have a passion for Pokemon and a love for all things spooky, then consider getting a Pokemon Halloween tattoo. What better way to combine your love for the scary season and your favorite anime? This cute pumpkin Balbasaur would make an adorable addition to your arm.
12. Gameboy
Not only is this Pokemon Gameboy tattoo super eye-catching, but you'll appreciate the nostalgic value of this cool ink. If you spent your childhood afternoons playing Pokemon Gold on Gameboy, then you'll appreciate this retro tattoo.
Spirited Away Anime Tattoo Ideas
Who doesn't like the classic Studio Ghibli film, Spirited Away? If you resonate with the classic coming-of-age film, then pay tribute to Miyazaki's masterpiece by getting one of these inks.
12. Chihiro
Throughout the duration of the film, the 10-year-old protagonist evolves from shy and timid to courageous and fierce. What better way to symbolize bravery than to get this artfully illustrated tattoo? If you want to pay tribute to Chihiro's transformation, then consider basing your next ink on this sketch.
14. The Bathhouse
Not only does the Bathhouse from Spirited Away portray a place of spiritual significance, but it's also visually stunning. If you'd like a beautiful depiction of Japanese architecture on your body, then consider this Bathhouse tattoo.
15. Haku the River God
If you want to pay tribute to the deuteragonist of Spirited Away, then how can you beat this artfully-drawn tattoo? You'll love the subtle flecks of red ink that enhance this black and white etching.
16. No-Face
If you're entranced by the spooky antagonist, then check out this erie No-Face tattoo. Not only is this ink a work of art in its own right, but it depicts the shape-shifting, soul-devouring spirit that lurks in the famous anime.
Attack on Titan Anime Tattoo Ideas
Attack on Titan is a dark, action-packed series that has received wide recognition for being the best new-generation anime. If you spend endless hours binging this acclaimed show, then get inspired by these cool anime tattoo ideas.
17. Ymir and Historia
If you find yourself rooting for this unlikely couple, then why not wear your support with this unique Ymir and Historia tattoo?
18. Eren Yeager and the Attack Titan
This Attack on Titan tattoo looks like it came straight out of a comic book. How cool would this breathtaking depiction of Eren Yeager's transformation look on your skin?
19. Manga Sleeve Tattoo Featuring Attack on Titan
If you're a true Attack of Titan stan, then consider getting a half-sleeve dedicated to your favorite anime. This sweet ink is brimming with amazing artistry and eye-catching details. Imagine walking around with this epic work of art on your lower arm.
Death Note Anime Tattoo Ideas
If there's one anime that's made to be binged, it's Death Note. With all the cliffhangers and intense story plot line, it's hard to stop at just one episode.
Next time you're considering an addition to your tattoo collection, check out these insanely cool Death Note anime tattoo ideas.
20. Shinigami Rem Sleeve
This sinister Shinigami Rem tattoo would make a spooky addition to your arm. If you find yourself drawn to the eerie villain, then why not make it your next ink?
21. Ryuk with Bloodshot Eyes
If you're looking to get a spine-chilling ink to commemorate your love for Death Note, then you can't beat this Ryuk with Bloodshot Eyes tattoo. The deuteragonist of the popular anime is certainly one of the most recognizable characters complete with piercing red eyes and long, spider-like limbs.
You Can't Go Wrong With These Anime Tattoo Ideas
Whether your want to wear your love for Pokemon or get a neat Sailor Moon ink, you won't regret getting one of these cool anime tattoos. What better way to profess your love for your favorite anime than to showcase it on your skin?
If you're still feeling inspired to check out some neat tattoo ideas, check out the rest of our website.