---
What is Tattoo Goo?
This product brand is made just for caring for tattoos, unlike other products that are commonly used in tattoo aftercare, like Aquaphor.
The formula is specifically designed to aid the skin in the healing process while protecting the integrity of your ink.
These products are made with all-natural ingredients that won't clog your pores or cause skin infections.
How to Use
The unique formula of this process butter melts almost immediately upon application to the skin. It should only be used by professional tattoo artists.
This cruelty-free formula should be applied to the area of skin that is being tattooed before and during the tattooing process. Applying this professional process butter provides layers of protection for the skin, moisturizing it for the best end result.
It can be wiped away and reapplied as the artist works.
This tattoo balm is made with a blend of humectants and essential oils. It's formulated with only natural ingredients for a moisturized, nongreasy feel on the skin.
This balm is to be applied after you get your tattoo, and is used to soothe redness and irritation associated with the healing process.
Tattoo Goo products don't use any ingredients that may clog pores and cause infection, like the petroleum jelly you might find in other tattoo care products. This is awesome because many formulations of tattoo aftercare ointment are notorious for 'suffocating' the tattoo, inhibiting the healing.
Tattoo Goo Balm was formulated with more antioxidant power than any other tattoo ointment, combining essential oils, vitamin E, and rosemary extract.
This formula combines healing ingredients cocoa butter, lavender, olive oil, triglycerides, and beeswax to soothe redness, inflammation, and pain, as well as to lubricate the skin after a tattoo.
How to Use
This cruelty-free unique formula is made for ink that is still healing, so it is safe to use on broken skin.
Tattoo Goo Balm can be used by anyone who recently got a tattoo, generally even those with extra sensitive skin don't have any adverse reaction to this product.
Make sure your skin is clean and dry before applying the goo. Simply apply a small amount to a healing tattoo two to three times per day. You will want a layer thick enough that your skin appears shiny, but not so much that it prevents your tattoo from breathing.
The ointment is so thick you pretty much know when you have enough, but if you think you have been overapplying the product, you can just wash it off with mild soap and warm water. Gently pat the area dry afterward and let it breathe for around six to twelve hours before reapplying the ointment.
How to Use
Tattoo Goo lotion should be used during the healing process, once the tattoo begins to itch. This lotion can be used throughout the healing process and even after to help preserve the vibrancy of your ink.
This moisturizing lotion can be used on any part of the body and contains color enhancers that protect and help maintain the color of your tattoo. The moisturizing properties of this lotion work to avoid scarring and discoloration of tattoo ink while the wound heals.
This product is easy to apply. Your skin should be clean and dry before using Tattoo Goo products. Apply lotion two to three times per day while your tattoo is healing and even after it has already healed to protect and enhance colors.
If you think you are overapplying with this product, you can just wash it off and gently pat the skin dry. You can leave the skin bare to let it get some air and then reapply after a few hours.
How to Use
This alcohol-free soap protects the skin against the invasion of any new bacteria or microbes as well, so it should be used as a preventative measure to avoid infection after a tattoo.
It can be used two to three times per day and should be applied to clean, dry skin using clean hands. Then rinse the soap off with warm water and gently pat the skin dry.
While this soap is fantastic to use daily, it is also perfect for use washing excess other Tattoo Goo products from the skin.
If you think you may have overapplied either the healing balm or the healing lotion, the antimicrobial soap is the perfect gentle wash. Use the soap to wash away excess balm or lotion with warm water and then pat the area dry.
---
Frequently Asked Questions
In what order should I use Tattoo Goo products?
Professional tattoo artists may choose to use the Tattoo Goo Professional Butter during the process. If so, this will be the first product used in the line of products.
You should start aftercare with antimicrobial soap. Use it once in the morning and once before bed and pat the skin dry afterward. This soap prevents bacteria from building up around the site and lowers your risk of skin infection after a tattoo.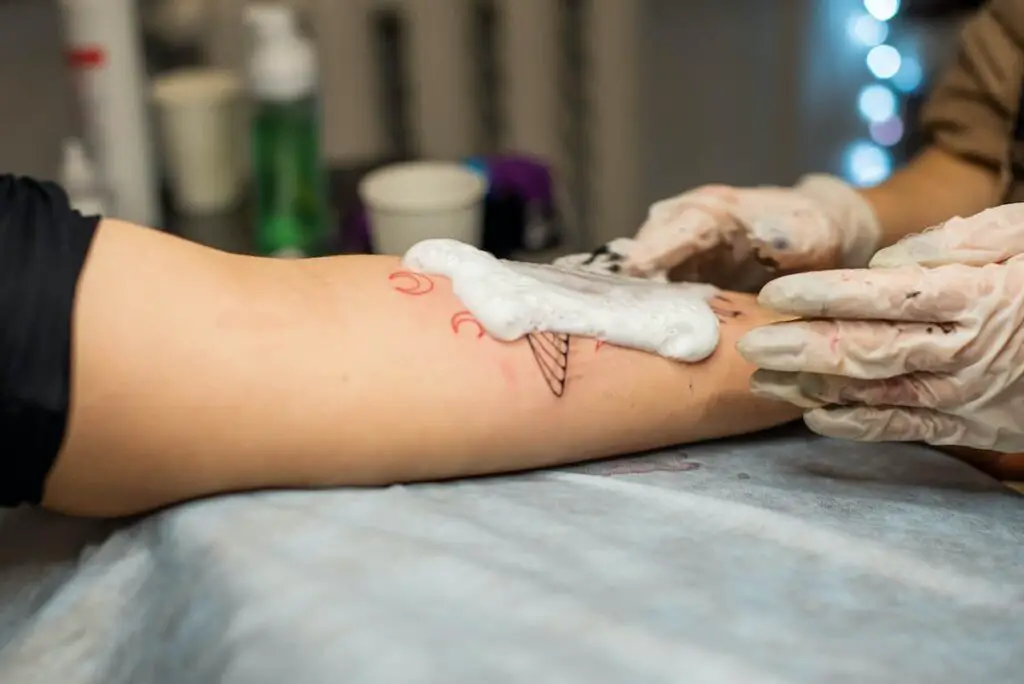 Next, you should use the healing balm, mainly during the first week or so to combat dry skin. It can be used up to three times per day and should be applied to clean, dry skin.
After a couple of weeks pass and your tattoo starts getting really itchy, it's time to use Tattoo Goo lotion to put some moisture back into your skin. This will prevent the colors in your ink from fading and protect the integrity of the art throughout the scabbing stage.
Tattoos can take up to two months for the skin to heal completely, so it is recommended to continue using the lotion until the two-month mark.
Do Tattoo Goo products interfere with ink?
No! These products will not interfere with how the ink settles into your skin because they do not contain ingredients such as petroleum jelly or lanolin which can suffocate your pores. Even if you overapply these products by accident, they still won't have any negative effect on the vibrancy of your tattoo.
---
Try Out Tattoo Goo!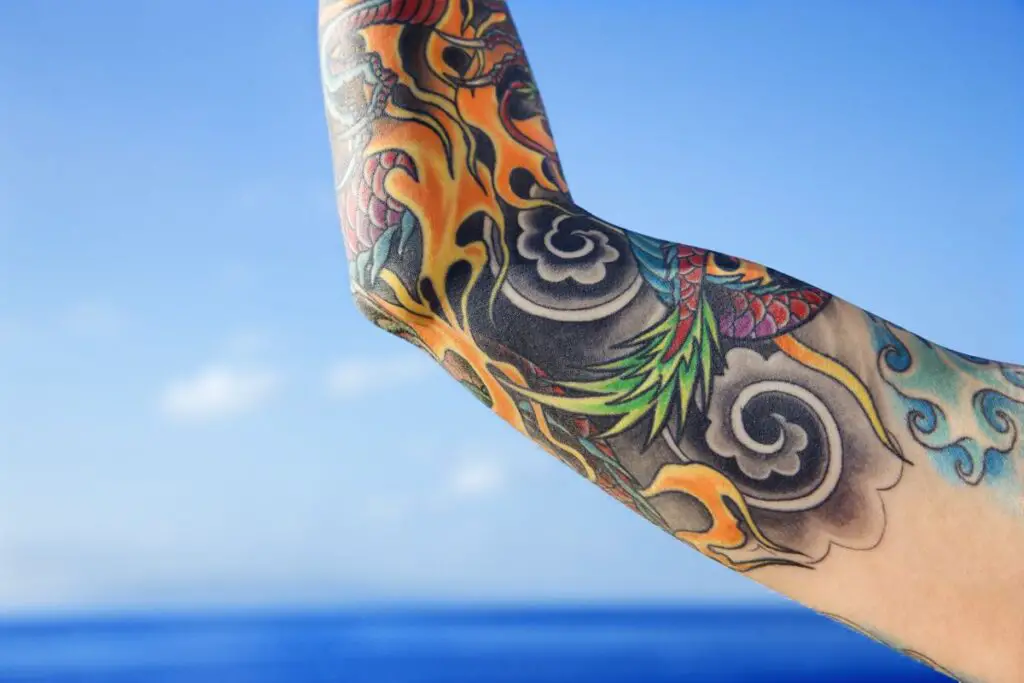 Whether your ink is black and white, or vibrant and colorful, Tattoo Goo has the perfect product for you!
From moisturizing the skin to soothing redness, swelling, and itching as a tattoo heals, this brand of tattoo aftercare provides excellent protection for new ink.
Wanna learn more about tattoo aftercare products? Check out our recommendations in our Tattoo Products blog posts.