A long-running stereotype of tattoos depicts needle-to-skin art as an act of rebellion. Perhaps this stereotype was borne from the traditional tattoo style, because when it emerged in the 1930s, that's exactly what this style set forth to accomplish.
When traditional tattoos first became popular, they represented a life that strayed outside of the conventional "American dream"; a term that was first coined in 1931. These tattoos embodied freedom, wanderlust, and a thirst for adventure.
Today, the traditional tattoo style is as popular as ever, and remains true to its original meaning. These tattoos continue to artistically stand out with their clean, black outlines, vivid use of color, and minimal shading.
Keep reading to learn more about the traditional tattoo style, including its history, popular themes, and famous traditional tattoo artists.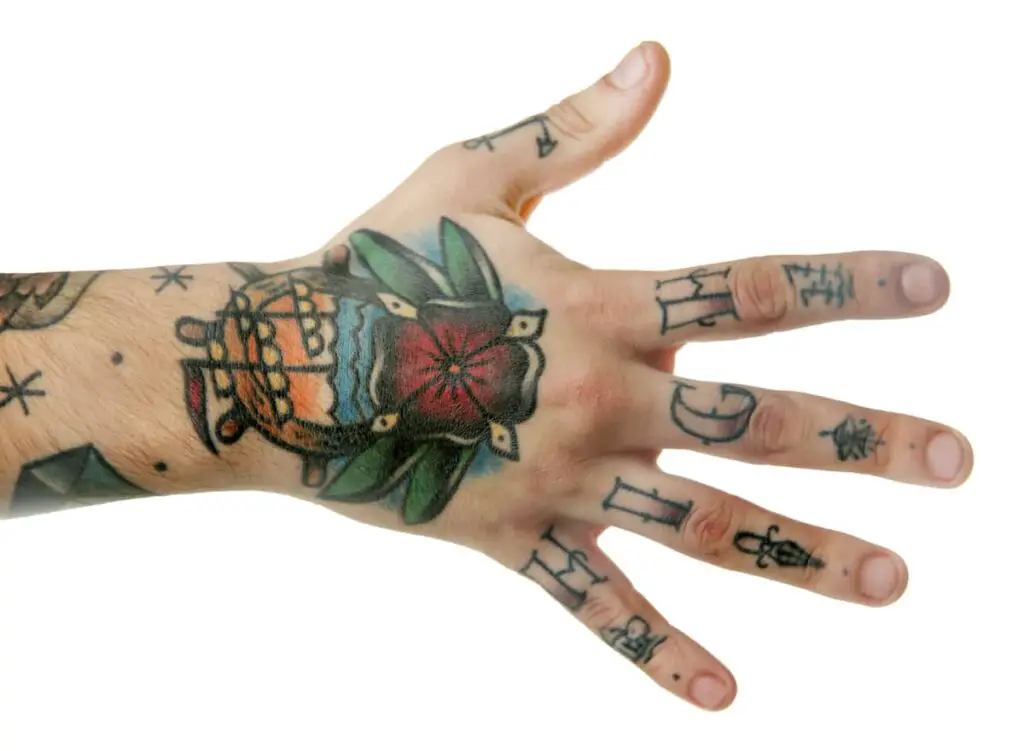 ---
The Traditional Tattoo Style
The traditional tattoo style is perhaps one of the boldest and most iconic tattoo styles to date. There are many tattoo parlors and artists who dedicate their craft solely to traditional-style tattooing, and many people who consider this style their favorite above all others. It's not hard to believe, because there's much to love about traditional tattoos.
How Did It Start?
Traditional tattoos, also known as American traditional, Western traditional, or old-school style, were popularized in the 1930s. However, these tattoos can be traced as far back as the 1900s, when they were frequently adorned by sailors.
The 1930s was the decade of the Great Depression in the U.S., which represented a time of economic failure, when businesses closed; people lost their jobs, homes, and life savings, and millions were left destitute. There was a mass feeling of collective struggle and failure.
A time of drastic change for many, the 1930s was also when traditional tattoos began to make a breakthrough–in terms of public opinion, that is. This decade marked a broadening in perspective, and tattoos were no longer strictly associated with rebellious behaviors. Rather, tattoos entered the very early phases of being an "acceptable" way to express one's individuality.
---
What Makes A Traditional Tattoo Style?
Every tattoo style comes with its own definable look. The traditional tattoo style is among one of the most widely recognized.
Traditional tattoos are characteristic of heavy black outlines with minimal shading. These tattoos are filled in with highly saturated, vivid colors, and use a limited color palette. Some of the colors you'll see in the traditional tattoo style are red, blue, yellow, and green. The use of bright colors allows these tattoos to stand out on most skin tones.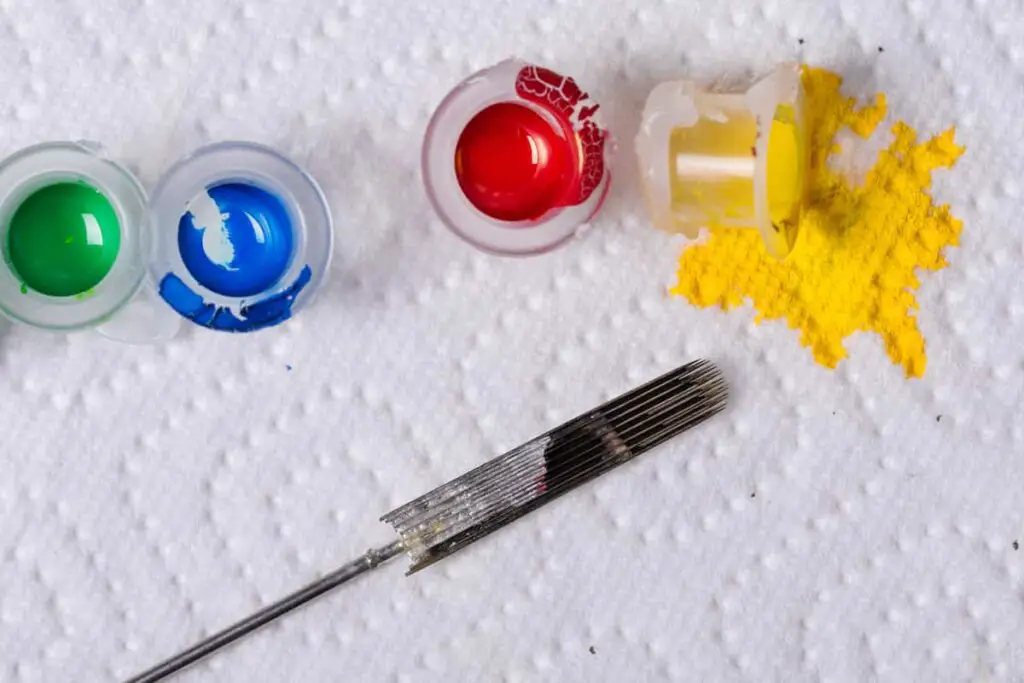 The traditional tattoo style makes use of simplistic designs that are immediately recognizable and somewhat reminiscent of drawings or cartoons. Due to their coloring and thick outlines, these tattoos are known to hold up for years–and even decades.
---
Prominent Themes in the Traditional Tattoo Style
There are many popular traditional tattoo designs. Some of the most-common motifs you'll see include:
Anchors
Crosses
Dice
Dragons
Eagles
Four-leaf clovers
Hearts
Horseshoes
Lucky No. 13
Nautical stars
Roses
Sharks
Ships
Skulls
Snakes
Swallows
Panthers
Pin-up girls
Let's look into some of the most popular designs.
Swallows
The swallow tattoo was started to symbolize a sailor's voyage. In the 1930s and earlier, sailors would get swallow tattoos to indicate they sailed 5,000 nautical miles. Each swallow represents 5,000 miles, so getting multiple swallows showed a seasoned sailor. The circumference of the earth is 24,855 miles, or nearly five swallows.
This tattoo is also symbolic of the sailor's return home. This theme is rooted in the swallow's well-known migration pattern, or specifically, the swallows of San Juan Capistrano, California. Since the 1800s, swallows from this area have routinely returned home. This ties into the notion that despite the long voyage ahead, the sailor will return home, too.
Sadly, if a sailor didn't come home, it was believed that the tattooed swallow carried his soul to heaven.
Skulls
Skulls are a popular design across all tattoo types, but especially in the traditional tattoo style. These tattoos represent the Latin phrase "memento mori," which translates to "remember you must die." Though it sounds morbid, this design represents that death is inevitable, and the importance is to live in the present. There's also the aspect that tattoos, which are embedded into the skin, are also taken to the grave.
Lucky No. 13
Norman Keith Collins, also known as Sailor Jerry, is famously known for popularizing traditional tattoos in the 1930s. He's also responsible for introducing the No. 13 into tattoo subculture, and recreating it as a symbol of luck. Sailor Jerry took otherwise "unlucky" symbols, including black cats and broken mirrors, and used them as a comical means of facing one's fears.
Today, Friday the 13th is known as the tattoo holiday. Many tattoo shops participate by charging $13 for flash tattoos.
Pin-Up Girls
Pin-up girls remain one of the most-loved designs of the traditional tattoo style. This design also originates from sailors, and these tattoos served as both a morale-booster, and a connection between them and their lives at home. This design gained popularity during World War II among members of the military.
The term "pin-up" is used to suggest an ideal form of femininity, such that it's worthy of being "pinned up" on a wall. During these times, the design wasn't meant to bear a likeness to one's wife or girlfriend back home, but to represent the notion of being home. Home signified being relaxed and carefree, while war was quite the opposite. It also served as a good-luck charm.
Today, pin-up girls are popular tattoos among both men and women. These tattoos range from enticing and lusty to glamourous and even maidenly.
---
Famous Traditional Tattoo Artists in History
Bert Grimm
Considered the "grandfather of old school," Bert Grimm is one of the most historically known traditional tattoo artists. Having opened his first tattoo shop in Chicago in 1916, Grimm went on to tattoo renowned individuals, including Bonnie and Clyde and Pretty Boy Floyd. He's recognized as a major pioneer of the traditional tattoo style, and became involved in the art when it was strongly associated with criminals, circus performers, and vagrants. There's even a museum in his honor, the Bert Grimm Tattoo Museum, in Kansas City, Missouri.
Norman Keith Collins, aka Sailor Jerry
Norman Keith Collins is known for popularizing the traditional tattoo style. Known as Sailor Jerry, he perfected his craft in Hawaii, where he often tattooed fellow sailors. Sailor Jerry expanded the art by creating his own pigments, which led to the vibrantly colored look of traditional tattoos today. He also created his own needles, which allowed him to embed pigments with less trauma. In fact, he became one of the first artists to use single-use needles.
Don Ed Hardy
Don Ed Hardy is considered one of the most influential tattoo artists of the 20th century. Hardy perfected his craft in 1973 while studying under Horihide, a master tattoo artist in Japan, and he also studied under Sailor Jerry. Hardy still owns a tattoo shop in San Francisco, California, Tattoo City, where his son, Doug, carries out the family tradition. In 2003, his designs were featured on clothing and took off as the popular Ed Hardy brand, which was a staple in the early 2000s.
---
Famous Modern Tattoo Artists
Samuele Briganti of Florence, Italy
Samuele Briganti is the owner of Bold Will Hold, a tattoo shop in Florence, Italy. He's known worldwide for his traditional tattoos, which make use of reds, oranges, and other sunset colors. His artwork often features roses intertwined with wild animals, and is finished with smooth outlines.
Becca Genne-Bacon of New York City
Becca-Genne Bacon is a tattoo artist with Kings Avenue Tattoo in New York City. Her style makes use of reds, yellows, and greens, and features a combination of heavy, bold outlines with some finite details. Her style includes many animals, some of which are her signature, like foxes, deer, and cats, as well as religious figures.
Dani Queipo of London, England
Dani Queipo is the owner of Leather Lane Tattoo Parlor in London, England. Queipo plays a bit more outside the lines of traditional tattoos by incorporating hints of pastels, like turquoise and coral. Queipo uses a combination of bold outlines mixed with intricate details, and is known for his designs of women, hearts, and flowers.
---
Wrapping Up The Traditional Tattoo Style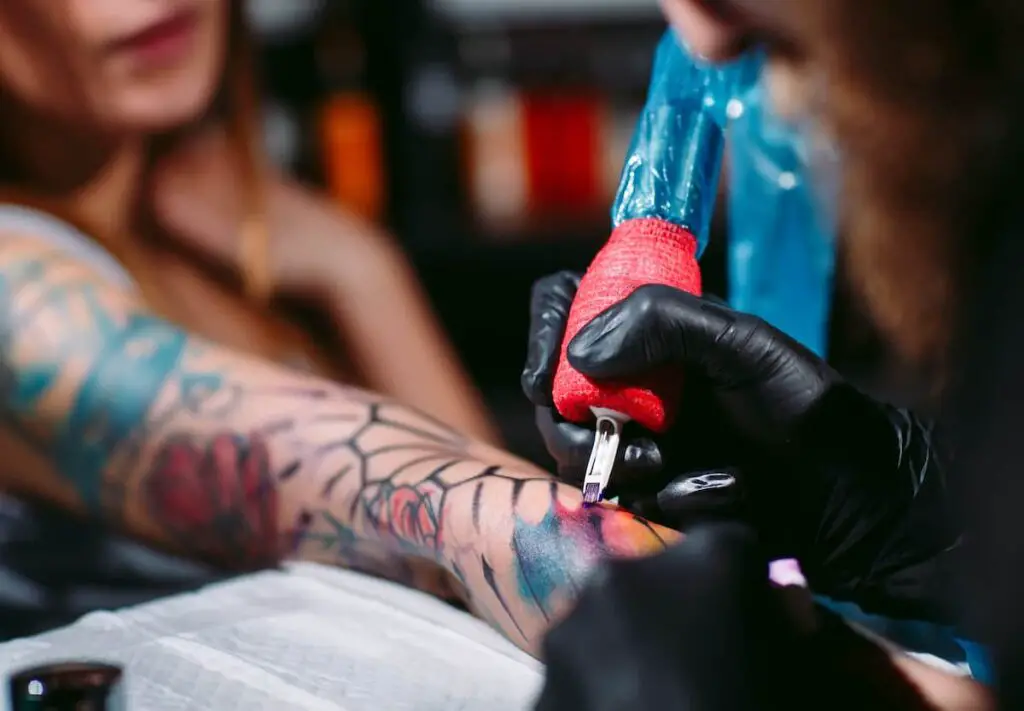 From its tie-in to Americana history to its emerging popularity over time, there's a lot to love about the backstory of traditional tattoos. The style of traditional tattoos has remained striking, bold, and beautiful, and stayed true to its roots.
Choosing to get a traditional tattoo means that you're carrying a bit of U.S. history on your body and one-of-a-kind artwork that'll last for years to come.
Interested in learning about a similar, but more modern style of tattooing? Check out our post on the New-School Tattoo Style to learn more!