Lil Xan, born Diego Leanos, is an American rapper known not only for his music career but also for his extensive collection of tattoos. With over 40 tattoos adorning his face and body, each of them holds a special meaning for the young artist. From paying tribute to his loved ones to expressing his struggles, Lil Xan's tattoos provide a glimpse into his life and journey.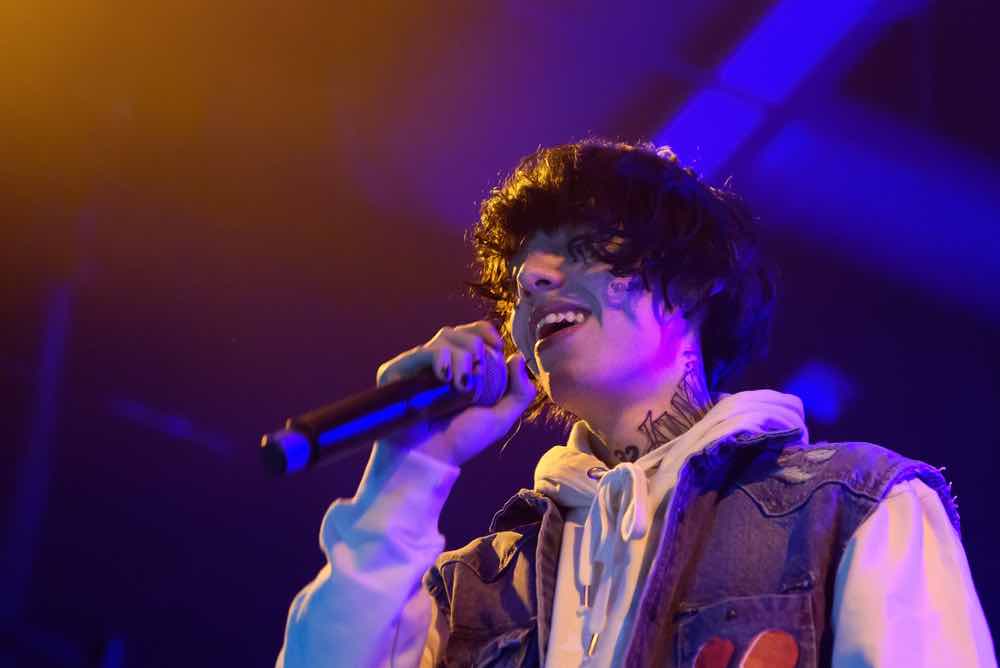 Lil Xan's tattoos are heavily influenced by his past, including his stage name "Xan," derived from his previous addiction to drugs like Xanax. His tattoos also convey stories behind relationships, career milestones, and personal beliefs. As an influential figure among young people, it is essential to understand the meaning and significance beyond the ink art on his skin.
Key Takeaways
Lil Xan's tattoos reflect his life experiences and personal journey
Many of his tattoos carry deep meanings and are linked to significant events or people in his life
His growing collection continues to captivate fans and spark discussions on self-expression.
Lil Xan's Early Life
Diego Leanos, known by his stage name Lil Xan, was born on September 6, 1996, in Redlands, California. Diego had a humble upbringing in his Southern Californian town and was raised by his Mexican parents. Redlands, a city situated within the San Bernardino County, significantly influenced his early life and the development of his music career.
During his teenage years, Diego was inclined towards photography. He initially wanted to pursue a career as a photographer and captured images of local rappers in Redlands. This experience with the music scene served as a foundation for his interest in creating music and performing as an artist. Although an aspiring photographer, a series of setbacks eventually led him to discover his true calling in the music industry.
Young Diego adopted the stage name Lil Xan as a nod to his past struggles with substance abuse. His moniker derived from the prescription drug Xanax, which he had wrestled with addiction to during his formative years. Fortunately, he managed to overcome this phase and used his experiences to fuel his passion for creating music with deep meaning and honesty.
Inspiration and Meaning Behind Tattoos
Lil Xan, a well-known rapper and singer, has adorned his body with a variety of tattoos, each carrying a unique meaning and story. Most of his tattoos are displayed on his face, reflecting his artistic persona and life experiences.
One of his most prominent tattoos is Xanarchy inked on his arms and above his left eyebrow. The name 'Xan' comes from his past addiction to drugs like Xanax. The term 'Xanarchy' reflects Lil Xan's movement against the use of Xanax and his advocacy for sobriety.
On Lil Xan's right cheek, you can find the word LOVER. This tattoo initially had the word 'LOW' on it, representing his affiliation with the hip-hop group Low Gang. However, he decided to cover it up with the word 'Lover' in 2018. Another tattoo on his face, ZZZ, represents his drowsy attitude, which contributes to the overall sleepy persona he portrays.
Lil Xan also pays tribute to his late fellow musicians through his tattoos. He has a broken heart tattoo dedicated to his close friend Lil Peep and another one in memory of Mac Miller. The tribute tattoos signify the impact both artists had on his life and career.
His first tattoo was Candy, inked onto his skin as a personal reminder to keep pursuing his goals. A set of three dots on his neck represents a metaphorical path: one dot for the past, one for the present, and one for the future. Additionally, the Memento Mori tattoo serves as a reminder of the inevitability of death, urging the rapper to live life to the fullest.
An upside-down cross tattoo on Lil Xan's arm highlights his struggles with anxiety and paranoia, sparked by his past drug addiction. This specific tattoo conveys his battle against the darker aspects of his life, showing strength and resilience despite the internal struggles.
Popular Tattoos and Their Significance
Face Tattoos
Lil Xan is known for his face tattoos, which carry deep meanings and symbolism. One of his most recognizable tattoos is the "Candy" tattoo under his right eye. This tattoo is dedicated to his late mother, who used to call him her "Candy Boy." Another notable face tattoo is "Zzz" near his left eye, representing his struggle with sleep disorders due to his former drug addiction. The face tattoo "heartbreak" across his forehead is an ode to his breakups and personal life, reflecting love and heartache. Additional notable face tattoos include:
"No Rulez" under his left eye
"Betrayed" on his right cheek
Arm Tattoos
Lil Xan's arm tattoos also hold significant meaning in his life. One of his most famous arm tattoos is the "Xanarchy" tattoo on both arms and above his left eyebrow. This represents his stage name, which is derived from his past excessive addiction to the drug Xanax. Another prominent arm tattoo is the "No-Face" tattoo on his right wrist, inspired by Spirited Away, a Japanese animated film. This was his first tattoo at just 17 years old.
Chest and Neck Tattoos
On his chest, Lil Xan sports tattoos that showcase his passion for music and tributes to loved ones. For instance, the "Heartbreak Soldier" tattoo across his chest symbolizes his emotional journey in life and music. Other meaningful tattoos on his chest and neck include:
"Barbed Wire" around his neck
"Annie" below his collarbone, a tribute to a friend who passed away
"F* Off"** on his right collarbone, often seen in his Instagram posts
"Citgo" on the left side of his neck, representing his love for music and the song "Citgo" by Chief Keef
Using a confident, knowledgeable, neutral, and clear tone, this section offers a straightforward overview of some of Lil Xan's most popular and significant tattoos. The tattoos mentioned are spread across his face, arms, chest, and neck, covering various entities as requested, such as his past heartbreaks, music journey, and tributes to loved ones.
Collaborations and Tributes
Lil Xan, a famous rapper, is not only known for his music but also his extensive collection of tattoos. Many of his tattoos pay tribute to fellow artists, friends, or inspirations, while some are collaborations with other industry figures.
A prime example is Lil Xan's face tattoo dedicated to Mac Miller, a fellow rapper and friend who passed away in September 2018. This tattoo portrays his deep respect and emotional connection to his late friend. Another prominent tribute inked on Lil Xan's body concerns Lil Peep, another rapper who tragically passed away in 2017. In memory of Lil Peep, Lil Xan added a tattoo of a broken heart and "Cry Baby," a reference to one of Peep's most famous songs.
Aside from paying homage to friends, Lil Xan's tattoos showcase his love for popular culture. One such tattoo represents a scene from the animated movie "Spirited Away." This particular ink not only showcases his fascination with Japanese animation but also emphasizes his love for visual art overall.
Lil Xan has also collaborated with famous artists like Post Malone. This mutual admiration and friendship between the two can be seen in a collaborative tattoo of beer-themed doodles. Post Malone is a renowned rapper and songwriter who shares a bond with Lil Xan through their similar tastes in music and ink.
As for tattoos with deeper meanings, Lil Xan has a tattoo that reads "Do Not Be Overcome by Evil" on his forehead. This phrase showcases his personal thoughts, acting as a constant reminder to stay strong in the face of negativity. Moreover, another ink dubbed "Devil Worshiper" on the side of his face highlights his controversial attitude and artistic persona, which often juxtapose elements of darkness with his personal beliefs.
Several of Lil Xan's tattoos have strong emotions attached to them, such as his "Tears" tattoo under his right eye. This specific tattoo symbolizes the hardships and struggles he has faced throughout life. Additionally, the "Gun" tattoo on his left hand represents the harsh reality and danger of the world he inhabits, reinforcing his experiences and memories related to violence in society.
Unique and Controversial Designs
Lil Xan, a musician best known for his hit single "Betrayed," is not only recognized for his music but also his numerous tattoos that have been both captivating and controversial. With an addiction to Xanax, it's no surprise that many of his tattoos are linked to the drug and the Xanarchy movement he's part of. With over 40 tattoos, let's explore some of the unique designs that have been both representative of his journey and spark conversations.
A key aspect of Lil Xan's tattoos is the focus on his face. One notable design is the no-face tattoo, a depiction from the animated film Spirited Away. Also on his face are assorted doodles and Zs which, unlike some of his other tattoos, have no profound meaning. Another intriguing and highly discussed face tattoo is the word "Xanarchy" written above his left eyebrow, which represents Lil Xan's involvement in the Xanarchy movement – a group of creatives promoting art, music, and unity against the use of drugs like benzodiazepines.
Taking a slight diversion from drugs, Lil Xan has a hummingbird tattoo on his hand which symbolizes love and happiness. Additionally, his 1996 tattoo inked on one of his fingers represents his birth year, and a barbed wire tattoo on his neck signifies the tough journey he's been through. Lil Xan also has a tribute to his idol, Swedish rapper Yung Lean, by inking a cross of Saint Peter on his cheek, which is often misinterpreted as anti-Christian or linked to the upside cross symbolism.
One specific tattoo that gained criticism is the phrase "Always tired" inked on his cheeks, similar to Post Malone's tattoo of the same phrase. Lil Xan has been quite vocal about the importance of self-expression through tattoos, especially those with a positive message. For instance, he has the words "low gang" inked across his knuckles, which is meant to encourage a positive mindset.
In commemorating important dates, Lil Xan has the date Dec. 3 tattooed on his face, symbolizing a critical turning point in his life, and Moonlight-June 18 inked in honor of the late rapper XXXTentacion, who passed away on June 18, 2018.
Lil Xan's tattoos showcase not only his unique, personal style but also his dedication to various aspects of his life, ranging from music and pop culture to significant moments and meaningful messages. Each design tells a story that reflects the intricate journey of this young artist, shedding light on his personal struggles, idols, and creative connections.