Kendall Jenner, a renowned model and influential personality, has been known to express her personality and experiences through her unique collection of tattoos. Despite often opting for subtle and delicate designs, each of her tattoos holds significant meaning and showcases her taste in body art. As Kendall's tattoos are rarely visible in photos, fans eagerly await glimpses of her discreet ink to decipher their stories and meanings.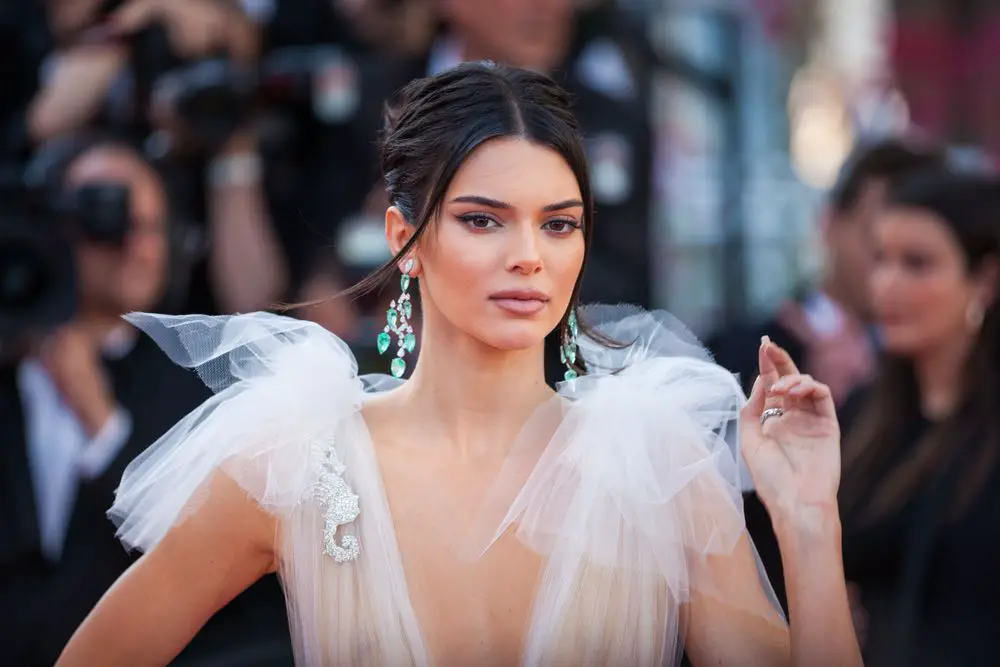 Throughout her journey in the world of body art, Kendall has collaborated with various skilled tattoo artists, including the likes of JonBoy and Kate McDuffie. From tiny, white ink tattoos to more visible ones, each collaboration brings forth a fresh and intriguing addition to her growing collection. Kendall Jenner's tattoos not only add to her personal brand but also serve as a source of inspiration for those looking to get meaningful and low-key body art.
Key Takeaways
Kendall Jenner has a subtle yet meaningful collection of tattoos
She has collaborated with talented tattoo artists, such as JonBoy and Kate McDuffie
Her tattoos provide inspiration for discreet body art and personal expression
Kendall Jenner's Tattoos
Meow Lip Tattoo
Kendall Jenner, the famous model, surprised her fans when she got a discreet, tiny "Meow" tattoo inked on the inside of her bottom lip in red. The tattoo is usually hidden, and Kendall herself decides when and where to showcase her unique lip art. Celebrity tattoo artist JonBoy was the one responsible for this creation.
Broken Heart and Full Heart
Kendall opted for two distinctive heart tattoos on her fingers. The whole heart, inked in white, is situated on her right hand, symbolizing the angelic side. In contrast, the broken heart tattoo, showcased on her left hand, signifies the devilish side. Kendall got these tattoos alongside her BFF Hailey Baldwin.
Cowboy Boot
Another interesting tattoo Kendall sports is a tiny cowboy boot on the side of her torso. It pays homage to her love for horses and riding, a hobby she has enjoyed since childhood.
Dot Tattoo
Kendall has a minimalistic dot tattoo on her finger. The design is a simple, small, and sophisticated way of expressing oneself through body art.
White Ink Tattoo
The model has a subtle white ink tattoo located on her right-hand index finger, adding a touch of elegance to her collection of small and dainty tattoos.
Hidden Tattoos
Kendall Jenner prefers to keep her tattoos hidden and delicate, as she believes that small tattoos are more elegant and personal. This choice is in line with her refined taste and modeling career, where tattoos are not always encouraged. As seen in her existing body art, Kendall has a penchant for subtlety and meaning.
Tattoo Artists and Collaborations
JonBoy
JonBoy, a renowned tattoo artist, is known for his work on tiny and hidden tattoos. He has collaborated with supermodel Kendall Jenner on some of her ink. JonBoy is the artist responsible for the matching heart tattoos that Kendall and her BFF, Hailey Baldwin (now Bieber), got on their middle fingers. The heart tattoos are in white ink, making them nearly invisible.
Kate McDuffie
Another tattoo artist Kendall Jenner has worked with is Kate McDuffie. She inked a design on Kendall's left ankle, adding to the model's collection of hidden tattoos. McDuffie's artistry adds to the discreet yet meaningful tattoo collection that Kendall possesses.
The Ghost Kat
The Ghost Kat is another tattoo artist who has collaborated with Kendall. While there is limited information on this artist's work with Kendall, one can assume that their collaboration resulted in a unique and creative design that must hold personal significance for the model.
Tattoo Stories and Meanings
Influence of Friends and Family
Kendall Jenner, like her siblings, is no stranger to getting tattoos. One notable tattoo she shares with her friend Hailey Bieber is a tiny matching heart tattoo on their left middle fingers. Kendall chose white ink for her heart tattoo, while Hailey opted for red ink. Jenner's close-knit relationship with her friends and family is evident through these shared ink experiences.
Drunk Tattoos
During an appearance on The Ellen DeGeneres Show, Kendall revealed the story behind her lip tattoo, which reads "meow." She admitted to getting the tattoo while intoxicated, stating the idea just came to her mind in that moment. The lip tattoo serves as a reminder of spontaneity and a light-hearted approach to body art.
Symbolism and Personal Meaning
Some of Kendall Jenner's tattoos have deep personal meanings or are connected to the places she loves. For instance, on August 3, 2022, Jenner got a tiny cowboy boot tattooed on her by artist Kate McDuffie. The tattoo is a subtle nod to her love for the cowboy lifestyle and her time spent in Wyoming.
Another significant tattoo is a small white dot on her middle finger. While the meaning of this tattoo remains private, it is speculated to symbolize her minimalist approach to tattoos and a hint of irony in its simplicity.
Aside from the matching heart tattoo with Hailey Bieber mentioned earlier, Kendall has a full heart inked on her right middle finger. The hearts present on both her middle fingers can be interpreted as an expression of love and unity with those who matter most to her.
Tattoo Regrets and Reactions
Kendall's Regrets
Kendall Jenner, the reality star from "Keeping Up with the Kardashians," is known for her discreet tattoos. Among the few tattoos she has, there's one she notably regrets. In an interview with ELLE, Jenner opened up about the face tattoo she got, highlighting that it is a decision she repents even after managing to keep it well-hidden1.
Family's and Friends' Reactions
The Kardashian and Jenner families have diverse approaches to tattoos, ranging from Kim Kardashian's belief that "you don't put a bumper sticker on a Bentley"2 to other sisters embracing ink. Kendall Jenner's tattoos have also received mixed reactions from her friends. For instance, she got matching heart tattoos with Hailey Bieber, where Jenner chose white ink, and Bieber opted for red3. This seemingly close bond might have fostered a positive reaction from friends like Bieber.
Public Response
The public has shown keen interest in Kendall Jenner's tattoos, with various media outlets and fans trying to decipher their meanings. For example, in 2022, Jenner got a tiny cowboy boot tattoo, which garnered attention from her 36.8K Instagram followers, who liked the post 47,193 times4. This response indicates that her tattoos captivate her fanbase, in line with her position as a fashionista and beauty mogul5.
Fashion and Tattoo Influence
Photoshoots with Tattoos
Kendall Jenner has been known to showcase her delicate tattoos during fashion shoots and events, creating a unique blend of high fashion and personal expression. With a reputation for minimalist and dainty designs, her tattoos often add a subtle touch of intrigue to her look. For example, her tiny cowboy boot tattoo, inked by celebrity tattoo artist Kate McDuffie, has been featured in various photos highlighting her modeling capabilities and fashion-forward style.
Recently, Kendall has promoted her 818 Tequila brand by incorporating her tattoos into promotional photos and events. This has sparked interest and discussion around the combination of fashion branding and personal expression.
Trends Set by Kendall Jenner
Kendall Jenner's subtle tattoos have influenced the way others approach body art, with many fans and followers admiring her delicate designs and discrete placements. Some notable tattoo trends set by Kendall include:
White ink tattoos: Kendall's choice of white ink for some of her tattoos, such as the small heart on her left middle finger, has popularized the use of white ink for minimalist designs. This allows for a more subtle and almost invisible tattoo, blending seamlessly with her fashion endeavors.

Matching tattoos with friends: Kendall and Hailey Bieber decided to get matching hearts on their left middle fingers, showcasing friendship and comradery through their tattoo choices. This has encouraged others to follow suit and celebrate their friendships with similar tattoo designs.

Tiny, strategically placed tattoos: Kendall's preference for small and strategic tattoos, like the cowgirl boot or the writing on her right hand, have contributed to the growing trend of easily concealable and fashionable tattoos. This allows individuals to express themselves without detracting from their overall appearance or style.
Kylie Jenner's Tattoos
Scorpio Tattoo
Kylie Jenner, the younger sister of Kendall Jenner, has a unique collection of tattoos herself. One of her most notable tattoos is the Scorpio sign on her hip. This tattoo's placement makes it easy to conceal yet meaningful to the young billionaire. As a Scorpio herself (born on November 3, 1997), Kylie made sure to represent her zodiac sign in her tattoo collection.
Other Designs
Apart from the Scorpio tattoo, Kylie Jenner has other intricate designs on her body. Some of her other tattoos include:
Meow: A tiny, simple "meow" text inked on the inside of her lower lip. This cheeky and fun design matches Kylie's spirited personality.

Heart Tattoos: Kylie has two small red heart tattoos on her left arm. These dainty designs symbolize love and affection. These tattoos, along with the majority of Kylie's other designs, are largely tucked away from prying eyes, reflecting her preference for a more private and subtle tattoo style.

Rodeo-themed Tattoo: In August 2022, she got a tiny cowboy boot tattoo by a New York-based tattoo artist, Kate McDuffie. The design appears to be inspired by her love for the rodeo and possibly her appearance at the Rodeo-themed birthday party earlier in 2022. Kylie was seen wearing a denim mini at the event, which was also attended by her sister Kendall and their photographer friend.
Though Kylie Jenner and Kendall Jenner have different preferences when it comes to tattoos, both sisters share a taste for small, meaningful, and personal designs. Despite their sister Kim Kardashian's famous advice against tattoos, both Kylie and Kendall have managed to express themselves through ink elegantly.