Naperville, Illinois, boasts a thriving tattoo scene with numerous top-rated tattoo shops to choose from. Whether you're a first-timer or a tattoo enthusiast searching for your next piece of body art, Naperville's talented artists and clean, inviting studios cater to a variety of styles and preferences.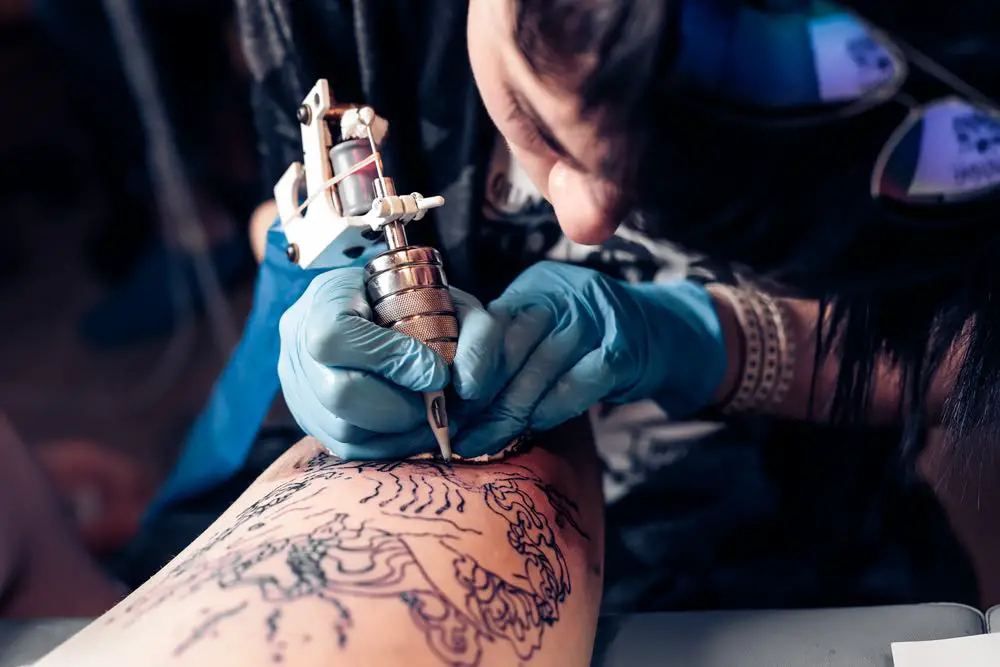 Among the best tattoo shops in Naperville are Noodles Tattoo Studio, A Thin Line Tattoo, and UpRise Tattoos. These establishments have consistently received high praise for their skilled artists, friendly atmosphere, and dedication to delivering quality work. As you plan your visit to one of these renowned studios, rest assured that their artists will take the time to understand your vision and create a unique, eye-catching design.
When considering a tattoo shop in Naperville, it's essential to prioritize professionalism, cleanliness, and artistic talent. With these factors in mind, you can be confident in your choice and excited about your upcoming tattoo experience in this vibrant city.
Top Naperville Tattoo Shops
Shop 1: Noodles Tattoo Studio
Noodles Tattoo Studio is a popular destination in Naperville for those looking for high-quality tattoos. The artists at this studio are known for their skill and creativity, providing customers with unique and personalized designs. With a clean and well-decorated environment, Noodles Tattoo Studio ensures a comfortable experience for its clients.
Location: Naperville, IL
Price Range: $$
Style: Variety of styles
Shop 2: A Thin Line Tattoo
A Thin Line Tattoo is another excellent option for those seeking professional tattoo services in Naperville. With locations in both Batavia and Naperville, their talented team of artists has years of experience providing exceptional tattoo and piercing services. Clients appreciate the artists' attention to detail and ability to make their vision come to life.
Location: Naperville and Batavia, IL
Price Range: $$
Style: Variety of styles, with specialization in tattoo and piercing
Shop 3: UpRise Tattoos
For those interested in high-quality artwork backed by years of expertise, UpRise Tattoos is a reputable choice located in Warrenville, only a short drive away from Naperville. They offer a wide range of designs, styles, and techniques to suit individual preferences. Their professional and knowledgeable staff focus on delivering a comfortable and satisfying experience for their customers.
Location: Warrenville, IL (near Naperville)
Price Range: Varies by artist and complexity of design
Style: Wide range of designs and techniques
Choosing the Right Tattoo Shop
When looking for the perfect tattoo shop in Naperville, it's essential to consider various factors to ensure you have a good experience and achieve the results you desire. This is where reviews play a crucial role. Paying attention to reviews on websites like Yelp gives you a snapshot of what to expect in terms of service quality, professionalism, and shops' vibes without personally visiting them.
One of the highly-rated tattoo shops in Naperville is Noodle's Tattoo Studio, which boasts positive feedback on Yelp. Praised for its unique and inviting atmosphere, Noodle's has a reputation for cleanliness and a friendly, professional staff.
Another well-regarded option is A Thin Line Tattoo, acknowledged for its creative and skilled artists. Customers have highlighted their ability to create beautiful custom designs while maintaining a comfortable environment tailored to clients' needs.
On the other hand, Sapphire Studios Naperville has received a notable review count with a high average rating, emphasizing its excellent customer service, talented artists, and positive energy. Don't disregard smaller studios like Ink 180 or Skin of A Different Color either, which also have a dedicated following and consistently garner favorable reviews.
To get a feel for the vibe of a tattoo shop – an essential consideration since you'll be spending a significant amount of time there – take note of what people say about the shop's ambiance, decor, and staff interactions in their reviews. How comfortable and welcoming patrons felt during their appointment speaks volumes about the overall atmosphere.
Lastly, all available reviews won't reveal every detail necessary for your decision-making process. It's wise to visit the shop in question personally to gauge the vibe, assess cleanliness, and discuss your vision with the artists. Keep in mind that a good fit with the shop, artist, and atmosphere is crucial to getting the perfect tattoo and enjoying the experience.
Tattoo Artists and Styles
Custom Tattoos
Naperville is home to some remarkable tattoo shops that specialize in custom tattoos, giving clients the opportunity to bring their ideas to life. At Noodles Tattoo Studio, clients can expect a unique and personalized design tailored to their individual preferences. With a commitment to creating high-quality artwork, UpRise Tattoos also offers custom designs in various tattoo styles, ensuring each piece is a true reflection of the client's vision.
Talented Tattoo Artists
Naperville's tattoo scene is thriving thanks to the exceptional artists working in its reputed shops. Among these talented individuals are the staff at A Thin Line Tattoo, specializing in various tattoo styles, which include but are not limited to, traditional and fine line work. At Noodles Tattoo Studio, artists showcase their prowess in a range of styles, accommodating clients looking for their first tattoo or adding to their growing collection. The artists at UpRise Tattoos are known for their years of experience and expertise, consistently delivering high-quality work and keeping clients coming back for more.
Piercing Services
Naperville has a variety of tattoo shops that also offer a range of piercing services. These services are divided into sub-categories such as body piercing, cosmetic tattoos, and piercing. Below are the descriptions of each sub-category.
Body Piercing
Many local tattoo shops in Naperville offer body piercing services. Popular piercings include nose piercings, nipple piercings, and ear piercings. A Thin Line Tattoo and Skin of A Different Color are just two of the reputable shops in the area. They have skilled piercers who are known for their quality services, professionalism, and dedication to safety.
A Thin Line Tattoo is known for their fast-responding consultations and a wide variety of body jewelry options.
Skin of A Different Color has been in business for 29 years and has certified professionals on staff. Kivaka, one of their piercers, is well-reviewed by customers.
Cosmetic Tattoo and Piercing
In addition to traditional body piercings, some tattoo shops in Naperville also offer cosmetic tattoo and piercing services. These services range from permanent makeup to subtle enhancements like microblading.
Skynn Piercing PMU Tattoo specializes in cosmetic tattoos, piercings, and permanent makeup. This shop is a one-stop destination for clients looking to combine cosmetic procedures with body art.
To ensure safety and satisfaction, it's essential to choose a reputable tattoo shop in Naperville with experienced professionals when getting any piercing or cosmetic tattoo done.
Materials and Jewelry
The best Naperville tattoo shops prioritize the highest quality materials and jewelry for their clients. These shops understand the importance of using premium-grade jewelry, like gold and implant grade titanium, to ensure a safe and successful piercing experience. The professional piercers at these establishments are knowledgeable in various types of jewelry and materials suited for different piercings.
Many top tattoo shops in Naperville use implant grade titanium for their initial piercings. This material is highly recommended by experts due to its biocompatibility and hypoallergenic properties. Titanium is resistant to corrosion from bodily fluids and is an ideal choice for people with sensitive skin or metal allergies.
In addition to titanium, some Naperville tattoo shops also offer gold jewelry options for clients who prefer a more upscale appearance. Gold can be a suitable choice for healed piercings, as long as it is of high quality, typically 14k or 18k, and free from nickel. It is essential to choose reputable shops that source their gold jewelry from trusted manufacturers to ensure its quality and durability.
Several tattoo shops in Naperville are proud Association of Professional Piercers (APP) members. This membership demonstrates their commitment to high standards in materials, hygiene, and procedure techniques. APP members follow strict guidelines on the types of jewelry suitable for piercings. These guidelines help ensure that clients receive the safest and highest quality jewelry options available.
Hygiene and Safety
When considering the best tattoo shops in Naperville, hygiene and safety should be top priorities for both the client and the tattoo artist. A clean and professional tattoo studio signifies the dedication to maintaining a high standard of work, ensuring a safe and comfortable experience for everyone involved.
One of the highly rated tattoo shops in Naperville, Noodles Tattoo Studio, takes pride in its gorgeous and well-decorated space. The cleanliness of the studio adds to the assurance that the artists working in the shop prioritize their customers' well-being while providing top-notch tattoo services. Similarly, A Thin Line Tattoo of Batavia houses artists who are known to be professional and render exactly what clients want while making them feel at ease during the process.
In a reputable tattoo studio, all equipment, including needles, ink, and other tools, should be properly sterilized or disposed of after each use. Experienced tattoo artists are aware of the importance of following strict hygiene protocols to prevent infections and ensure clients' safety. They often utilize disposable gloves, single-use needles, and sterilized workstations to maintain a hygienic environment.
Privacy is another element that contributes to a safe tattoo experience. Many top tattoo shops in Naperville offer private rooms or sections, allowing clients to feel relaxed and secure during the tattoo process. This personalized approach not only ensures that clients' needs are met but also establishes trust between the artist and the client.
Women-Owned and Inclusive Shops
In the Naperville area, there are several tattoo shops that stand out for their women-owned status and inclusive practices, catering to clients from all walks of life. Noodles Tattoo Studio is a prime example of such a shop, proudly boasting a welcoming atmosphere and a staff that prioritizes diversity.
Noodles Tattoo Studio is a well-known establishment with a reputation for high-quality custom tattoos. As a women-owned shop, it puts a strong emphasis on creating a welcoming environment for clients of all genders. Moreover, the studio's professional and talented team of tattoo artists is dedicated to providing clear communication, ensuring the best possible experience and artwork for all patrons.
One aspect of inclusiveness that some clients may seek is the availability of private rooms. These spaces can be critical for clients who have personal or cultural reasons for needing privacy during their tattoo session. At Noodles Tattoo Studio, the artists are understanding of these needs and work diligently to ensure all clients feel comfortable and safe throughout their experience.
Business Owners and Staff
Naperville, Illinois is home to a thriving community of skilled tattoo artists who operate exceptional tattoo shops. These establishments pride themselves on their artistic talent, professionalism, and attentiveness to their clients' needs. In this section, we will briefly outline the business owners and staff members that contribute to making these tattoo shops some of the best in Naperville.
One highly-regarded tattoo shop in Naperville is Noodles Tattoo Studio. With a strong commitment to excellence and client satisfaction, the tattoo artists at Noodles strive to provide exceptional, custom-tailored body art. The studio's talented and diverse team includes artists with experience in various styles, from traditional to portraiture, to ensure clients receive a carefully crafted design that captures their individual personality and taste.
Another quality tattoo shop is UpRise Tattoos. Located in nearby Warrenville, this shop boasts years of experience and expertise in creating high-quality artwork. The talented staff found at UpRise Tattoos work together seamlessly, putting their collective skills at the service of their clients. Their dedication to customer satisfaction and a clean, professional environment make UpRise Tattoos a top choice for those seeking body art in the Naperville area.
A Thin Line Tattoo of Batavia is also a noteworthy tattoo shop serving Naperville and its surrounding areas. Known for its attentive and skilled artists, A Thin Line Tattoo consistently produces stunning and meaningful designs. Clients seeking artists with vast experience in different styles are likely to find the perfect fit here, as the staff at A Thin Line Tattoo continually focus on delivering exceptional results while providing a relaxing and enjoyable atmosphere.
These three tattoo shops exemplify the commitment to professionalism, skill, and customer satisfaction that is expected in Naperville, IL. Each studio is comprised of talented artists who specialize in various styles and techniques, ensuring that clientele have access to the best body art services. Business owners and staff from these establishments are what truly make them stand out among the numerous tattoo shops in the area, solidifying their well-deserved reputations in the Naperville tattoo community.
Additional Services
Laser Services
Many tattoo shops in Naperville offer a variety of services beyond traditional tattoo artistry. One noteworthy additional service is laser tattoo removal. This treatment is perfect for those who have a change of heart about a previous tattoo or simply want to make room for a new one. Naperville's tattoo shops leverage advanced laser technology to remove unwanted tattoos safely and effectively.
The process typically involves using a high-powered laser to break down the tattoo ink into smaller particles, which are then absorbed and eliminated by the body's immune system. It is important to note that multiple sessions may be required for optimal results, depending on factors such as the size, color, and age of the tattoo. The laser removal technicians at these tattoo shops are skilled in providing this treatment, ensuring a comfortable experience for the client.
In addition to laser removal, some tattoo shops in Naperville also offer laser skin rejuvenation services. This treatment utilizes the power of lasers to help improve the appearance and texture of the skin. It has various applications, including minimizing the appearance of scars, wrinkles, and other skin imperfections, making it an excellent choice for individuals looking to enhance their overall skin health and aesthetics.
It is worth noting that not all tattoo shops in Naperville provide these laser services, so it is recommended to inquire beforehand if you are specifically seeking those treatments. In summary, the tattoo shops in Naperville, California continue to showcase their versatility and commitment to clients' needs, offering both traditional and cutting-edge services to cater to varying preferences and requirements.
Building Trust and Faith
Building trust and faith with clients is an essential aspect of running a successful tattoo shop in Naperville, IL. Customers are looking for a comfortable, clean, and professional environment, especially when it comes to something as personal as getting a tattoo.
One of the best tattoo shops in Naperville with a solid reputation for trustworthiness and professionalism is Noodles Tattoo Studio. The shop is known for its beautiful decor and cleanliness, which helps clients feel at ease and confident in their choice. Transparency in pricing and detailed consultations also contribute to trust-building.
Another reputable tattoo shop in Naperville is Sapphire Studios. They offer a wide variety of designs and work closely with their clients to develop an understanding of their preferences, creating trust from the beginning.
At A Thin Line Tattoo, customers report that artists work hard to address their concerns and patiently explain the various elements of the tattooing process. This clear communication promotes trust and ensures that clients feel informed and comfortable throughout their experience.
Of course, client trust isn't only built through excellent customer service, but also through the quality of the work itself. Tattoo shops that consistently produce high-quality tattoos, such as Downers Grove Tattoo, are more likely to develop a loyal clientele and positive reputation in the community.
In addition to the trust and faith established through friendly customer service and high-quality artwork, many Naperville tattoo shops offer piercing services as well. A trusted piercing service provider in Naperville is Skynn Piercing. With a team of experienced piercers and a clean, sterile environment, Skynn Piercing ensures customer safety, satisfaction, and fosters a sense of trust with their clients.
By maintaining high standards of professionalism, cleanliness, and artistry, tattoo shops in Naperville work diligently to build trust and faith with their clientele. This, in turn, leads to a loyal customer base and contributes to the shops' ongoing success and reputation within the local community.