El Paso, Texas, nestled along the Rio Grande, boasts a vibrant and diverse culture that effortlessly blends Mexican and American influences. This unique cultural mix extends to the local tattoo scene, which offers residents and visitors a variety of top-notch tattoo shops to choose from. Whether you're searching for intricate designs or simple minimalist pieces, El Paso has something to cater to every style and preference.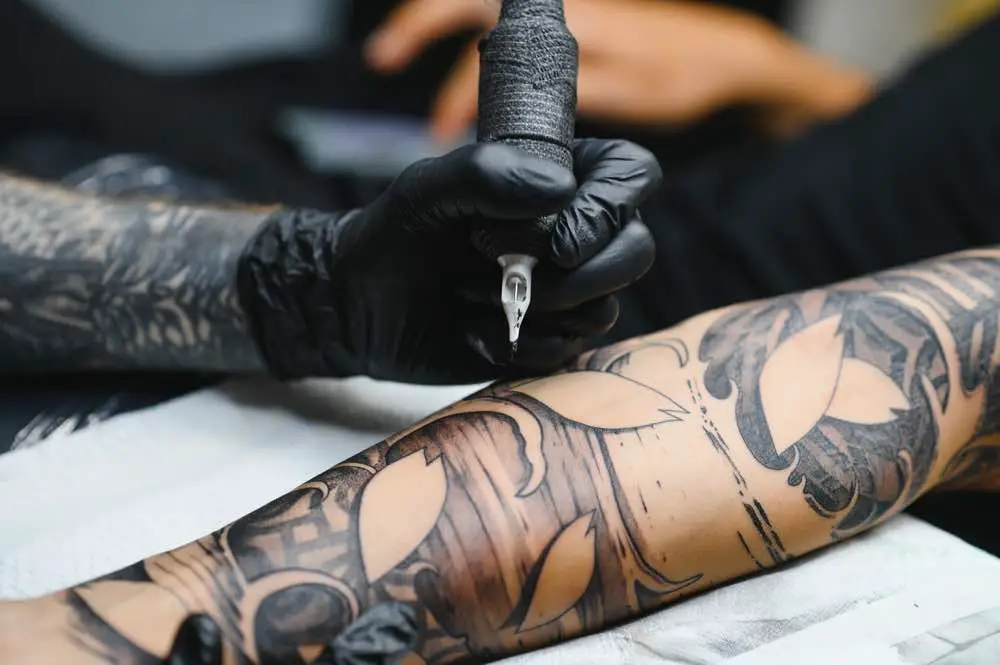 With a plethora of talented artists and modern facilities, tattoo enthusiasts in El Paso are spoiled for choice. Some of the top-rated shops in the area include Sun City Tattoos, Do's and Tattoos, and Wyze Guyz Tattoo Parlor. Each of these establishments has sterling reputations for exceptional artwork, clean and welcoming environments, and highly skilled tattoo artists who take pride in crafting stunning, personalized tattoos for their clients.
Top Tattoo Shops in El Paso
El Paso, Texas, is home to some amazing tattoo shops, offering top-quality work and outstanding customer service. Here, we've highlighted some of the best establishments in the area.
Pumping Ink Tattoo
Pumping Ink Tattoo has been a staple in the El Paso community since 2003. Known for their commitment to high-quality work on tattoos of all sizes and designs, this shop has built a solid reputation. The owner, Jake, is recognized for his friendly and hospitable nature, ensuring customers feel comfortable and satisfied with their experience.
Sun City Tattoo
Sun City Tattoo is another great option for those looking to get inked in El Paso. With a team of talented artists proficient in various styles, this shop has developed a strong reputation for producing quality artwork. Their dedication to customer satisfaction and reasonable rates make Sun City Tattoo a top choice for many locals and visitors alike.
Ink Society Tattoo Studio
Ink Society Tattoo Studio prides itself on providing top-notch tattoo experiences in a clean and professional environment. The artists here are skilled across different techniques and styles, catering to a diverse clientele. If you're looking for a friendly and accommodating atmosphere for your next tattoo, Ink Society Tattoo Studio is worth considering.
3 Tattoo
3 Tattoo is yet another reputable establishment in El Paso offering quality tattoo services. This shop has a team of skilled artists who are not only passionate about their craft but also dedicated to ensuring clients have the best possible experience. 3 Tattoo's commitment to client satisfaction, as well as its reasonable prices, makes it a popular choice among tattoo enthusiasts in the area.
Choosing the Right Tattoo Artist
Experience
When selecting a tattoo artist in El Paso, it's essential to consider their experience. An artist with several years in the industry is likely to have honed their skills and can produce high-quality work. For example, Myongki Yi (aka Tony), from 3 Tattoo, has over 15 years of experience and is well-known for his creativity and perfectionism. It's essential that the artist you choose has a proven track record in the style you desire. Don't be afraid to ask about their background and the types of tattoos they have done.
Talent
Talent is another crucial factor to consider. El Paso has a diverse range of skilled tattoo artists, like Frodo and Andy of Sun City Tattoos, who have delivered exceptional results to their clients. Browse through portfolios of different artists, either online or in-person, to get a sense of their style and skill level. Ensure the artist's talents align with your vision for your tattoo, whether it's intricate designs, realistic portraits, or traditional styles.
Reviews
Before committing to a tattoo artist, it's important to read reviews from previous clients. This can give you valuable insights into a tattoo parlor's professionalism, cleanliness, and the overall satisfaction of their customers. Websites like Yelp, TrustAnalytica, and ThreeBestRated are excellent resources to find reviews for El Paso tattoo shops and artists, such as Wyze Guyz Tattoo Parlor and Dead Hamster Tattoo. By considering reviews alongside experience and talent, you'll be well equipped to make an informed decision in choosing the right tattoo artist for your needs.
Portfolio and Artwork
When exploring the best tattoo shops in El Paso, it is essential to examine the portfolio and artwork of each shop and its artists to ensure that their style aligns with what you are looking for in a tattoo design.
Instagram
A great resource for finding relevant artwork is to browse through the Instagram pages of these tattoo shops and individual artists. Social media platforms like Instagram provide an up-to-date showcase of their latest work, allowing potential customers to get a glimpse of the artists' versatility in styles and techniques. Shops such as Dead Hamster Tattoo, Tom Fooleries Tattoo, and Pumping Ink Tattoo have strong Instagram presences that feature a variety of tattoo designs.
Consultation
Prior to getting a tattoo, it's essential to schedule a consultation with the artist you've chosen to work with. Consultations give you an opportunity to discuss your tattoo design, ask questions, and establish rapport with the artist. During the consultation, you can present your ideas and artwork, allowing the artist to understand your vision and offer their professional input. This collaboration ensures a design that is both personalized and crafted with the artist's expertise.
To recap, when searching for the best tattoo shops in El Paso, consider the following:
Browse through Instagram pages of shops and artists
Schedule a consultation to discuss design and establish rapport
By taking these steps, you can confidently find the ideal tattoo shop and artist for your unique tattoo design.
Cleanliness and Professionalism
Customer Service
In El Paso, tattoo shops such as Wyze Guyz Tattoo Parlor and Pumping Ink Tattoo emphasize cleanliness and professionalism. These establishments understand the importance of maintaining a high level of customer service, which is reflected in the dedication and passion of their artists. They provide clear communication and listen carefully to clients' preferences and desired designs.
Tattoo Studio Environment
The environment of a tattoo studio greatly contributes to the overall experience of the clients. In the best El Paso tattoo shops, you can expect to find comfortable, clean, and professional spaces.
Comfortable: The established tattoo shops in El Paso offer a relaxing and welcoming atmosphere, allowing clients to feel at ease while getting their tattoo. Seating options and the studio layout contribute to the overall comfort.

Clean: Tattoo shops prioritize sanitation and hygiene, adhering to strict cleanliness standards. They utilize disposable needles, autoclave sterilization, and regular disinfection of equipment and surfaces to maintain a safe environment for both clients and staff.

Professional: The atmosphere in top tattoo shops in El Paso reflects the professionalism of their staff. The artists have an extensive knowledge of tattoo styles and techniques, while also being committed to staying up-to-date with industry trends. This professionalism is also evident in the way they handle appointments, consultations, and follow-up care.
Pricing and Cost Estimation
Price Range
Tattoo shops in El Paso offer a variety of pricing options to accommodate different budgets and preferences. Generally, you can expect to encounter the following ranges:
Small tattoos: Prices for small and simple designs typically start from $50.
Medium-sized tattoos: More detailed and medium-sized tattoos can range between $100 and $500.
Large and custom tattoos: Intricate and large tattoos, as well as custom designs, can cost upwards of $500, with some even reaching into the thousands.
Additionally, many tattoo shops charge an hourly rate for more extensive work, which can range from $100 to $200 per hour, depending on the artist's experience.
Keep in mind that prices may vary greatly depending on the complexity of the design, the placement of the tattoo, and the skill level of the tattoo artist. It's always a good idea to ask for an estimate before committing to any tattoo studio.
Trusted Recommendations
Several well-regarded tattoo shops in El Paso have been noted for their quality work and reasonable prices. Based on the provided search results and customer reviews, three of the most recommended tattoo studios include:
Pumping Ink Tattoo: Located at 4001 Dyer Street, Suite #1, El Paso, TX 79930 and established in 2003, this studio is known for its top-notch tattoo services and friendly atmosphere.
Art of Ink Studios: Situated at 5300 Doniphan Dr, Suite 25, El Paso, this shop has a 5-star rating and boasts a knowledgeable staff offering fantastic work, even on cover-ups.
Mitchell Dean Tattoos: Found at 801 N Piedras St, Suite 3, El Paso, 79903, this tattoo artist has a loyal following and consistently delivers high-quality tattoo artistry.
Before making your final decision, don't hesitate to research each of these options and read additional reviews to ensure you choose the best tattoo shop that aligns with your creative vision, comfort, trust, and budget.
Popular Tattoo Styles in El Paso
El Paso, a city with a rich blend of Mexican and American cultures, showcases tattoo styles that celebrate the area's vibrant heritage. Traditional tattoos that pay homage to their roots are popular amongst El Paso residents. Many designs are inspired by religious and cultural symbols, such as the Virgen de Guadalupe, sugar skulls, and Mexican folk art.
Tribal tattoos have also found their way into the El Paso tattoo scene since they can represent strength, family, and heritage. They often include intricate patterns and elements of various tribes from around the world.
Realism tattoos, known for their lifelike details and precision, also featured prevalently in the El Paso tattoo community. These tattoos can include portraiture, nature scenes, and objects, showcasing the tattoo artist's craftsmanship through texture, depth, and shading techniques.
El Paso residents also gravitate towards classic American tattoo styles. Traditional or "Old School" tattoos, defined by their bold lines, bright colors, and iconic imagery like roses, anchors, and banners, are much-loved for their enduring aesthetic appeal.
In general, El Paso's tattoo culture reflects the city's distinguished and diverse history. Tattoo enthusiasts can find a wide array of styles to choose from in local shops, making El Paso an ideal place to explore and express one's individuality through ink.
Piercing Services
Nipple Piercing
Nipple Piercing
El Paso is home to several top-notch tattoo and piercing shops that provide a variety of body art services, including nipple piercing. For example, Sun City Tattoos, Fox Labyrinth, and Mesa Street Tattoo are all well-regarded shops offering exceptional nipple piercing services by their experienced and professional piercers. These shops maintain high levels of cleanliness and safety, ensuring that clients have a comfortable and enjoyable experience when getting their nipple piercings done.
It's essential to choose a reputable shop for any piercing to minimize the risk of infection, achieve the desired aesthetic, and receive proper aftercare guidance. The shops mentioned above boast a long track record of satisfied customers, consistently providing quality service and beautiful results.
Walk-Ins
Walk-Ins
Many piercing shops in El Paso accommodate walk-ins; however, due to current health concerns and an effort to reduce wait times, it's always best to call ahead or book an appointment online before visiting the shop. This will ensure that you receive prompt service and the full attention of the piercer during your session.
Fox Labyrinth, for instance, offers virtual consultations and the option to request a quote online. Also, Pink Street Tattoos and Piercings provide opening hours information and a contact number on their website, offering convenience for walk-in clients.
Flash and Tattoo Events
El Paso, being a culturally rich city, hosts various tattoo events and flash days throughout the year, where talented local artists get a chance to showcase their skills and unique designs. These events offer a great opportunity for tattoo enthusiasts to explore different tattoo styles, connect with artists, and get inked with exceptional designs.
Flash days are especially popular in El Paso, where tattoo artists create a series of pre-designed flash sheets featuring a diverse collection of tattoo designs. These designs can range from traditional Americana to intricate geometric patterns, influenced by both Mexican and American heritage. During flash days, customers can choose their favorite design from the available flash sheet, and the artist proceeds to tattoo it with precision and skill.
These flash days are not only a fun way for clients to get a new tattoo but also serve as a platform for artists to experiment with new ideas and techniques. Both well-established tattoo shops and upcoming artists in El Paso participate in these events, catering to a variety of preferences and budgets. Some renowned tattoo shops in El Paso that may host flash day events include Wyze Guyz Tattoo Parlor, Sun City Tattoos, and Pumping Ink Tattoo.
Apart from flash events, tattoo conventions and expos are also quite popular in El Paso. These events bring together talented artists from all around the globe, providing a platform for them to showcase their work and engage with potential clients. Visitors can attend live tattooing sessions, engage in workshops, and even get inked by some of the best artists in the industry. Additionally, these events also serve as a networking platform for artists, enabling them to collaborate, learn, and grow professionally.
Self-Expression through Tattoos
Tattoos have long been a popular form of body art that individuals use for self-expression. With a wide array of designs and styles available, each person can make a unique statement through the tattoos they choose. In El Paso, Texas, various top-rated tattoo shops cater to those looking to express themselves through ink.
One highly regarded tattoo shop in El Paso is the 3 Tattoo studio. Founded by South Korean artist Myongki Yi, this tattoo parlor is known for its extensive range of designs and its professional, orderly ambiance. Located within the Coronado Tower, 3 Tattoo has quickly become a favorite spot for both locals and visitors alike.
Another well-established tattoo studio catering to the self-expression needs of El Paso residents is Pumping Ink Tattoo. Having been in operation since 2003, it has built a strong reputation over the years for providing high-quality tattooing services at reasonable prices. Owner Jake is known for his friendly and hospitable nature, making the experience all the more enjoyable for clients.
In addition to these popular tattoo shops, there are other noteworthy studios in El Paso that cater to various self-expression preferences. Some of these include WyzeGuyz Tattoo Parlor, Sun City Tattoo, Ink Society Tattoo Studio, Mesa Street Tattoo Parlor, and Ink Xpressions Tattoo Studio. Each brings a unique style and atmosphere, thereby catering to the diverse tastes of the city's residents.
Whether you are someone looking to showcase your heritage or simply hoping to express your unique personality and style, El Paso's thriving tattoo scene offers an abundance of options for body art enthusiasts. With a multitude of skilled artists and exceptional tattoo studios available, individuals can feel confident and knowledgeable about finding the perfect El Paso location to fulfill their self-expression desires.
El Paso's Rank in the United States Tattoo Scene
El Paso, a lively city resting on the Rio Grande, is known for its rich blend of Mexican and American heritage. Among the various cultural aspects, the tattoo scene in El Paso has been steadily growing and gaining recognition across the United States. With numerous talented artists and top-notch tattoo shops, El Paso offers a unique perspective on the art of ink.
Although there is no definitive ranking system for tattoo scenes across various cities, El Paso boasts a number of highly-rated and widely respected tattoo shops that have helped establish its presence in the United States tattoo community. Some notable shops include Pumping Ink Tattoo, Dead Hamster Tattoo, Tom Fooleries Tattoo, and Art of Ink Studios. These shops have not only garnered praise from local clientele but have also attracted customers from other states, further solidifying El Paso's position in the national tattoo scene.
While El Paso may not yet be considered on the same level as powerhouse tattoo cities like Los Angeles, New York, or Miami, its distinctive cultural influences and dedicated artists have carved out a niche in the American tattoo landscape. The fusion of styles and techniques offered by El Paso's tattoo shops provides a fresh and distinctive flair, contributing to the city's growing reputation in the United States tattoo scene.
Unique Tattoo Ideas for El Paso Residents
El Paso residents looking for exceptional tattoo artistry have plenty of options to choose from. The city is home to some reputable and talented tattoo shops that offer everything from small tattoos to complex designs. With a rich history and vibrant cultural influences, El Paso provides an ideal backdrop for unique tattoo ideas.
Small tattoos have become increasingly popular in recent years, and many tattoo shops in El Paso cater to this trend. These minimalist designs can be found at places like Pumping Ink Tattoo, WyzeGuyz Tattoo Parlor, and Sun City Tattoo. Small tattoos are appealing for their subtlety, allowing you to express yourself confidently while keeping the design understated and easy to conceal.
The talented artists working at these shops in El Paso, TX, can bring a diverse array of inspirations to your tattoo design. They are familiar with the local culture and history, which can inspire tattoos that reflect the city's unique blending of Texan and Mexican influences. For example, you might consider incorporating traditional Mexican motifs such as sugar skulls or Aztec symbols in your design.
El Paso's desert landscapes also offer an abundance of natural elements that can be incorporated into your tattoo design. Cacti, roadrunners, sunsets, and mountain ranges are just a few examples of the breathtaking imagery that can be found in the local environment. These natural themes can be infused with a personal touch, transforming them into distinctive and meaningful tattoos.
Lastly, El Paso's military heritage, courtesy of Fort Bliss, presents opportunities to pay homage to service members and express a sense of pride in one's past or current military affiliations. Timeless designs, such as military insignias, armed forces emblems, or a family crest, can serve as a bold and powerful statement.
Choosing the right tattoo shops in El Paso, TX, along with a unique idea that reflects the city's rich history and captivating scenery, will ensure that your new tattoo will be a cherished and memorable part of your personal story.