When it comes to tattooing, the equipment you use is just as important as the tattoo artist's experience.
Even with all the expertise in the world, a sub-par tattoo gun can produce underwhelming results, compromise a client's comfort, or threaten an artist's reputation. To entice clients back in your chair, you'll need to provide them with art they're excited about and proud to show off.
To do so, you should only practice with the best tattoo guns made from high-quality materials.
We scoured the internet to find some of the best tattoo guns for you to use with clients or exclusively for practice. Keep reading to learn about the best tattoo machines across six categories.
---
Our Top Picks for Best Tattoo Guns
Best Overall:
Dragonhawk Wireless Tattoo Pen Machine with 7-Stroke Length
Wireless:
MAST Tattoo Wireless Tattoo Machine Rotary Pen
For Beginners:
Wormhole Tattoo Pen Kit
---
Best Overall
Dragonhawk Wireless Tattoo Pen Machine with 7-Stroke Length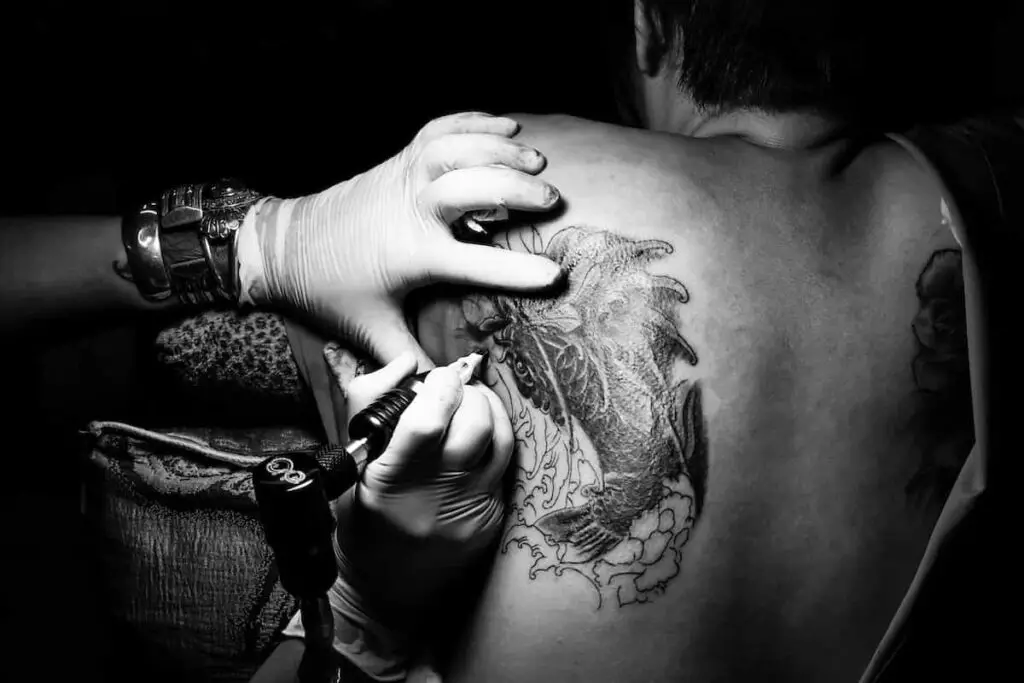 Landing the top spot for the best tattoo gun is the Wireless Tattoo Pen Machine with 7-Stroke Length. This tattoo gun is designed for all levels of experience, from beginners to professional tattoo artists, so artists can use it as they progress.
Whether you're a tattoo artist, a permanent makeup artist, or both, this machine will come in handy for you. This tattoo gun has seven stroke lengths for different degrees of shading. Thicker needles are used for traditional tattooing, line work, color, and shading. Use finer-tipped needles to apply permanent makeup and scalp micro pigmentation.
The tattoo gun also has an LCD screen that displays the battery charge, timing, and voltage, so you can stay on top of your work and make adjustments as needed.
Pros:
Wireless
Used for all styles of tattoos, from traditional to permanent makeup
Designed for all levels of experience
---
Best Wireless
MAST Tattoo Wireless Tattoo Machine Rotary Pen
The Wireless Tattoo Machine Rotary Pen by MAST Tattoo is available at a slightly lower price point than the tattoo guns listed above, which certainly adds to its appeal. However, what sets this tattoo machine apart are its customer reviews. This product continues to exceeds customers' expectations. One satisfied customer even likened its performance to premium-level tattoo kits.
Many customers applaud this machine's long-lasting battery, which can hold up for about 10 hours. Customers are also pleased to receive the tattoo gun at almost a full charge, so they can start working immediately.
The longevity of this machine is also one of its major appeals. Some professional tattoo artists claim to have purchased it as a back-up but wound up preferring it.
Pros:
Wireless
Maintains its charge
Low noise
Cons:
Does not come with a power control cord; need to purchase separately
Some customers cite malfunctions after short-term use
---
Best for Beginners
Wormhole Tattoo Pen Kit
As they say, you have to crawl before you walk and walk before you run. The Tattoo Pen Kit by Wormhole is perfectly crafted for beginners who aren't yet ready to invest in a costly tattoo gun.
With so many amenities included in this 107-piece kit, it's a great product to use for practice—but customers suggest using it for practice alone. Per the reviews, customers don't recommend using this tattoo machine isn't to tattoo human skin. The kit comes with two sheets of synthetic skin for users to try out their skills, and you can always purchase more.
The kit comes with one cartridge of black ink and 10 cartridges of randomly-selected color ink. Users also don't suggest using the supplied ink on human skin either but agree that it's perfectly fine for practicing on the synthetic skin.
Pros:
Comprehensive kit includes everything needed to learn to tattoo
Non-slip handle
Low noise
Cons:
Power cord is on the shorter side
Needles may dull quickly
Buyers don't recommend using the tattoo gun on human skin
---
Dragonhawk Wireless Tattoo Pen Machine with 3.5MM Stroke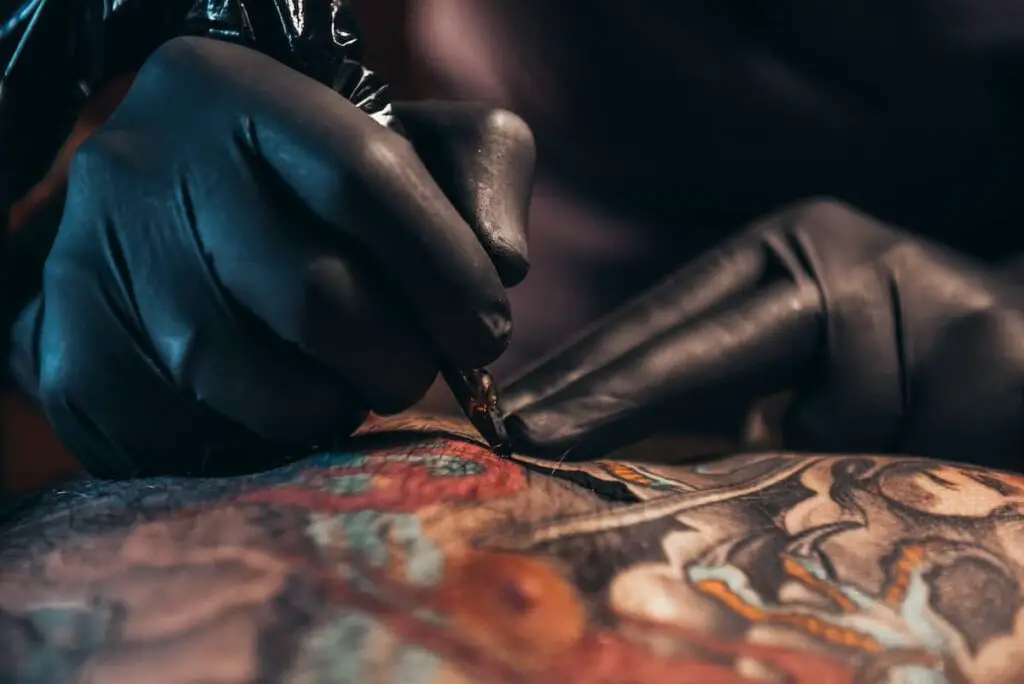 The runner-up for overall best tattoo machine on our list is the Wireless Tattoo Pen Machine Brushless Motor with 3.5MM-Stroke Smart Screen by Dragonhawk. As the first Dragonhawk machine with smart-screen AI, it's made with ease-of-use in mind.
The tattoo gun is great for novice tattoo artists and professionals alike because it automatically adjusts to accommodate the area of skin that you're working on. The smart technology allows the needles to sense changes in skin texture and thickness, so the motor can adjust accordingly.
This tattoo gun has five preset modes, including two levels for lining, two levels for shading, and one level for totem work. While you work, you can also easily view the time, electricity, voltage, and working modes on the LED screen.
Pros:
Wireless
Features artificial intelligence (AI) technology
Comes with two batteries
Cons:
Higher price point
Some customers may not prefer the automatic adjustment capabilities
---
SAIKOYA Wireless Tattoo Machine Pen Kit
If you're a traveling tattoo artist or someone who enjoys learning on the go, then you should consider the Wireless Tattoo Machine Pen Kit by SAIKOYA.
Some customers claim this tattoo gun is the best they've ever purchased. It's lightweight, so it's comfortable and easy to use, carry, and travel with. It plugs into a USB to charge and retains enough power for eight to 10 hours of use. Use it for line work, traditional tattooing, heavy color, totem-style, and realistic tattoos.
The tattoo gun has a nifty LCD screen that displays the voltage used and the amount of charge that's left. It also features a handle grip to support precision, and customers boast about its smooth line work.
Pros:
Wireless
Easy-to-grip handle
Lightweight
Cons:
Does not include an RCA adapter; purchase separately if needed
Comes with one battery; purchase additional batteries separately
---
Dragonhawk Traditional Pro Complete Tattoo Kit
With more than 13,000 reviews and most of them boasting five stars, the Traditional Pro Complete Tattoo Kit by Dragonhawk is among the top-rated best tattoo machines available. A great choice for beginners and people with a basic knowledge of tattooing, this kit contains everything you need to get started.
Included in this kit are two coil tattoo machines, a power supply, 20 tattoo needles with tubes, 10 different-colored USA-made tattoo inks, a foot pedal, and practice skin.
There are a few customer complaints, however. Some users claim to have received a faulty machine or a machine that stopped working after a few uses. Nonetheless, it's certainly possible these mishaps were caused by rough shipping and handling.
Pros:
All-inclusive kit includes everything needed to learn
Competitive pricing
Cons:
May need to upgrade coils and springs
Buyers don't recommend using the supplied ink on skin
On the noisier side
---
Best Tattoo Gun Buyer's Guide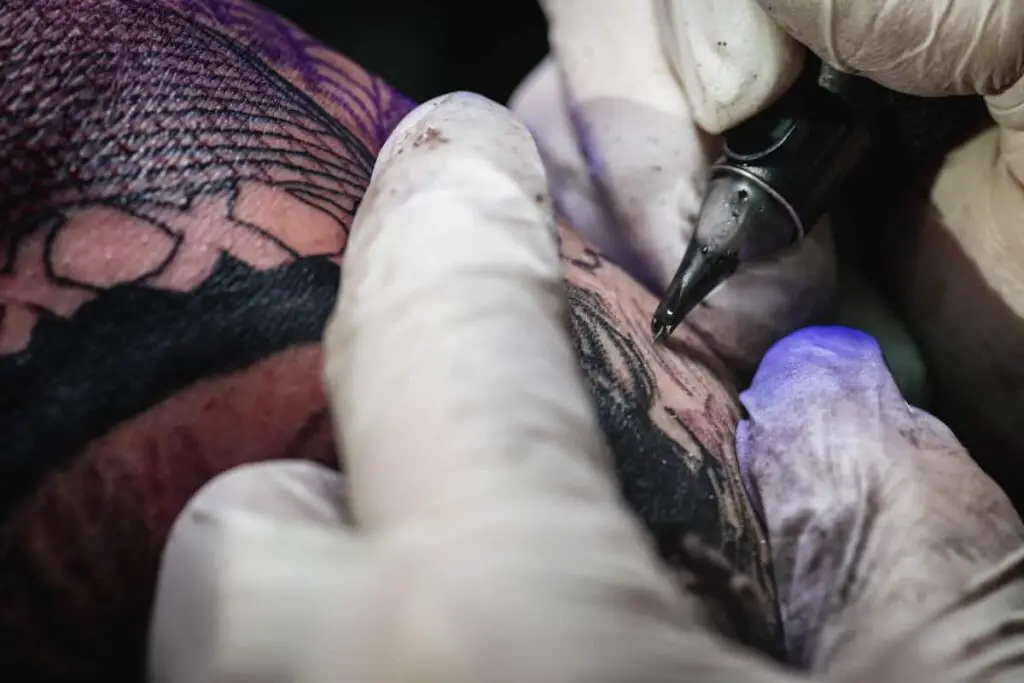 In this section, we cover the three types of tattoo guns, what to look for when buying a tattoo gun, how to use a tattoo gun, and three frequently-asked questions about tattoo guns.
Types of Tattoo Guns
There are three types of tattoo guns: coil, rotary, and pneumatic.
Coil Tattoo Guns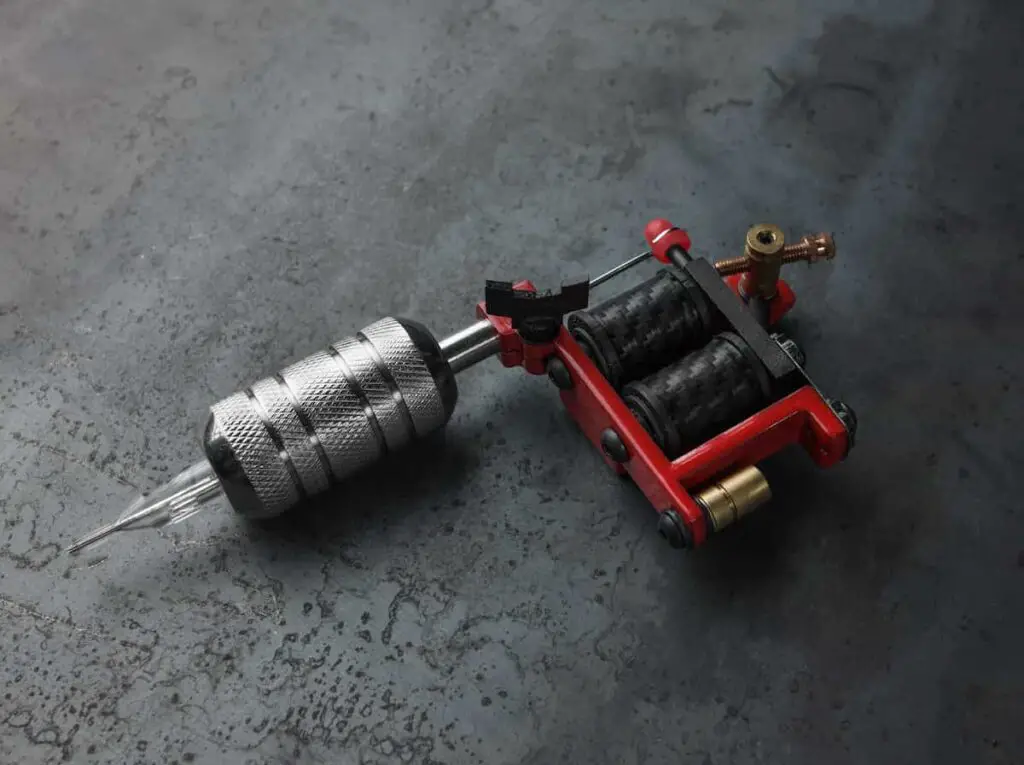 Coil tattoo guns are the traditional style of tattoo machines. These machines are easily recognized by their ever-present buzzing sound.
Coil tattoo machines are powered by an alternating electromagnetic current. The machine rapidly creates and breaks a circuit, which passes through its coils and causes the spring-loaded armature bar to move up and down. The up-down-motion allows the needle to make contact with the skin.
Rotary Tattoo Guns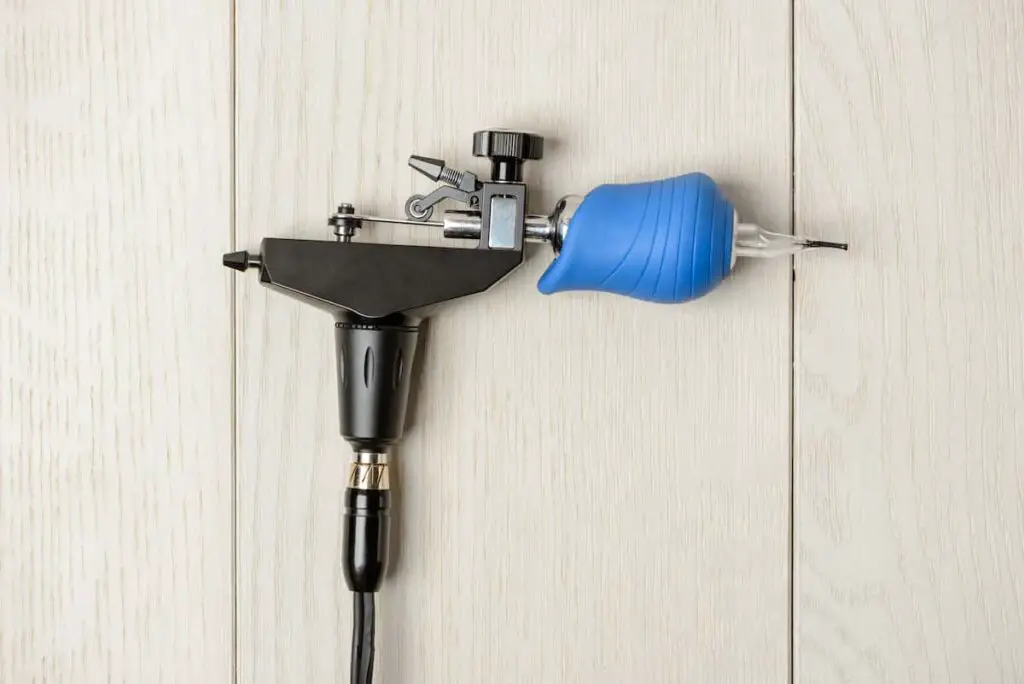 Rotary tattoo guns are the most popular type used today. These machines use a small, spinning motor to move the armature arm up and down.
Coil tattoo guns need time to cool after extended use, but rotary guns can be used for longer periods, which makes them more appealing to users.
Pneumatic Tattoo Guns
Pneumatic tattoo guns are the quietest of the three types because it uses compressed air as its power source. They're also lightweight and compatible with most accessories and needles.
What to Look For in Tattoo Guns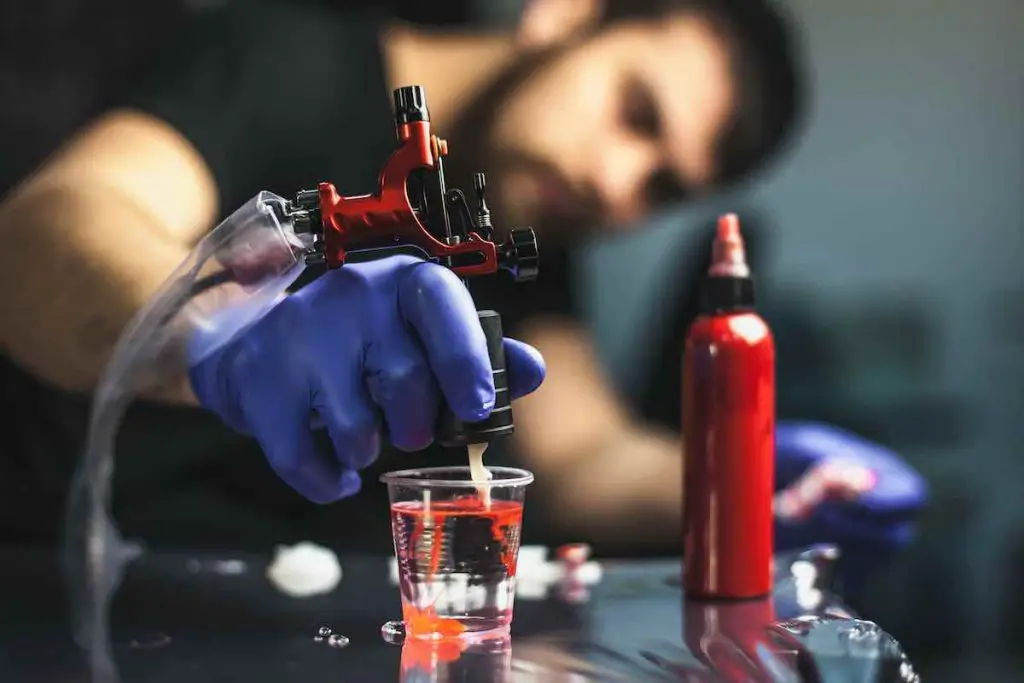 When considering a new tattoo gun, the most important factor is the machine's quality. The quality directly affects the professionalism of the tattoo and also determines if the machine is comfortable enough for the artist to use for hours on end.
You should also take into account the weight of a machine. If a tattoo gun is too heavy, it'll be hard on your hands. After a few years, a heavy machine can cause carpal tunnel syndrome, which is already common among tattoo artists. If the machine is too light, it may not be sturdy enough to ensure smooth line work.
Finally, you should think about the material that tattoo guns are made from. The material is very important because a poorly-made machine can easily break during use and possibly injure the client. If you can, choose tattoo machines made from iron, steel, brass, bronze, or aluminum.
How to Use Tattoo Guns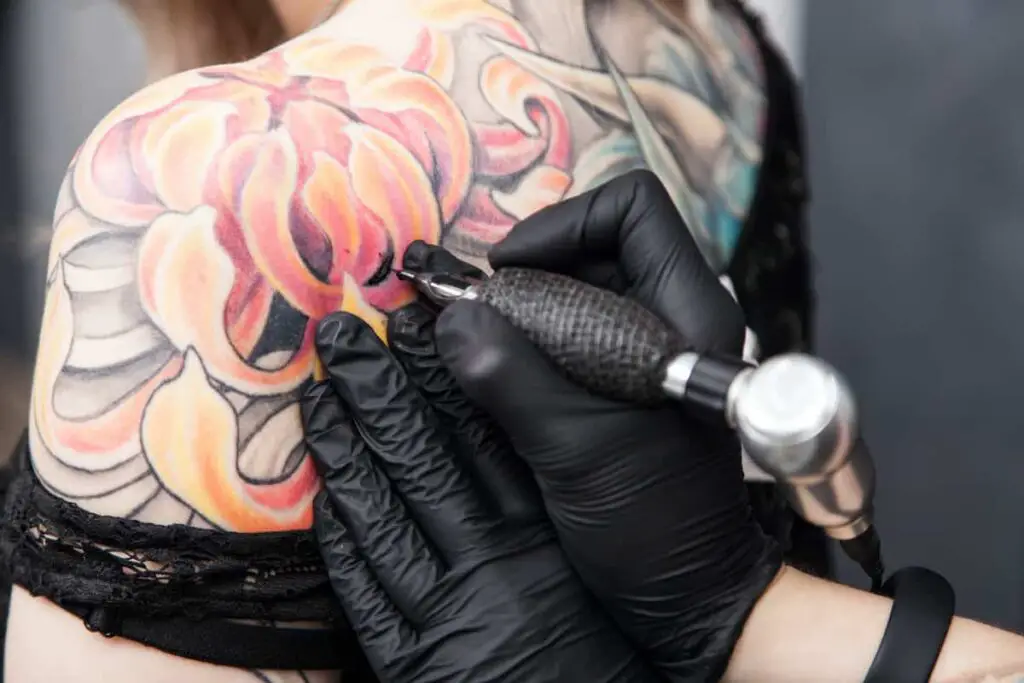 It can be intimidating to use a tattoo gun for the first time, but after some practice, you'll be an expert in no time.
Here are basic eight steps on how to use a tattoo gun.
Sterilize your equipment and person. Wash hands thoroughly with soap and water, sterilize all surrounding surfaces and tools, use new supplies, and wear gloves before you begin. To effectively sterilize equipment, you'll need to purchase an autoclave sterilizer.
Assemble the equipment. If you're a beginner, opt for a tattoo kit, which generally contains all the parts you'll need. Otherwise, you'll have to purchase many parts individually.
Set the length of the needle. A 12-gauge needle is standard, though eight- and 10-gauge needles are also used. No more than one to two millimeters of the needle should extend from the entry point of the tattoo gun.
Place everything you need in front of you. Prepare yourself to have fast and easy access to ink colors, different-sized needles, cotton balls, rubbing alcohol, and extra gloves.
Plug in the tattoo gun. If you aren't using a wireless gun, plug your tattooing machine into a power supply and set the voltage. The correct voltage to use is between seven and nine volts.
Pour the ink you'll be using. Depending on what your client asks for, pour the colors you'll need into ink caps.
Perform a test. Before using the tattoo gun on a client, test the gun on something you can throw away, like synthetic skin.
Begin tattooing. Place the stenciled design on the client's skin to create an outline. Then, begin tattooing, using the outline to line the tattoo.
---
Tattoo Guns and Frequently Asked Questions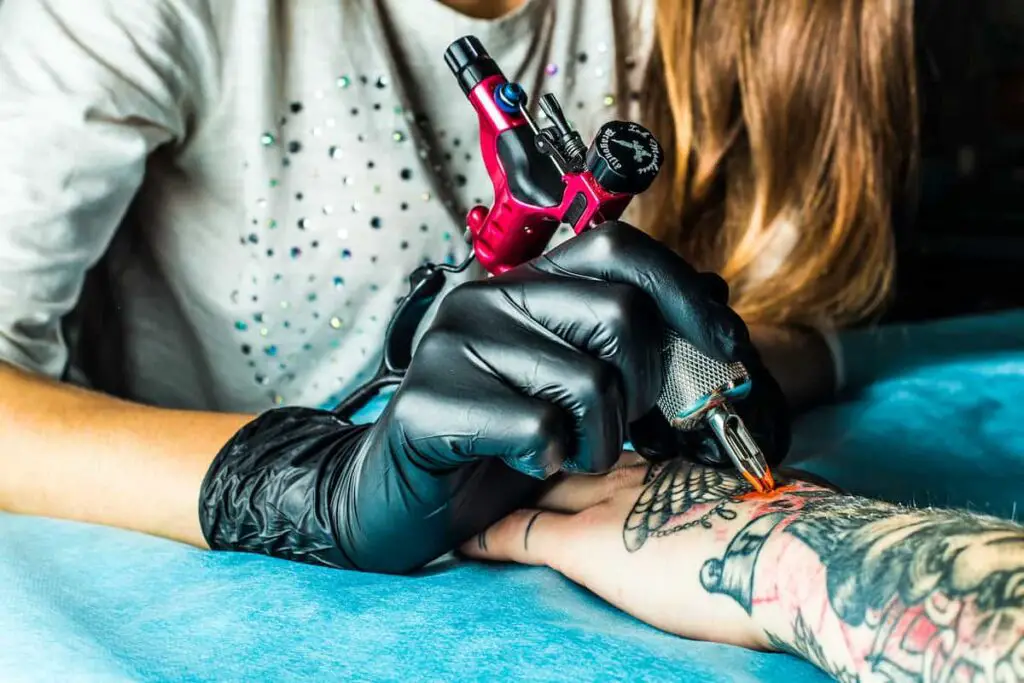 Have questions about tattoo guns? Here are three questions asked by customers to help you best prepare.
What do I need to know before getting a tattoo gun?
Different machines will tattoo differently. So, when choosing a tattoo gun, consider several factors.
You'll need to conduct research, choose a machine that best fits your style, determine a budget (and stick to it), and leave room in that budget to purchase extra supplies—and you will need them!
What can I practice my tattoo gun on?
The best way to practice is to use synthetic skin. The texture of synthetic skin simulates the texture of real skin. There's also no risk of injury or creating low-quality tattoos that you may want to remove.
Can a tattoo gun go too deep?
Yes, a tattoo gun can go too deep and cause injury.
Tattoo needles should never puncture below the dermis. If a needle enters the hypodermis, the tattoo will be painful and appear blurry. It will also be harder to remove the tattoo if the client so chooses.
---
The Best Tattoo Guns for the Best Results!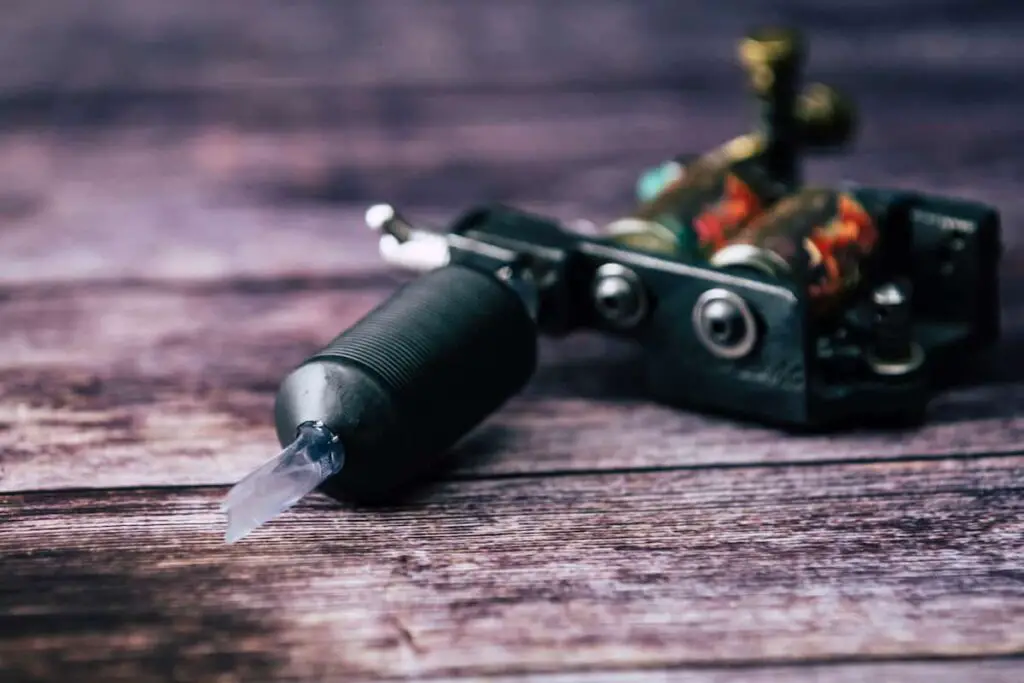 Tattoos are one of the most popular ways people choose to express themselves. Seasoned tattooists know the right gun makes all the difference.
You can try out one of the best tattoo machines in this list, like the Wireless Tattoo Pen Machine with 7-Stroke Length by Dragonhawk, to provide clients with beautiful and intricate designs, or start learning how to do so.
Check out our Tattoo Gear blog posts for more recommendations about the best tattooing supplies..