The jellyfish tattoo has been very popular for a while, and it keeps gaining popularity today due to innovative tattoo techniques that allow this type of tattoo to look better and more realistic on the skin. In this article, you will find all the information about jellyfish tattoo meaning, different tattoo styles, tattoo placement options, etc.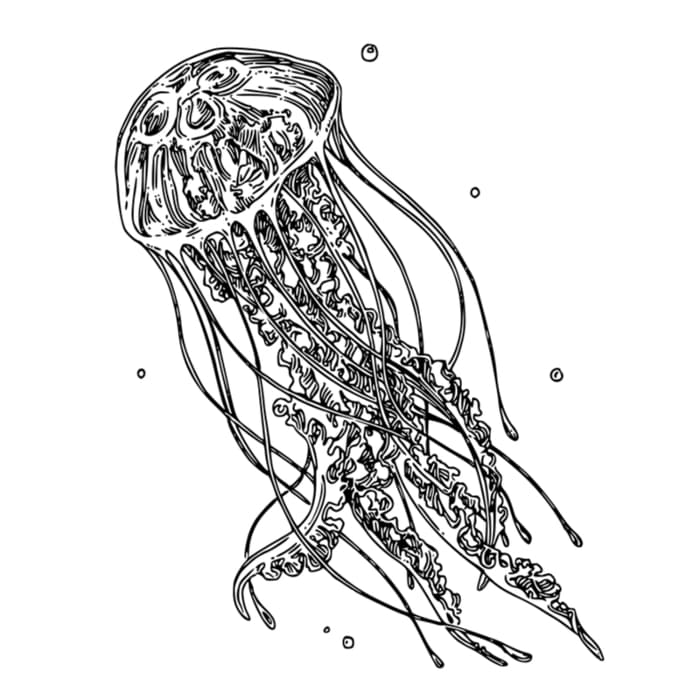 Jellyfish Tattoo Meaning
You may be wondering "Isn't a jellyfish just a jellyfish? How can there be any kind of meaning other than an obvious 'I think jellyfish are cool' meaning?" But there are a number of meanings behind jellyfish tattoos and some of them express complicated concepts and ideas. Which concepts and ideas depends upon the specific aspects of jellyfish behavior and life the tattoo wearer identifies with.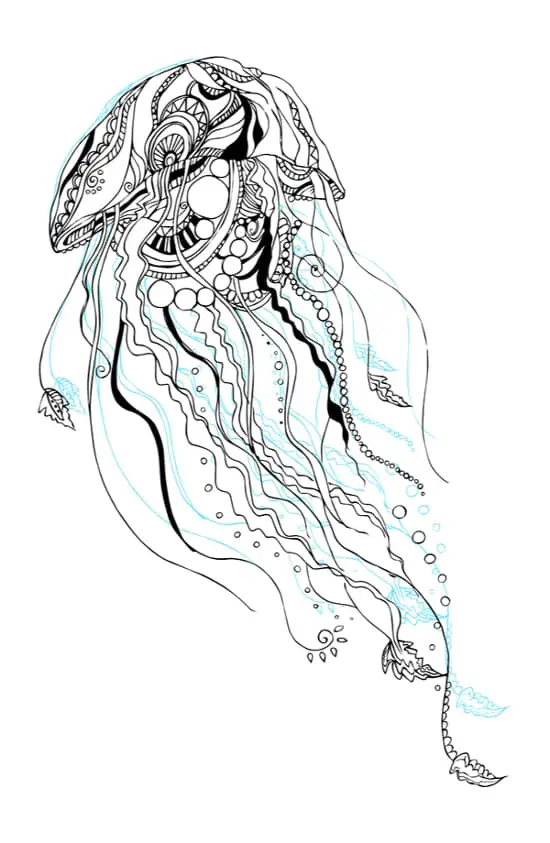 Protection and Strength
Usually, a jellyfish is considered a symbol of protection and strength, particularly when it comes to the defense of one's friends and loved ones. The appearance of a jellyfish can be deceptive — if you're unfamiliar with the animal, you won't realize how potentially dangerous they are until it's too late. A jellyfish is a reactive animal and until it's given a reason, it won't sting. It behaves peacefully until there's cause not to and then…watch out!
There's certainly an implied warning in this jellyfish tattoo meaning.
Immortality or Longevity
Since jellyfish are able to reproduce asexually by cloning themselves, a jellyfish tattoo is often chosen as a symbol of immortality and longevity.
Wisdom
Many tattoo enthusiasts also pick jellyfish to emphasize ancient wisdom because jellyfish have existed for around 500 million years. During that time they've learned how to adapt to all sorts of changes and global events and jellyfish are thought of as spirit animals with much wisdom to share.
Peace, Tranquility, Trust, Acceptance
If you are looking for a symbol of tranquility, acceptance, and peace in your life then jellyfish may be a great option for you because these creatures live a great part of their life allowing the ocean's currents to carry it along.
Another symbol of the jellyfish is the ability to survive. Therefore, it is often a popular tattoo among people who have gone through difficult situations in their lives and consider themselves survivors. 
However, even if you do not see any meaning attached to this tattoo, you can still get it – it is a popular choice among those tattoo enthusiasts who love tattoos with unique designs and extraordinary colorful appearances. 
Jellyfish Tattoo Variations
There are numerous variations of jellyfish tattoos that you can choose from.
Colored Tattoo
Your jellyfish tattoo will look absolutely stunning with a blast of colors. A colorful jellyfish will look great in any size, shape, and color, and will definitely be noticed by helping you stand out from the crowd. 
It is definitely more complicated and takes more time to create a colored tattoo, but tattoos with multiple colors have many advantages. 
First of all, colored tattoos can be created in a variety of different style and give you more opportunities for being creative, especially when it comes to making a jellyfish tattoo. 
Also, a colored tattoo is a great choice for light-colored skin because you can create a distinctive contrast with the help of a combination of colors. Moreover, it is easier to understand the mood of a jellyfish tattoo meaning if the tattoo is colored. 
If you decided to get a jellyfish tattoo, the best combination would be pink. red and violet because it will make your colored tattoo look very realistic, especially if you add the blue background.  
However, you should remember that colored tattoos have their disadvantages and limitations. The biggest downside is that they fade over time, especially if they are often exposed to sunlight. 
Black And Gray Tattoos
You may think that a black and gray jellyfish tattoo is not a good idea because these creatures are known for their bright and vibrant colors. However, a black and gray tattoo is an excellent choice if you want to focus on details rather than colors.
Without a mix of colors, the finer and sharper points and lines of a jellyfish become more distinctive and visible. In addition, black and gray tattoos are longer-lasting and have more of a timeless feel to them.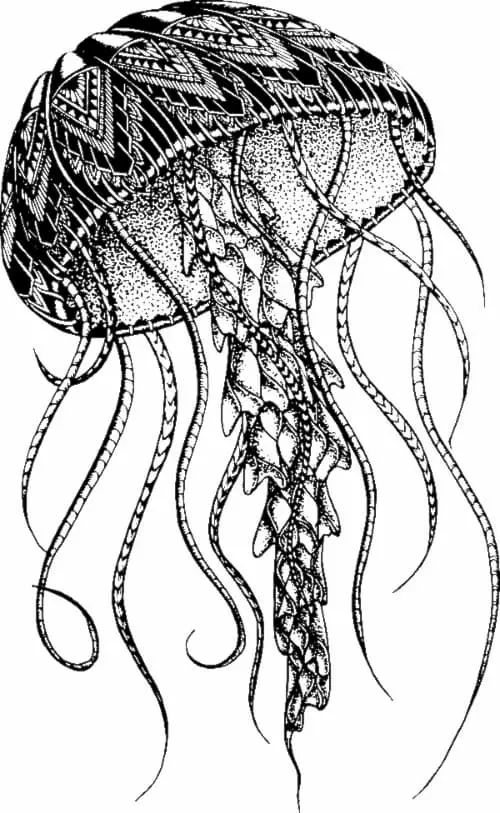 Finally, another advantage of black and gray tattoos is that they are easier to make – this tattoo can be finished in one visit only. Therefore, if you do not want to spend too much time in a tattoo salon, black and gray may be the option for you. 
A Cartoon Design Tattoo
Disney cartoon art can become the source of inspiration for creating cartoon jellyfish tattoos. Jellyfish are perfect for this variation of tattoos because they are known for their variety of colors. If you pick a cartoon tattoo, you can be very creative and let your imagination take the lead. 
Cartoon jellyfish tattoos are a great choice for people who want to be young at heart even as adults. They're also a great choice if you are a fan of playful and old-school tattoos. 
Jellyfish Tattoo Styles
There is a great variety of tattoo styles, so it may be overwhelming to decide what is best for you. Every tattoo style is unique, and every person has their own preferences. The best thing you can do is to understand each style and learn about their backgrounds.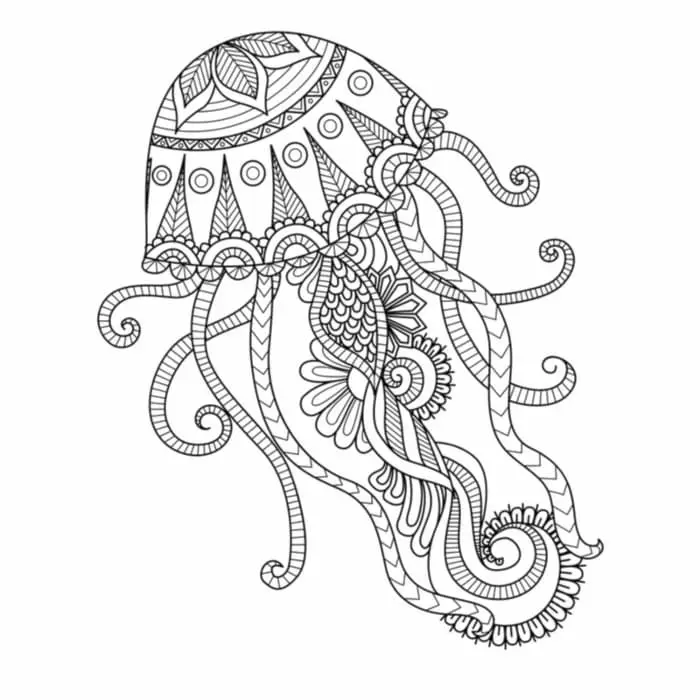 Traditional or Old School
It is one of the most common styles of tattoos, and it derives from the sailors' tattooing tradition. It became popular during the first half of the 20th century when electric tattooing machines were invented. This style is known for its bold colors, original motifs, and iconic designs, which is perfect for jellyfish tattoos. 
New School
This style appeared as a response to the old school tattoo and was inspired by graffiti, hip-hop culture, cartoons, and pop art. It became extremely popular in the 70s and was characterized by using such new elements, as 3D effects, depth, and shading. As a rebellious tattoo style, it is characterized by intentional disproportions, irreverent themes, and vibrant colors. 
Neo Traditional 
Even though this style seems to be similar to the traditional style discussed above, there are some significant differences. One of the primary differences is that it offers a broader selection of motifs. This style is also known for different decorative elements, such as animals and flowers.
Tribal Style
This tattoo style is based on primitive and indigenous tattoo traditions that appeared hundreds of years ago. Since tribal people used very simple tools and designs, the contemporary tribal tattoo style is known and appreciated for its simple patterns, repetitive figures, and symmetrical shapes. Usually, tribal tattoos are black and gray, but you can also get creative and use a palette of colors. 
Watercolor Tattoo Style
It is considered one of the fastest-growing styles that is becoming more and more popular. It is known as a mix of tattooing mastery and traditional watercolor paintings. If you decide to get a jellyfish tattoo, it is probably the best style for that. However, it requires the proper technique and skills that not every tattoo artist has. 
Japanese Style
This style was associated with mafia, criminality, and dangerousness. For this reason, it was forbidden in Japan for a long time. However, today it is one of the most popular tattoo styles that is based on the use of such elements as mysterious creatures as phoenixes, dragons, and kirins. Choosing this style for your jellyfish tattoo is your chance to create something unusual and truly unique. 
Tattoo Considerations
In general, as mentioned above, a jellyfish has positive meanings, such as strength, power, longevity, and others. However, you should not forget that the jellyfish is an animal without eyes, hearts, and brains, meaning that it can characterize people who act without thinking, people who are elusive, or people who lack emotion.
Jellyfish Tattoo Placement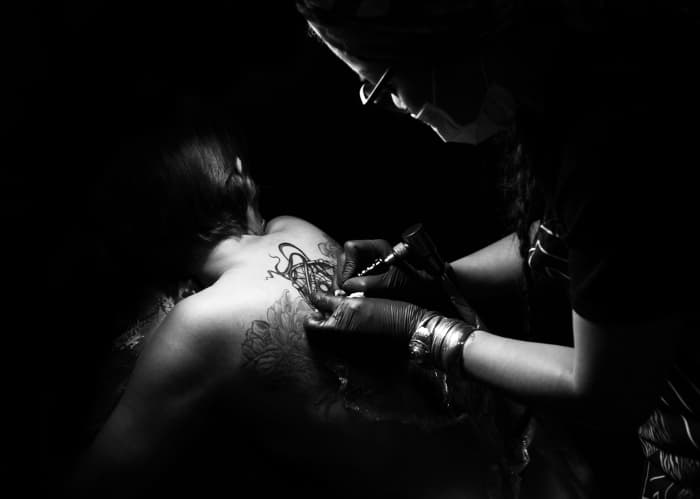 Getting a tattoo is a serious and long-term commitment. You should be very careful about its placement and consider such factors as your pain tolerance, tattoo aesthetics and style, its size, and whether or not others to see the tattoo. 
Most of the jellyfish tattoos are big due to the shape of jellyfish and various features that are usually added to a tattoo. For this reason, they look best on larger areas of the body, such as the back, thigh, chest, or torso.
A medium-size jellyfish tattoo will look great on the arm, whereas small jellyfish tattoos can be worn on hands,
However, no matter where exactly you decide to ink your jellyfish tattoo, it will look impressive and incredible. Tattoo experts recommend to choose the design and style of your tattoo first, and then choose the exact placement, which should be quite easy. 
Jellyfish Tattoo Examples
If you need some inspiration, here are some examples of jellyfish tattoos of different styles. 
Black and White Jellyfish Tattoo Ideas
Example 1: In this first image, the movement of a jellyfish is shown and the flowers shown in the tentacles add a fantasy element.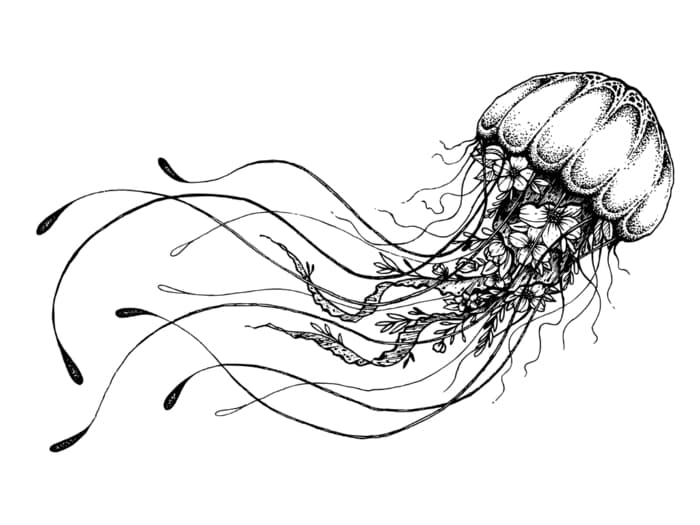 Example 2: This image shows a jellyfish rendered in a tribal, Maori style,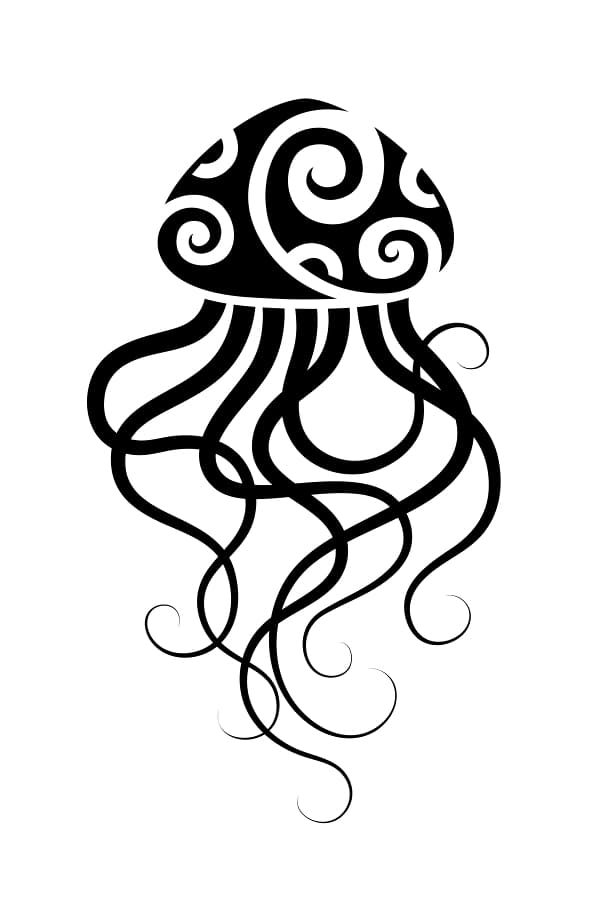 Example 3: Here we see geometric elements as a backdrop for a jellyfish.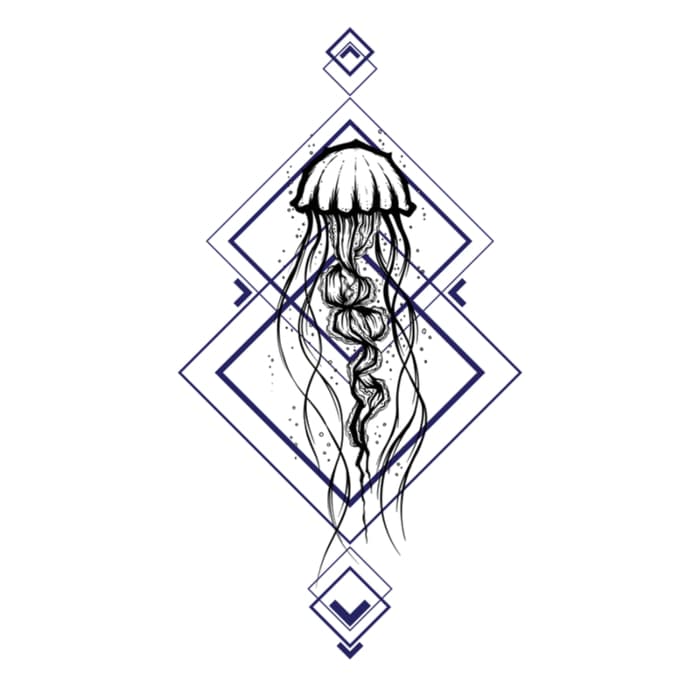 Example 4: This jellyfish is drawn in a simple style that still clearly looks like a jellyfish.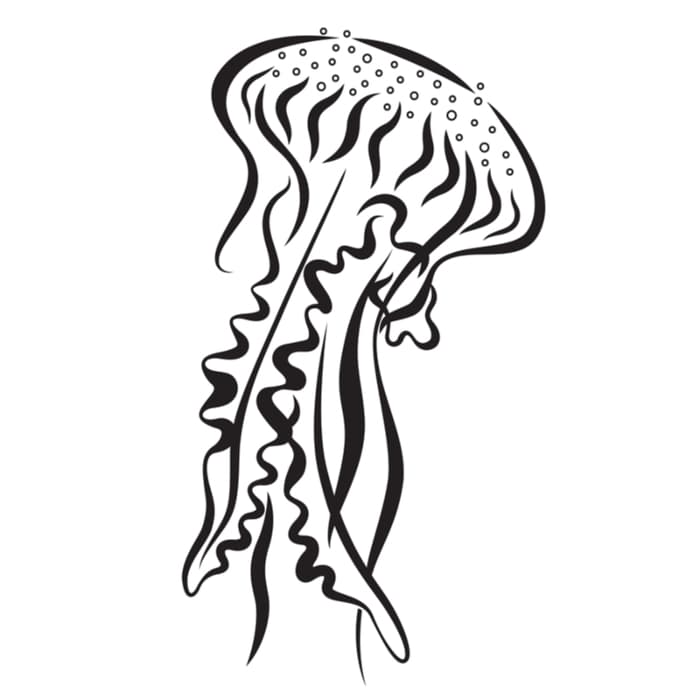 Example 5: Here a jellyfish is drawn with more detail, but the style is a decorative one.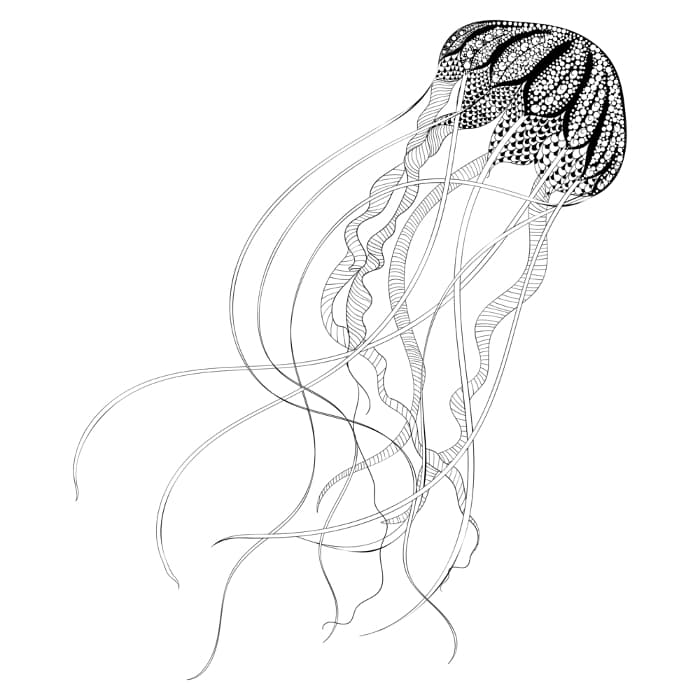 Example 6: Here is an image that could either be created as a blackwork tattoo or in a colored ink.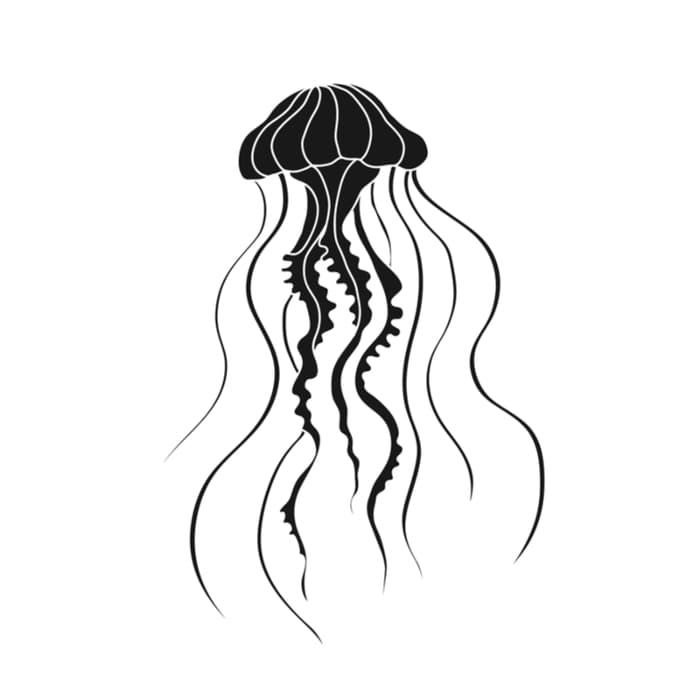 Example 7: This image show a jellyfish as a silhouette.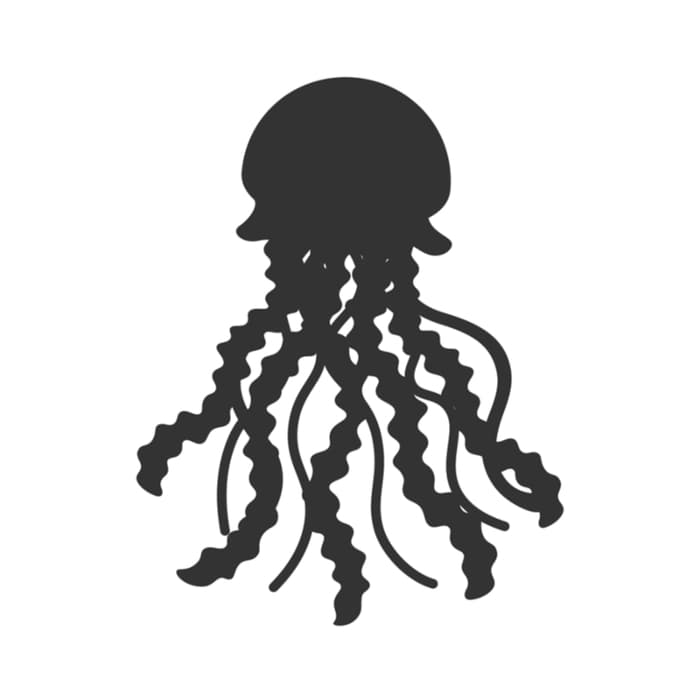 Example 8: This jellyfish image is partially drawn with the body and tentacles being suggested in a more abstract art style. This would also work as a color tattoo image.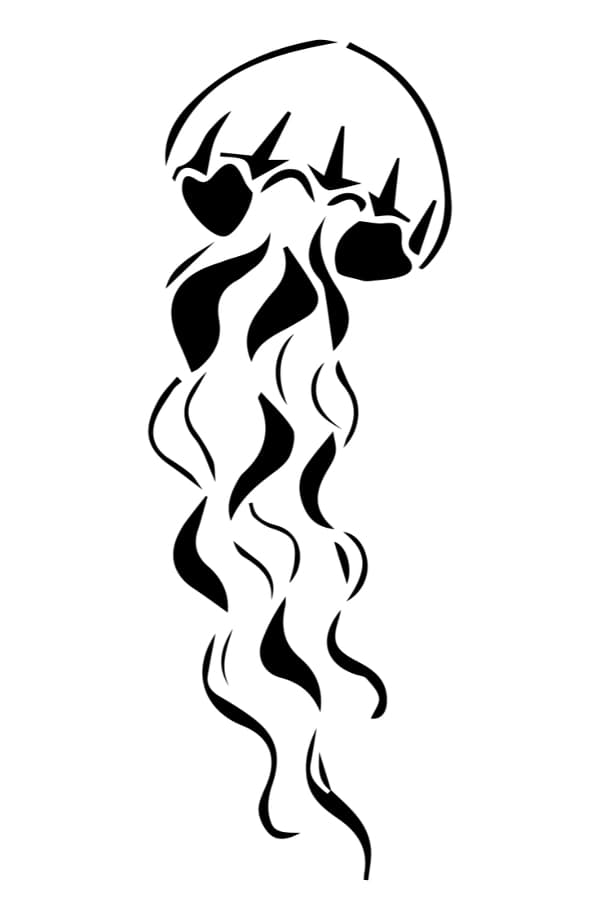 Example 9: Another jellyfish that could be a blackwork tattoo or could be a template for a color tattoo.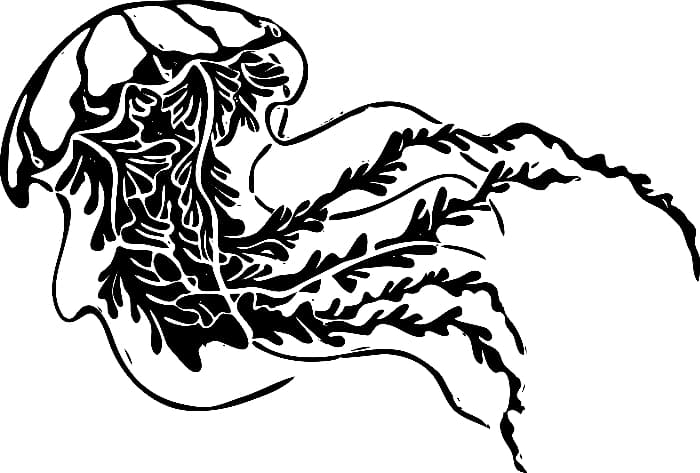 Example 10: A jellyfish drawn in a realistic style.
Color Jellyfish Tattoo Ideas
Example 1: This jellyfish is created in a rainbow effect of colors.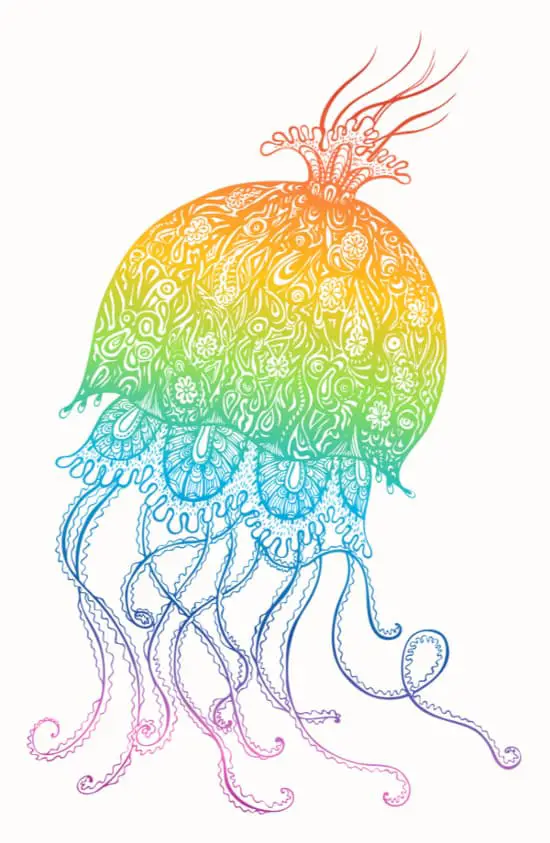 Example 2: This image shows a jellyfish created in watercolor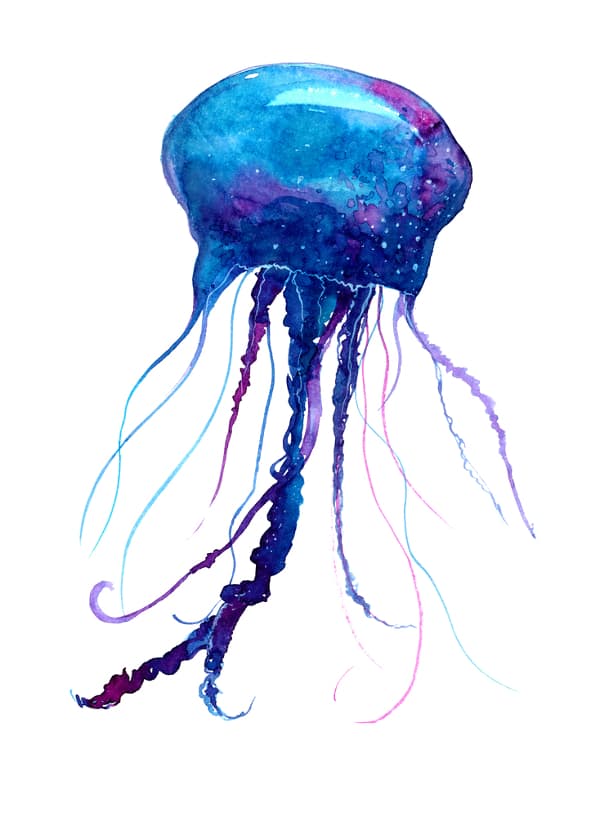 Example 3: Another watercolor-style jellyfish image — as you see, jellyfish turn out quite beautifully in this tattoo style.
Example 4: A simple jellyfish image also done in a rainbow style.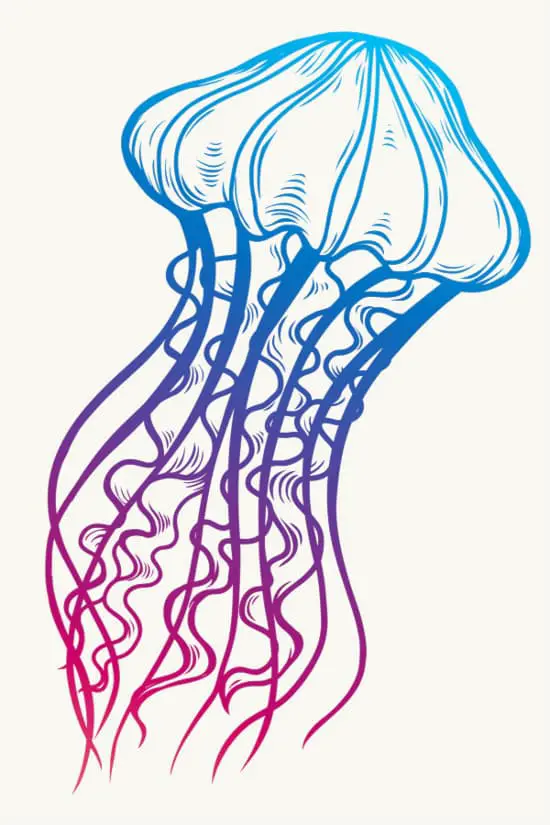 Example 5: This image shows a jellyfish drawn in a simple style in several shades of the same color.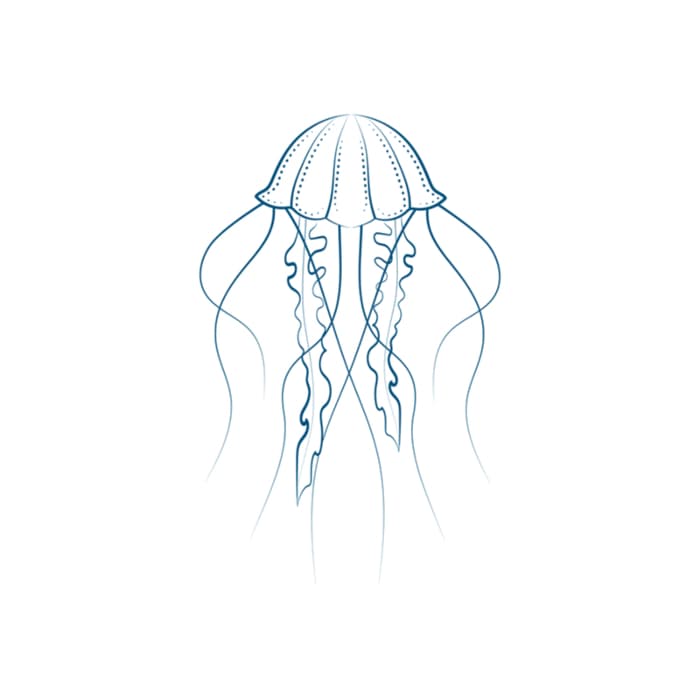 Example 6: Another stunning example of a watercolor jellyfish image.
Example 7: Yet more color options for a jellyfish tattoo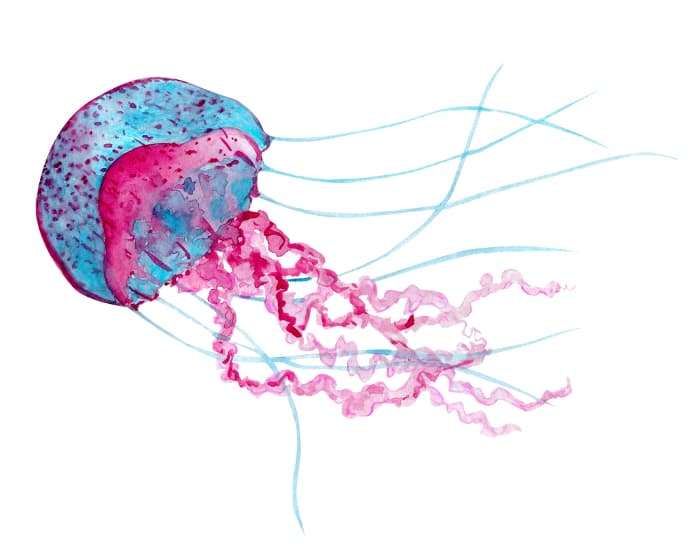 Example 8: A jellyfish tattoo doesn't have to be only of a single jellyfish — here we see a beautiful image of a pair swimming together.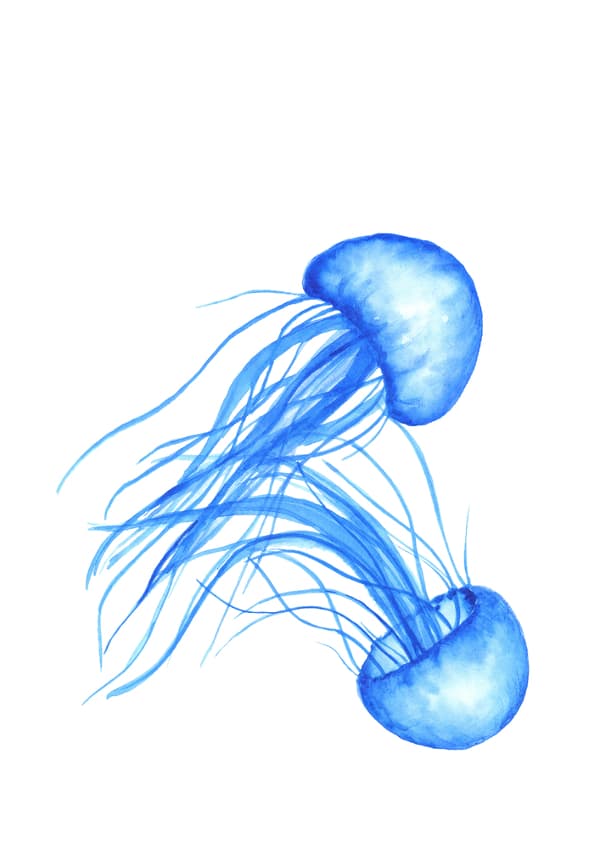 Example 9: A whimsical interpretation of a jellyfish.
Example 10: A jellyfish in a cartoon art style.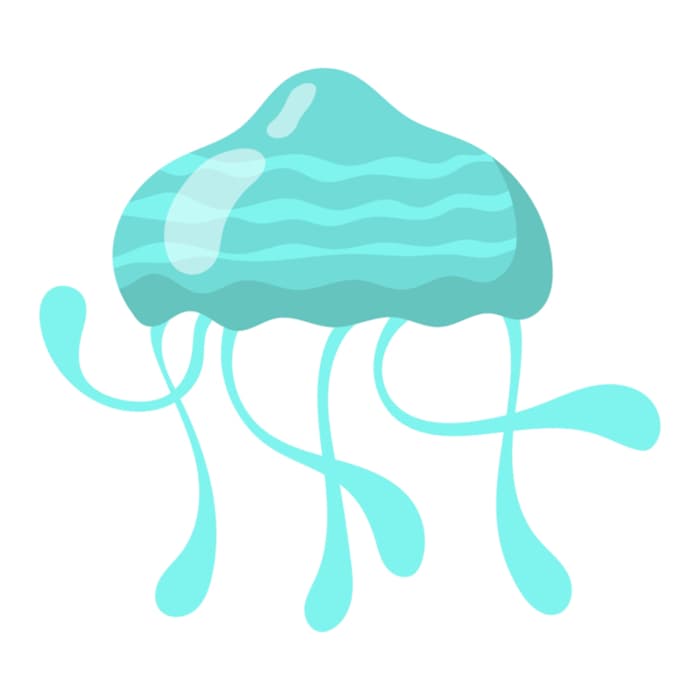 Conclusion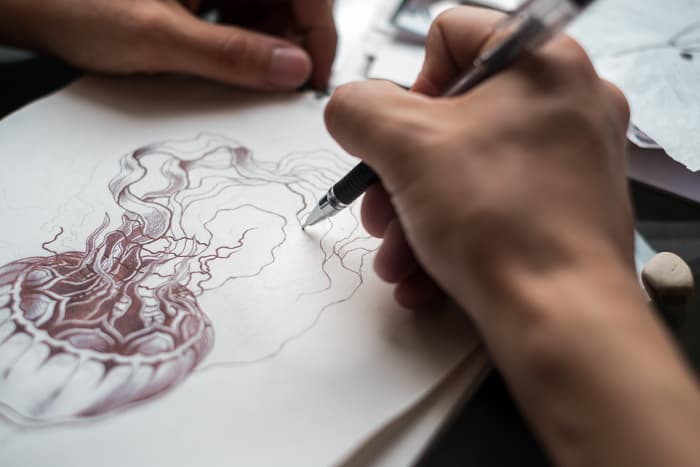 A jellyfish tattoo is a great choice for creative tattoo enthusiasts. In general, the jellyfish tattoo meaning symbolizes positive things, such as protection, strength, recovery, survival, adaptability, and others. However, sometimes, it can also be associated with negative things such as acting without thinking and lacking emotion.
Animal tattoos, which include jellyfish, are some of the most popular tattoos. So if you've decided that a jellyfish tattoo is right for you, ask around to find a local tattooist who does the kind of work you have in mind. This is a tattoo you can have some fun with!
Are you wondering what other tattoos mean? If so, click here for the other articles in our Tattoo Meanings series.