With over 20,000 species of bees worldwide, there are limitless ways to incorporate these bustling creatures into your next tattoo. Bees do wonders for our planet, and with so many reasons to love them finding the perfect bee tattoo design is easier than you may think!
Whether you have an idea or two that you need help piecing together or are starting completely from scratch, keep reading to get some inspiration on some awesome bee tattoo design ideas!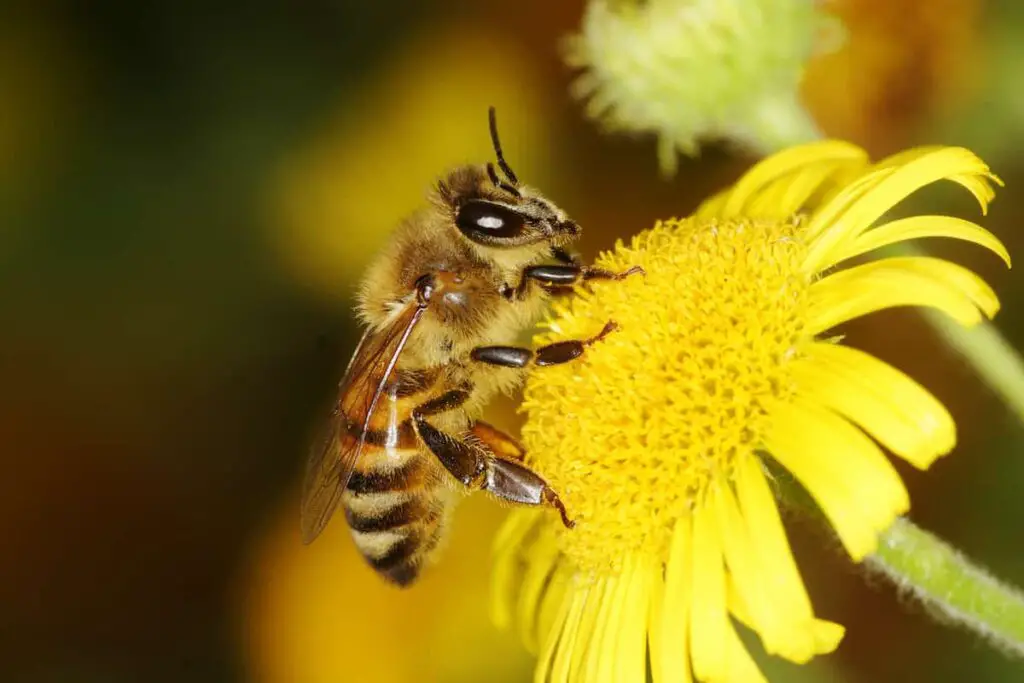 ---
Bumble Bee Tattoo
Starting off strong with our list of the best bee tattoo designs, this adorable bumble bee tattoo is a wonderful option for those who'd like to add a delicate bee to their ink collection.
The use of classic black and yellow colors combined with the small details of the wings and fur adds an element of realism to this tattoo. The quaint size also stays true to the tiny nature of the bumble bee, making this an awesome bee tattoo design to consider for your next appointment!
---
Honey Bee Tattoo
This black and white honey bee tattoo celebrates the finest of details of the delightful honey bee. This classic monochrome bee tattoo design makes an elegant statement that is sure to look great no matter where the tattoo is placed.
Honey bees have a lot to offer, and this design effortlessly shows off the grace of this enchanting insect. This tattoo will look great in both small and larger sizes!
---
Queen Bee Tattoo
The queen bee is a strong, powerful pollinator that makes a bold statement as a tattoo. This queen bee tattoo design is one of the best bee tattoo ideas if you're looking for something that represents independence and strength.
The position of this queen bee tattoo sits proud and fierce, eagerly reflecting the person who proudly boasts this eye-catching piece!
---
Minimalist Bee Tattoo
Minimalist tattoos have a unique way of keeping things short and sweet while effortlessly creating special meaning. This minimalist bee tattoo design does exactly that, and more!
The light, fine black lines of the tattoo add just enough detail to create some character while still staying true to the simple nature of minimalism. Minimalist tattoos look great on the smaller side, allowing their presence to have a grand impact, despite their small size.
---
Vintage Bee Tattoo
Vintage tattoos are a timeless style that stand out against their backdrop. This monochromatic vintage bee tattoo celebrates the antique style while adding fresh elements to make this a unique bee tattoo design.
With gentle white highlights along the bee's wings, legs, and body – one's eyes are drawn to various parts of this tattoo while simultaneously appreciating the piece as a whole. If tattooed as a larger piece, this vintage bee tattoo is sure to shine for years to come!
---
Small Bee Tattoo
The beauty of small tattoos is that even though they take up minimal space, their charm still finds a way to shine bright as if they were the star of the show.
This small black and white bee tattoo has very tiny fine lines that create a delicate balance between the wing, legs, and antennae with the soft fuzzy body of the bee.
---
Small Colorful Bee Tattoo
If you prefer bee tattoo ideas with color, this small colorful bee tattoo design maintains the delicate nature of a minimalist bee tattoo while adding special elements of realism.
These small bee tattoo ideas make a great complement when placed around flower tattoos! Their little bodies also make great candidates to be placed as filler tattoos – small tattoos that are placed in between bigger pieces in order to take up space in a sleeve or patch of body art.
---
Blue Girly Bee Tattoo
For bee tattoo ideas that showcase a bit of feminine flair, this girly blue bee tattoo is a bold yet gentle bee tattoo design that is perfect for your next trip to the tattoo parlor.
The color scheme of the blue girly bee tattoo strays from the norm of most bee tattoo ideas and therefore offers the perfect opportunity to put an exciting spin on typical bee tattoo designs.
The addition of the flower branch allows you and your tattoo artist creative freedom to experiment with new colors and shades to decorate the different parts of the plant to your liking!
---
Soft Girly Bee Tattoo
For a very delicate option, this soft girly bee tattoo doesn't have any definitive black lines – making this bee tattoo design almost look like a stunning painting against your skin.
The curious bee coming to visit the quaint flower creates a beautiful scene that is easily customizable. Feel free to swap the pink flower with your favorite color and flower type and voilà! Now you have a personalized girly bee tattoo design that is everything you could want — and more.
---
Simple Bee Tattoo
This simple bee tattoo uses minimal lines to create a gentle design that is basic yet elegant. The overlapping lines of the wings almost make it seem like the bee is in flight, creating an intriguing element of depth to this piece.
Keeping the simple bee tattoo to a smaller size is the best way to keep things nice and simple – there's no doubt the magic of this no-frills design will speak for itself!
---
Geometric Bee Tattoo
If you're looking for a bee tattoo design and want to put a unique spin on some of the more classic options, this geometric bee tattoo is the inspiration you've been looking for.
With the bee as your focal point, adding various hexagons around your centerpiece creates a sporadic design that can be customized however you'd like.
In this example, the hexagons display a variety of colors and textures. Darker, more filled-in shapes mix with dotted or yellow hexagons that create a nice harmonious blend of geometric figures that let the bee shine in the center.
For an even more original idea, try overlapping the hexagons and experimenting with different color palettes!
---
Traditional Bee Tattoo
You can never go wrong with a traditional style tattoo. This traditional bee tattoo design appreciates bold lines and rich colors that are the perfect complement to add to (or start!) a collection of traditional tattoos.
This tattoo will look great big or small, but a larger size will allow this bee tattoo design to stand out and truly shine amongst other tattoos, or stand alone as its own focal point!
---
Bee Hive Tattoo
When looking for bee tattoo inspiration, considering elements besides the bee itself opens a whole new world of possibility! The hive is an important part of a bee's life, and is a thing to be celebrated.
This simple bee hive tattoo includes two bees surrounding their hive and even shows a few leaves and branches sticking out from around the hive.
This bee tattoo design provides endless creative freedom, and it's easy to experiment with different textures to give the hive some depth. This example uses dots and gentle shading, but the possibilities are truly endless!
---
Colorful Bee Hive Tattoo
This colorful bee hive tattoo uses various methods of shading and color to bring this piece to life. Bold black outlines with white edges provide a nice contrast and framework for the golden honey colors of the hive.
This tattoo includes various bees flying around outside, and you can even get creative with the shapes created by the bees' flight paths!
---
Realistic Bee Tattoo
If you're looking for a bee tattoo design that looks like an actual buzzing insect has landed on you, check out this realistic bee tattoo!
The fine details combined with the color and 3D shading make this tattoo a great option if you'd prefer to have something close to the real deal as your next bee tattoo.
A gentle shadow underneath the bee makes it seem like it's almost hovering in place. The see-through essence of the wings adds to the delicate nature of the bee, as well as the fine soft hairs along the bee's body.
---
Placement Ideas for Bee Tattoos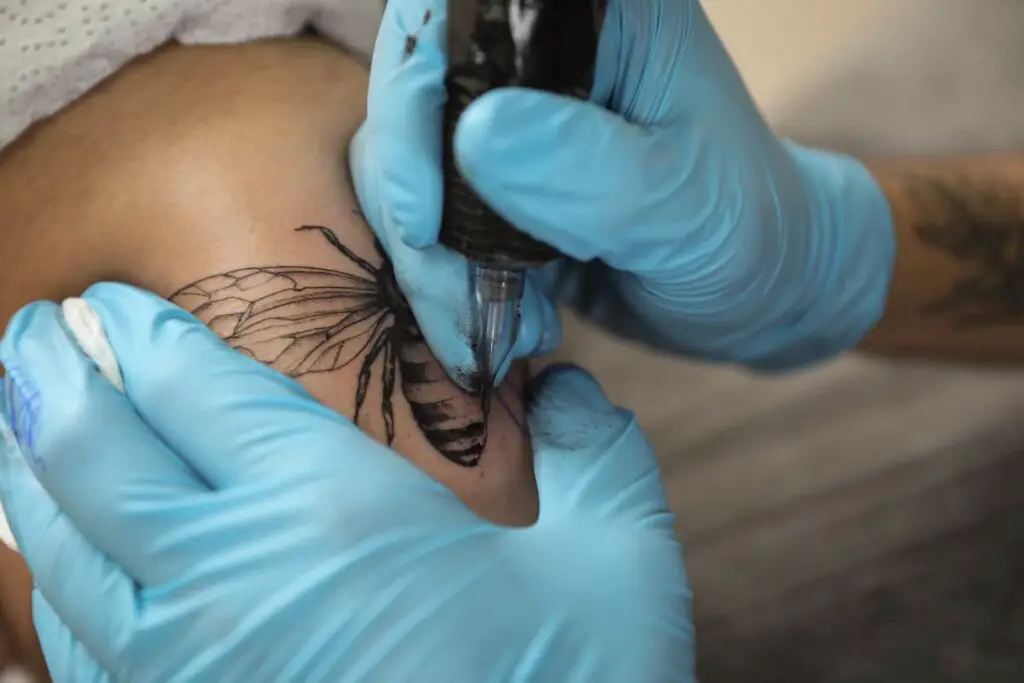 One of the most important things to consider before getting a new tattoo is its placement. Do you want the tattoo to be easily visible, or would you prefer it to be in a more private location? Also, do you plan on eventually getting more tattoos?
Something that many people forget to consider when placing a tattoo is the future. If you plan on getting more tattoos later on, it may make sense to put your bee tattoo design in a spot where it won't strictly affect where you're able to place future designs.
Putting a new tattoo front and center is certainly a great way to have it stand out, but just make sure you won't have to awkwardly plan around it one day!
The arm and the leg are the most common places to put bee tattoos. If you plan on getting a smaller bee tattoo, places such as the wrist or inner arm make great spots to place your new ink. For bigger bee tattoo designs, the forearm, the back of the arm, or near the knee are all great placement ideas!
---
Best Color Schemes for Bee Tattoos
The best part about choosing a color scheme for a tattoo is that there's no right or wrong answer. You can be as creative as you'd like when it comes to choosing how to color your ink!
If you'd like your bee tattoo to be as realistic as possible, black, yellow, and shades of gold are your best color options. Even hints of white and blue will make a great addition to the wings!
If you'd like to add some flowers to the design, shades of pink, purple, and even blue will look great next to the bee. However, adding flowers is a great way to include additional color! A flower in your favorite color is a great way to customize your tattoo to make it extra special.
If you like the classic look of black ink, a simple monochromatic tattoo will always look timeless. If you'd like to make certain elements of your tattoo pop – gentle white highlights can help add a bit of dimension to all-black tattoos!
---
Tips for Getting A Tattoo
Whether a first-time client or a seasoned tattoo recipient, there are always some things you should consider before getting some new ink.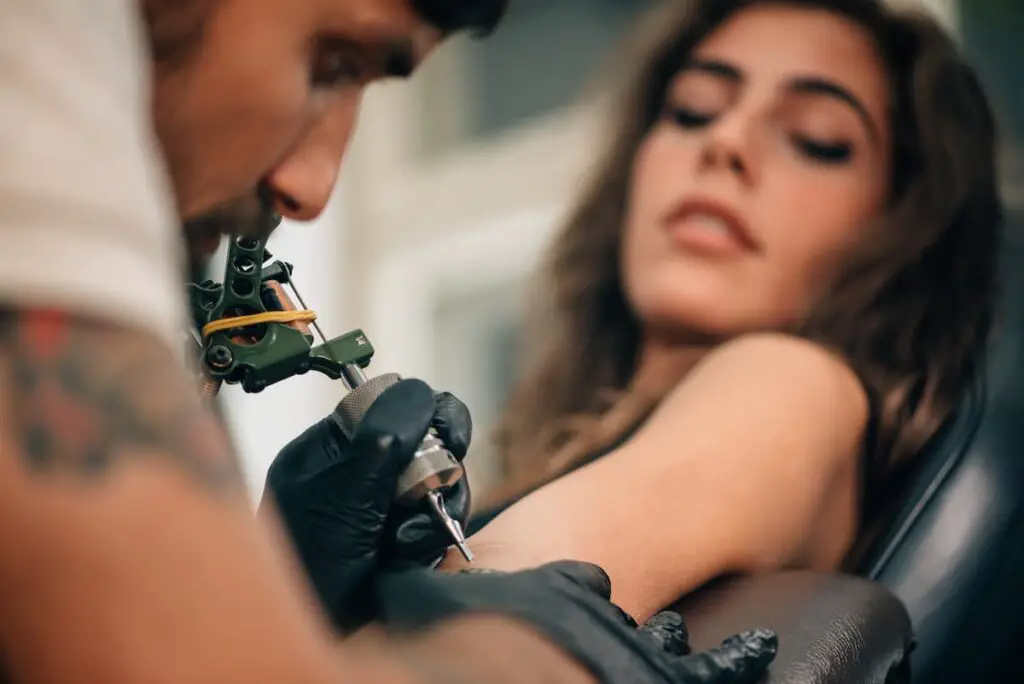 Do Your Research
Before picking a tattoo artist, make sure to take a good look at their work! Most artists prefer to tattoo in a specific style, and therefore it's best to choose your artist based on their expertise, especially if you have something rather detailed in mind.
In addition to researching your artist, do some research on the tattoo shop! Checking the reviews is a great way to get a gauge on the experiences people have had there.
Know the Price (or General Range)
Consider the price. Although your tattoo may be small, many shops and artists have a minimum price, regardless of how tiny your tattoo will be. The best way to learn the minimum cost is to just ask!
Color, shading, intricate designs, and larger sizes are all things that can increase the price of your tattoo.
Dress Accordingly
If you're getting a tattoo on your upper arm in the middle of winter, it can be difficult to roll your sleeve up as high as it needs to be.
Bringing a t-shirt or shorts to change into once you get to the tattoo shop is a great way to make things easy while getting a tattoo, while still dressing accordingly for the weather!
---
Discovering the Best Bee Tattoo Ideas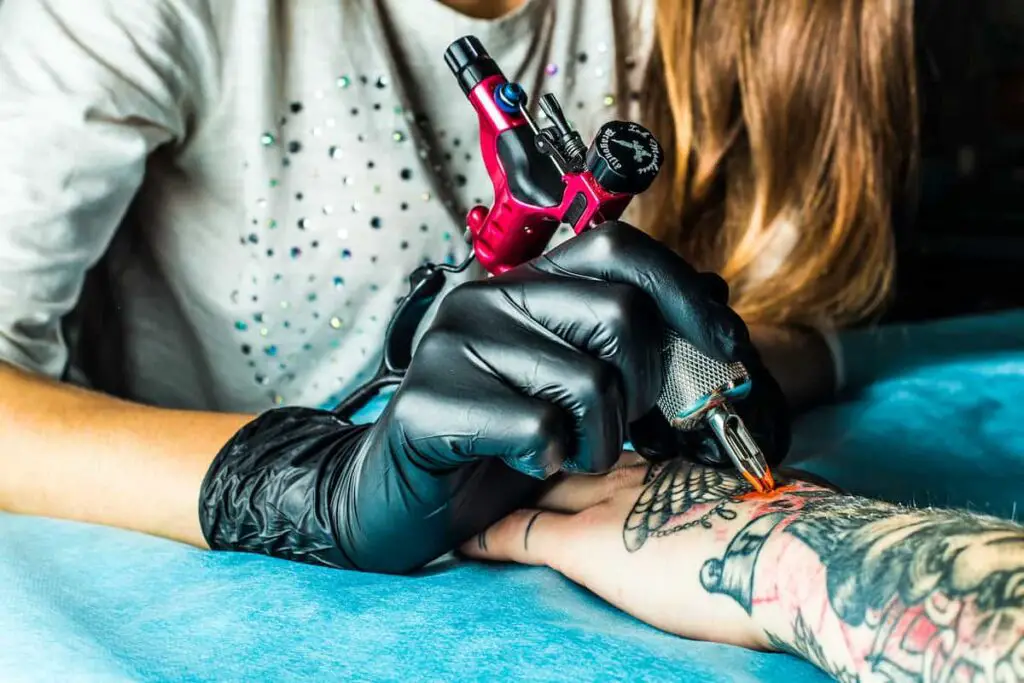 With so many bee tattoo designs to choose from, you'll have your brand new ink planned out in a matter of no time. The possibilities are truly endless!
Eager to get another tattoo, but not quite sure what to get? Check out our other blog posts on Tattoo Ideas for even more inspiration!