The trash polka tattoo style is a raucous approach to body art that combines different styles of lines in tones of grey and black, accented by bright red splashes.
Created by Volker Merschky and Simone Pfaff at Buena Vista Tattoo Club in Würzburg, Germany, the trash polka tattoo style emerged in 1998. And as you might guess from the bare-bones description above, the trash polka tattoo style aims to produce bold statements on grand themes.
Broadly, trash polka tattooing combines realist images with more fanciful artistry. By way of explanation, "trash" is a common reference to the graphics and lettering that comprise any tattoo. "Polka" refers to the design approach, similar to putting together a musical composition.
Read on to learn more about trash polka tattoos, meet some of the style's expert practitioners, and explore this quarter-century-old style otherwise.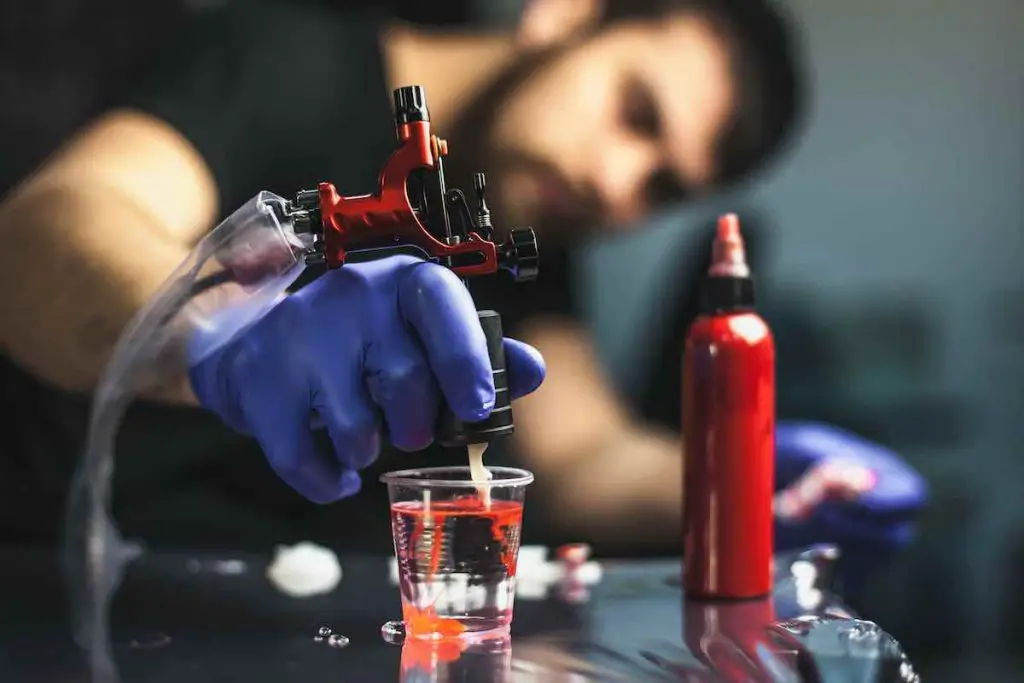 Prominent themes in trash polka tattoo style
Combined with its simple color palette, a few themes from the natural and fanciful worlds have emerged as favorite subjects among trash polka tattoo style artists. And, of course, those themes have resonated among the people who choose the trash polka-style tattoo and its bold messages for their body art.
Frequent choices for trash polka tattoos
Clocks, skulls, faces, and roses or other flowers are trendy among fans of the trash polka tattoo style. Faces are sometimes depicted grotesquely, with the skin peeled away to reveal the skull.
Choices of faces for a trash polka tattoo style piece of the body likely will be intensely personal. Still, according to experts in the style, clocks can generally be seen as an indication of a person's readiness for adventure.
Overall, the trash polka tattoo style is somewhat lagging in popularity among women, perhaps because of its intentionally messy appearance. But for women who make this bold choice for their body art, a trash polka tattoo might feature a rose or other flower, given the prominence of red coloring in the overall design.
However, a trash polka tattoo style rose, or other flowers will not be depicted as being particularly pretty simply because of the edgy aesthetic that defines the type.
Several other prominent themes in trash polka tattoos deserve a deeper look. In exploring the prominent themes that have emerged as the trash polka tattoo style has developed, it's important to understand that choices are often intensely personal among the people adorned with the attention-grabbing style.
Animals in trash polka tattoo style
Beyond faces, clocks, skulls, and roses, another popular trash polka tattoo style subject is the raven. The mysterious bird is likely chosen for the mix of courage and danger that often are associated with it, according to at least one analysis of the enduring tattoo style.
Beyond that literal interpretation, the raven may reflect an expression of confidence being made by the person whose body is adorned by the bird as part of a trash polka tattoo style piece of body art.
Similarly, lions are frequently seen as an element of the distinctive trash polka tattoo style. They are often inscribed on the back or chest to provide as large a canvas as possible for the imposing animal. Also, as with the raven, the lion may be seen as a symbol of courage.
A mythical creature, the dragon, also makes its appearance in the world of the trash polka tattoo style. Like the other animals seen in trash polka tattoos, the dragon might be a symbol of courage, perhaps mixed with a bit of rebellion, for the person who chooses it.
Personal elements in trash polka tattoo style
Among the more personal subjects for trash polka tattoos are inscriptions, comprising words that have a deeply personal connection to the person wanting them as part of their body art. As with the overall trash polka tattoo style, inscriptions are done dramatically, and they may appear in stark relief, mimicking newspaper clippings or book pages.
The cross is another feature of the trash polka tattoo style that likely has a deeply personal meaning for the person with the tattoo. However, as understood in terms of trash polka tattooing, there may be nothing particularly religious about a cross. Instead, it might be intended to refer to the temporary nature of life.
Experts in trash polka tattoo style
In tattoo artistry, practitioners readily acknowledge that the only way to get a truly authentic trash polka tattoo is to be inked by the style's creators. Trash Polka is, in fact, a registered trademark, recognized formally as an independent tattoo style.
Nonetheless, many tattoo artists are now emulating the trash polka style, and experts in the style can be found in a variety of places.
Nik Lucas
Nik Lucas of the Art Collector tattoo studio in Los Angeles is acknowledged as a creative master of the trash polka tattoo style. A gallery of his work in the edgy trash polka aesthetic shows particularly bold and dense black graphics. Combined with that, the red elements of his work are all the more striking.
Luis Carmona
Luis Carmona and the Oriana Tattoo Studio & Academy team in Miami Beach, Florida, are among the acknowledged masters of the trash polka tattoo style.
Carmona and the other artists at Oriana Tattoo Studio & Academy take a detailed approach to the ink in a trash polka tattoo style piece of body art. The actual tattooing appointment is preceded by a consultation where the tattoo artist will design your tattoo and determine how large it will be.
Frank Rudy
Working out of Central Tattoo Studio in Philadelphia, Frank Rudy has developed his style for over a decade. A gallery of his work shows his apparent affinity for the trash polka tattoo style, featuring the characteristic notes of the style on a large scale.
An indication of Rudy's commitment to trash polka tattoo style is a note on his section on the Central Tattoo Studio website. The memo indicates that Rudy is concentrating now on projects with traditional trash polka subjects and on trash polka lettering and geometric patterns.
It's a worthwhile decision on Rudy's part, as a look at a gallery of his works shows his particular affinity for stylized skulls, a mainstay of trash polka tattoo style.
Buena Vista Tattoo Club
As noted, purists in the world of body art contend that the only way to claim that you have an authentic trash polka tattoo is to travel to the source of the style, the Buena Vista Tattoo Club in Wurzburg, Germany.
And, if you're willing or able to travel to Wurzburg, you can get a genuinely authentic trash polka tattoo, even all these years after the style emerged on the body art scene.
To this day, a quarter-century removed from when the style first made its appearance, the Buena Vista Tattoo Club is committed to creating unique designs for its customers.
Examples of trash polka tattoo style
The boldness of the trash polka tattoo style has different meanings for men and women, according to practitioners and fans of this type of body art.
For men, trash polka tattoos can express strong emotions, while for women, a trash polka tattoo can be a bold way to express a particular passion.
Expressing such grand themes means that a trash polka tattoo should cover a significant area of the body to be displayed to full effect. In addition, the sheer boldness of this tattoo style, with somber black accented by splashes of red, all but dictates that it has a broad canvas.
For those two reasons — the sweeping theme and the overwhelming style — trash polka tattoos often cover the back, the chest, or long stretches of the arms and legs of the people bold enough to display trash polka body art.
And when you check out the online galleries featuring trash polka style tattoos, that's what you'll find. Those galleries display everything from inscription-style tattoos spreading words along arms and across backs, to skulls and geometric designs across chests, to backs emblazoned with intricate faces.
Wrapping up trash polka tattoo style
The trash polka tattoo style has inspired large numbers of tattoo artists. And more importantly, this bold style has attracted people who want body art that is both stunningly decorative and intensely meaningful.
Whether a trash polka tattoo is suitable for you or not is, of course, an intensely personal decision. Happily, though, there are several other tattoo styles, and there doubtless will be more styles developing as long as there is a passion for body art.
If you'd like to learn more about the fascinating world of tattoo styles, the posts you'll find here are a great place to start.