Tempe, Arizona, is home to a thriving tattoo scene with numerous high-quality tattoo shops to choose from. Each shop offers its own unique style and techniques, giving tattoo enthusiasts the opportunity to find the perfect artist for their needs. With skilled and experienced tattoo artists, these top-rated shops create masterful works of art that can last a lifetime.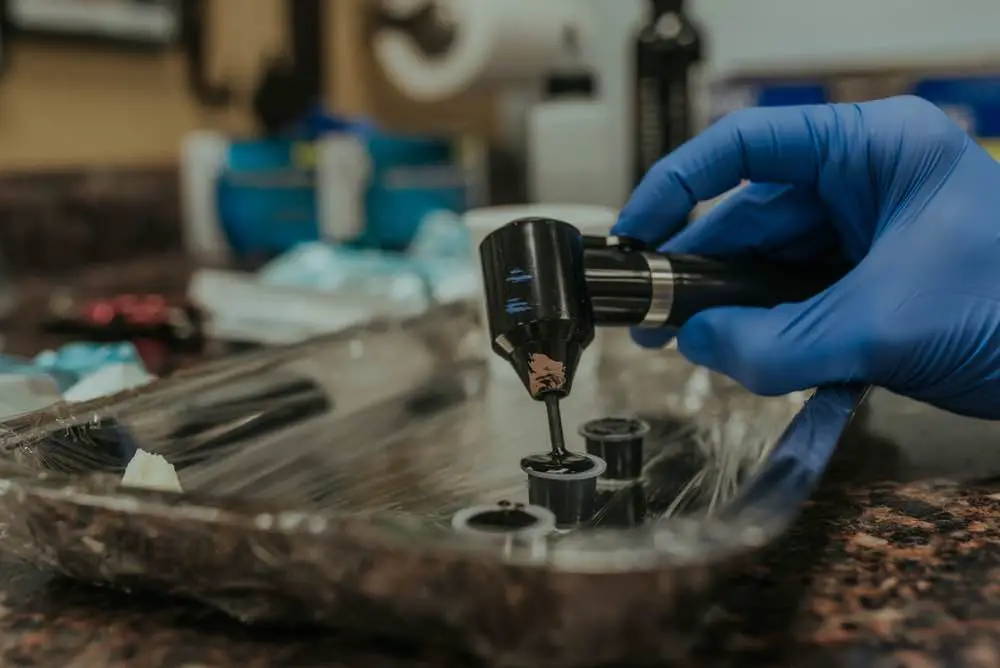 Living Canvas Tattoos is one of the most popular shops in the area, boasting a wide variety of tattoo styles and piercings. Having hundreds of satisfied customers and providing an inviting atmosphere, this shop takes great pride in helping people express themselves through body art. Ink Bomb, another renowned tattoo shop, has been around since 2003 and encourages walk-ins while maintaining a reputation for excellence.
Club Tattoo is another notable name in the Tempe tattoo scene, founded by Sean and Thora Dowdell, along with their partner Chester Bennington. Established in 1995, Club Tattoo has grown to become an industry leader known for its innovation and safety, making it a top choice among locals and visitors alike. With an array of talented artists at these top shops, it's easy to see why Tempe is becoming a prominent destination for tattoos.
Top Tempe Tattoo Shops
In Tempe, Arizona, there is a thriving tattoo scene with numerous high-quality tattoo shops. Here we will talk about some of the top tattoo shops in Tempe that are known for their excellent work and skilled artists.
Living Canvas Tattoo
Living Canvas Tattoo is a highly-regarded tattoo shop in Tempe that has been in business since 1993. They offer a wide range of tattoo services, from small, delicate designs to large, complex pieces. Their artists work with clients to create unique, personalized tattoos and are dedicated to following all sanitary and safety guidelines. Reviews often mention the positive atmosphere and friendly staff at Living Canvas Tattoo.
Bad Intentionz Tattooz
Located in the bustling Mill Avenue area of Tempe, Bad Intentionz Tattooz is a popular choice for both locals and visitors. This tattoo shop has built a reputation for its skilled artists and creative designs. They are known to prioritize customer satisfaction, ensuring that clients are happy with their tattoos throughout the entire process. Bad Intentionz Tattooz takes pride in maintaining a clean, welcoming environment for its clients.
Fine Line Tattoo
Fine Line Tattoo offers intricate, detailed tattoo work that displays true artistry. The artists at this Tempe tattoo shop are experienced in different tattooing styles, allowing them to create a variety of designs tailored to suit each client's individual taste. Professionalism and an unwavering dedication to artistry make Fine Line Tattoo a top choice for those seeking high-quality tattoos.
Heart and Paw Print Tattoo
For those who want to honor their beloved pets with a tattoo, Heart and Paw Print Tattoo is a specialized Tempe tattoo shop that focuses on pet-inspired tattoos. Their compassionate artists understand the importance of these meaningful tattoos and create beautiful, lasting tributes to pets. By providing personalized artwork and a genuine love for pets, Heart and Paw Print Tattoo has become a popular option for pet owners in Arizona.
Selecting the Right Tattoo Shop
Reading Reviews
When looking for the best tattoo shops in Tempe, it's essential to read reviews from previous customers. Reviews can provide valuable insight into the shop's atmosphere, cleanliness, and artists' skill levels. Good reviews can be found on various platforms, such as Google, Yelp, and ThreeBestRated. For example, Living Canvas Tattoos and Sentient Tattoo Collective are highly rated on various review platforms for their knowledgeable and experienced artists.
Comparing Prices
Cost is a crucial factor to consider when choosing a tattoo shop. It's essential to compare prices among various shops and artists to find a reasonable price quote for the desired tattoo. Keep in mind that higher-priced shops may offer better quality and skill, but it's still important to ensure the price fits your budget. Most tattoo shops in Tempe, like Living Canvas Tattoos, offer pricing details on their websites or through contacting their studios directly.
Checking Portfolios
A critical aspect of selecting the right tattoo shop is checking the artists' portfolios. These portfolios showcase their skills, style, and experience. By reviewing the work of the artists at various shops, you can better understand their capabilities and determine if their artistry aligns with your tattoo vision. Many Tempe tattoo shops, such as Sentient Tattoo Collective, have their portfolios available online or in-person at their studios for potential clients to view.
Remember, selecting the right tattoo shop in Tempe involves thorough research of reviews, price comparison, and examining artists' portfolios. This will help ensure that you receive a quality tattoo from talented artists at reasonable prices.
Quality and Professionalism
Experienced Artists
Tempe boasts a plethora of tattoo shops with highly experienced artists who specialize in custom tattooing. These tattoo artists have built a strong reputation for their knowledge of various designs, styles, and techniques. Additionally, they often have a combined experience of over 50 years, ensuring that clients receive exceptional quality artwork. Some notable shops with experienced artists include Living Canvas Tattoos and Sentient Tattoo Collective.
Clean and Safe Environment
Ensuring the safety and cleanliness of a tattoo shop is of utmost importance. The top tattoo shops in Tempe adhere to strict hygiene standards, using sterilized equipment and maintaining a clean workspace. These studios prioritize their clients' well-being and take all necessary precautions to mitigate any risks. For instance, Black Sails Tattoo and Ink Bomb are both known for providing a clean and safe environment for their clients.
Friendly Customer Service
A significant factor contributing to the overall experience at a tattoo shop is the level of friendly customer service provided. Tempe's top tattoo studios understand this and strive to create a welcoming atmosphere, treating clients respectfully and addressing their needs with a professional attitude. The staff at these shops, such as Sentient Tattoo Collective and Living Canvas Tattoos, aim to make customers feel at ease and confident in their decision to get tattooed at their establishments.
Specialized Services
Body Piercings
Many of the best tattoo shops in Tempe also offer exceptional body piercing services. Renowned for their attention to detail, qualified practitioners specialize in various forms of body art, including nipple piercing. Both the practitioners and the shops prioritize creating a safe, comfortable environment for every client. Apart from carrying out the procedure, they ensure thorough consultation, aftercare information, and follow-ups to ensure complete satisfaction. Here's a quick rundown of top-rated Tempe tattoo shops that offer body piercing services:
Living Canvas Tattoos: With a friendly and professional team, this award-winning tattoo studio provides a diverse range of body piercing services. (480) 686-9902
Ink Bomb: Established in 2003, Ink Bomb is a popular choice for walk-ins and welcomes clients looking for high-quality tattoo and body piercing services. (480) 382-9219
Sentient Tattoo Collective: With high ratings and great customer reviews, Sentient Tattoo Collective delivers impeccable body piercing experiences alongside their tattoo services. (480) 382-9219
Unique Designs
The Tempe tattoo scene is characterized by skilled artists who create unique, custom designs for their clients. Many of the aforementioned tattoo shops have resident artists capable of developing one-of-a-kind designs based on your individual style, preferences, and vision. Each studio is adequately equipped to bring your ideas to life, from intricate linework to vibrant color tattoos. Additionally, these establishments also offer walk-in services for those seeking spontaneous inspiration from available flash designs.
When seeking personalized designs and unparalleled artistry in Tempe, here are some options to consider:
Living Canvas Tattoos: This downtown Tempe studio is known for its commitment to custom tattooing. Contact them at (480) 686-9902 to discuss your unique artwork.
Black Sails Tattoo: Established in 2012, the professional tattoo artists at Black Sails Tattoo take pride in their ability to craft distinctive, memorable designs for their clients. Reach out to them at (480) 686-9902.
Sentient Tattoo Collective: Home to experienced artists who excel at conceptualizing custom tattoos, Sentient Tattoo Collective is an excellent choice for those seeking originality. Call them at (480) 382-9219.
Scheduling and Appointments
Booking a Consultation
When looking to get a tattoo in Tempe, booking a consultation is a crucial first step. Many of the top tattoo shops, including Living Canvas Tattoos and Sentient Tattoo Collective, offer virtual consultations as well as in-person appointments. Scheduling a consultation allows you to discuss your ideas and desired designs with a knowledgeable and experienced tattoo artist. To book an appointment, most shops provide online booking options, telephone contacts, or email addresses.
Apart from Living Canvas Tattoos and Sentient Tattoo Collective, other reputable shops in Tempe are Ink Bomb and HTC Studios. Here are the contact details for these tattoo shops:
Living Canvas Tattoos: (112) 930 South Mill Avenue, Tempe, AZ 85281
Sentient Tattoo Collective: (480) 382-9219 or email [email protected]
Ink Bomb: Established in 2003, Walk-ins welcome
HTC Studios: 808 S. Ash Ave Tempe, AZ, Contact 480-784-4460
Discussing Ideas with Artists
Once you've scheduled a consultation, it's essential to come prepared with your design ideas, inspirations, and any reference images that will help the tattoo artist understand your vision. During your consultation, the artist will provide their expert opinion on the design, placement, and size while offering suggestions that align with your goals. This is also an opportunity to discuss the decor and environment of the shop itself, ensuring that it aligns with your unique preferences and needs.
When discussing your ideas, consider the following points:
Your desired tattoo style (e.g., traditional, fine line, realism, or watercolor)
Ideal placement and size
Any specific concerns or questions, such as pain management or the healing process
The artist's expertise and portfolio related to the chosen style
Don't hesitate to ask questions during your consultation. A helpful and experienced tattoo artist will be more than happy to address your queries, ensuring that you get the best possible experience and outcome during your tattoo appointment.
Tattoo Designs and Styles
Infinity Symbol Tattoo
The infinity symbol tattoo is a popular choice among clients in Tempe, which you can find at shops like Living Canvas Tattoos. These tattoos represent eternity, infinite love, or the endless circle of life. Artists at Living Canvas Tattoos are experienced in this design, ensuring a precise and beautifully intricate result. This design works well in both small and large sizes and can be placed anywhere on your body.
Fine Line Work
Fine line work is a distinct tattoos style that emphasizes detail and precision. It's a popular choice for intricate tattoos and often used by various artists in Tempe tattoo shops. Mastering the fine line work technique requires an experienced hand and an impeccable understanding of the craft.
Living Canvas Tattoos and Sentient Tattoo Collective are known for their exceptional fine line tattoo work. From delicate floral designs to elaborate, intricate patterns, their reputable artists can create the perfect custom tattoo for you. Fine line tattoos have become increasingly popular in recent years, with many clients appreciating the subtle and elegant aesthetic that these designs bring.